October Madness Begins (in September)
Yesterday was the tipping point.  Actually, Tuesday night got me to the edge, and Wednesday my colleagues pushed me over the edge.  I had to start writing.
Bill Simmons started his "Boston Sports Guy" blog in the 90s to give a "regular fan's perspective" on sports.  He has never avoided his biases nor held his tongue (or his fingers), and as recently as last week, that got him in a load of trouble.  But now Bill Simmons (love him or hate him) is the most the successful sportswriter in America.  He is friends with many of the people he writes about; he has multiple forums to express his opinions within the ESPN empire; he is no longer just a "regular fan".
When it comes to baseball, I don't think I am a regular fan either.  I am a little obsessed.  Not 24/7, studying the Sabermetrics, memorizing FIP and BABIP.  But definitely one who enjoys the sport maybe a little too much.  What I have found over the past few years, however, is there are many people just like me.  People who played baseball growing up; who maybe coach it now; they may play some occasional softball; who watch Sunday Night Baseball and Baseball Tonight; people tuned into the MLB Network and read Buster Olney, and to whom the names Keith Law and Tim Kurkjian and Greg Amsinger are not foreign.  People who want nothing more than to visit Studio 42.  Guys who like to sit around and just discuss baseball.  And it doesn't have to be MLB; it can be college; or the minors; or, probably more often than not, Little League baseball.  There is a whole universe of people like me out there who simply cannot get enough.
The non-baseball lovers don't understand it.  "The game is too boring", they say; they would rather watch football or basketball.  To them I say, "you are right", baseball is boring.  But when you love something as much as we do, we can overlook its shortcomings.  We can find ways to fill those long pauses such that time doesn't just stand still.
I have a friend who used to be a non-believer (he may be converted by now), who used to say that the most exciting thing in baseball is the home run, and that, in and of itself, is not that exciting.  I would strenuously disagree with him – the home run is not the most exciting thing in baseball.  The most exciting thing in baseball is the game-saving catch; the dive to preserve the no-hitter;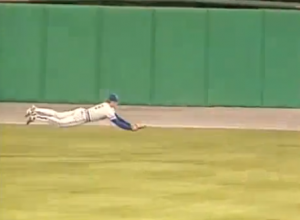 the play at the plate (with or without the enforcement of Rule 7.13) (and, by the way, if that reference doesn't make sense to you, this blog may not be for you); the 3-2 change-up; the 10-pitch at bat with the game on the line; "a slow roller up along first . . ." (again, if you don't get that reference, this blog may not be for you).  The home run is all fine and dandy – and chicks love the long ball – but that is not what the purists, the true lovers of the game, find to be the most exciting.
A good friend of mine – a non-Time Warner subscriber – recently told me the story of being able to watch the last few Dodger games of the season.  His wife remarked to him that it was such a pleasure to have the voice of Vin Scully back in the house.
That is a baseball fan.  That is to whom this blog is directed.  Someone – like me – who felt nothing but sheer joy hearing Vin Scully interviewed by local radio hacks on my drive home, just so I could hear his voice regaling us with stories of "time everlasting" and "seasons gone by" and "Sandy" and "Mr. Rickey" and on and on.  I am not embarrassed to admit that I will often queue up the DVD of "For Love of the Game" just to hear Vin Scully talk about Billy Chapel "pushing that sun back into the sky to give us one more day or summer.  (Note: I got chills writing those words.).  If you don't get that reference, and don't know that line, this blog may not be for you.
Tuesday night could have been a throw-away game.  With due respect to my dear friend and die-hard Royals fan, what was essentially a play-in game between the Royals (they of the light hitting and small ball) and the hapless A's (who were just lucky the season didn't have 163 or 164 games, or else they surely would have played themselves out of the post-season) on a Tuesday night – in, of all places, Kansas City.
​But as these things are wont to do, magic happened.  We may all live another 50 years and not see more than a couple of games (baseball or otherwise) with as much tension and excitement as the Wild Card game of September 30, 2014.  There is no need to rehash what happened, as, if you are reading this and have read this far, you watched the game (or at least seen the highlights 10 times).  But what makes it so fascinating, what makes us want to discuss it ad nauseum, were all the small things.  In no particular order:
Two years ago the Royals traded away their best prospect, a power-hitting outfielder who would go on to win the Rookie of the Year, for a big-game pitcher: Big Game James Shields.  And there he was, on the mound for the biggest game of the year, with the lead.​  In the fifth inning, the Royals intrepid manager – no in-game Kasparov – decided to pull Shields with 2 runners on and having only thrown 88 pitches.  One has to ask the question: Why?  Why take out a guy you brought to your organization to pitch this game.  Sure Ned Yost has a bullpen full of flame-throwers, but none with the "Big Game" moniker, none with the experience of Shields, and none with the feel of the game.  And, sure as day follows night, three pitches later Brandon Moss launched a 98MPH fastball out to dead center. Goodbye baseball; goodbye lead; goodbye Ned Yost (or so we thought).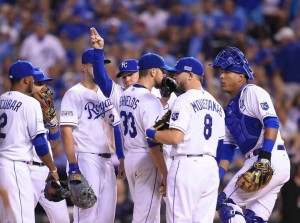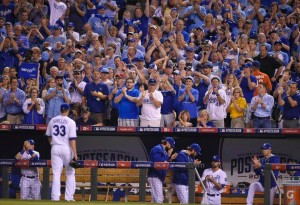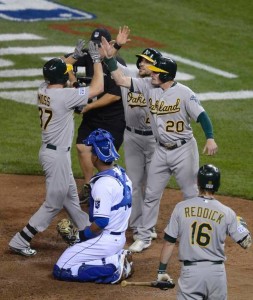 More interesting and curious items from an incredible – if not beautiful – game.  In the same way that the Royals brought Shields in to pitch the big one, before the July 31st trade deadline, the A's traded away their best power hitter (an almost unheard of move) to bring in Jon Lester from Boston.  Why?  Because Billy Beane felt he needed a proven, Big Game pitcher.  That was all well and good until the 8th, with the A's comfortably ahead 7-3.  Query: Why keep Lester out there that long when you have a bullpen full of arms who can get the last 6 outs and get the A's to Anaheim?  But, you guessed it, nothing like that happened.  Bob Melvin stuck with Lester – even after all the obvious signs of the wheels coming off were apparent: a walk and an error by the sure-handed short stop. The baseball gods had spoken. Bing, bang, boom, the score was 7-6, 1 out, runners in scoring position.
A micro microcosm of the A's season – had a lead, couldn't hold it. But wait, the Royals could not convert – 7 sliders and 6 horrible swings later – and the A's were out of it. The entire East Bay sighed in relief; and 40,000+ fans collectively screamed "FUCK" (just not loud enough for the kids to hear).  Query: I know it is easy for me to say sitting 1600 miles away on my couch, but how do professional hitters continue to chase the same shitty slider low and away.  Miss one, okay; two, maybe; a third, come on.  But if that happens, how does the next guy – ostensibly watching from the on-deck circle (doing his homework, as it is said) – do the exact same thing?  And I thought being a Little League manager was frustrating!
So, rather than cursing them, the baseball gods gave the A's a reprieve.  But three small outs to go.  And then but two outs to go.  And here is when the classic begins.  The Royals did what they do – a dink single, followed by a perfect sacrifice.  Jarrod Dyson, the speedster was taking his lead from 2nd.  Did anyone else notice – the camera angle was perfect – that Dyson did not get deep on his lead off 2nd?  We teach our kids to get deep so that they have a better angle around third.  But Dyson went straight off the base. I noticed, but apparently the A's did not.  With the brass of a gunslinger, Dyson took off for 3rd with a left-handed runner up.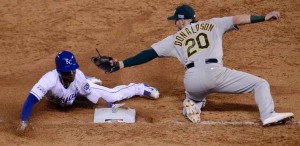 Ballsy move.  Sac fly.  Free baseball.
Down 8-7 in the 12th, the A's were again two outs away.  NEVER count down outs.  Eric Hosmer crushed a ball to deep left center. For those of you who didn't watch the game but only saw the highlights, the first of two very interesting pieces of information to address here:
Coco Crisp started the game in center, with Sam Fuld in left.  Crisp left the game with a hamstring injury, forcing Melvin to move Fuld to center and bring Johnny Gomes in to play left.  Was it a lack of communication between two players not accustomed to being in the outfield together?  Was it possible for Coco Crisp – who made the amazing catch in the triangle to end the 2007 ALCS for the Red Sox – to make a leaping catch and save the game?  Did it not matter one way or the other as Hosmer's ball was simply uncatchable?  We will never know.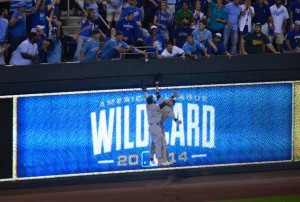 In any event, Hosmer ends up on third, the tying run just 90 feet away, with one down.  All the Royals needed was a little flyball, but that was too much to ask.  Rather, they got a high bouncer.  Hosmer read it perfectly (you cannot teach that – it has to be instinct) and dove home safely to tie the game.  But now the winning run was on first.  The second interesting antidote:
2.  It is well known that Jon Lester has a hard time holding runners on.  In fact, among 498 pitchers with at least 15 innings pitched this year, Jon Lester was the only one who didn't attempt any pickoff throws.  To combat this, the A's started Geovany Soto behind the plate – as he is better at throwing out base stealers.  So what do you know, with runners on 1st and 3rd with two out in the first inning, Lester attempts a pick-off throw (his first of the year).  Billy Butler got caught in a run-down, but when Steven Vogt threw home to get the runner breaking from third, Soto's thumb got jammed. The A's got the final out of the inning, but lost their good-throwing catcher.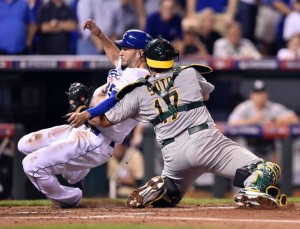 Derek Norris moved behind the plate in the second inning, and the Royals promptly stole 6 bases over the next 11 innings.  None more important than Christian Colon's steal in the 12th.  After knocking in Hosmer with the infield single, the A's knew Colon would be looking to go.  They read it perfectly and called a pitch-out.  But Derek Norris, nobody's Johnny Bench, fumbled the pitch, and now the winning run was in scoring position.
So up comes Salvador Perez.  He of the 0-5 and the very ugly strike out with the tying run on third in the 8th.  Five of the last six pitches Perez saw were strikes – and they were all sliders low and away.  So why not go there again?  They do, but somehow Perez gets decent wood on it, shoots it up the third baseline, Donaldson reaches with every ounce of his being, and the rest is history.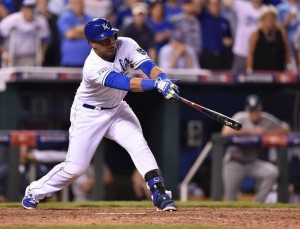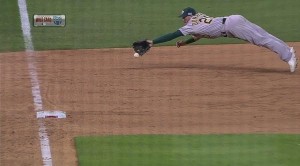 We can – and probably will – talk about this game for years to come. But the great news is that we have 4 series about to start.  We have an entire month of October to create new memories and countless talking points.  Wainwright and Kershaw haven't even toed the rubber; Trout and Cabrera haven't even dug in.  Verlander, Scherzer, Yadi, Adam Jones, the possibilities are endless.
There is so much more to come. I could not be more excited.
And if you have read this far, I am pretty sure you are too.
PLAY BALL!
p.s.       Future versions of this blog may not (or may) be this long!