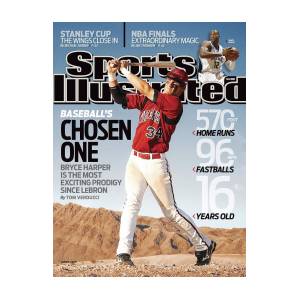 Doing a 180 on Bryce Harper
It's mea culpa time. For years, and for reasons that I cannot fully articulate, I have disliked Bryce Harper. It didn't go so far as hate, and I didn't have any anger towards him, but I certainly didn't root for him.
Now, if I was a psychologist, I might opine that Harper had been engaged in a "best of generation" competition with Mike Trout, and by being Team-Trout, I became Anti-Harper. This is entirely possible, but I am not sure that captures it.
Or, as I age and think about the next generation of ballplayers, maybe I have an intrinsic bias against guys wearing their eye black down their cheeks like war paint. But I want to believe that I got over such petty irritations after watching my son and his buddies do all manner of annoying things on the baseball field.
Maybe it was the hype. The cover of SI at age 16; the 1-1 pick in the 2010 MLB draft; his debut at 19 leading to Rookie of the Year honors. Maybe it was the flashes of brilliance (see, 2015), followed by seasons of mediocrity (at least by his standards). Maybe it was that every year Harper is penciled in as a savior and potential MVP, and in only two seasons has he truly fit that bill (winning MVP both times). Maybe it was all of the above, especially when compared to Trout.
Or maybe it was my dubiosity when, after signing a 13/$330M contract with no "opt-outs," Harper claimed it was because he didn't want any – he wanted to settle in Philadelphia and raise his family there. As I wrote at the time, I thought that was disingenuous, and believed then (and still partly believe today) that the only way John Middleton would give him that contract was if Harper agreed to not having any opt-outs, which would only provide him with additional financial leverage down the road.
But almost immediately upon signing that giant deal, Harper started to do all the rights things – on and off the field. Now, in fairness, he may have been doing all of the right things off the field when he was in Washington and I just wasn't paying attention, but it is clear that he fully embraced the City of Brotherly Love, and asked them to embrace him right back. We can start with the Phanatic Cleats.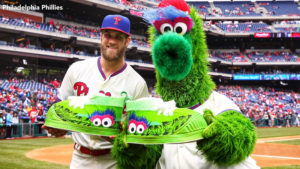 Sure, players have all sorts of swag these days, and custom cleats are more the norm than the exception, but these kicks go above and beyond. By wearing these in his first game with the team, he set the tone. By having various versions and strutting them out every few months, he showed he is more than a one-tricky pony, and that he loves the conceit.
The shoes were just the start. What I have witnessed from across the country over these past four seasons is that Harper is playing the game for the right reason…for the fans. And Harper is doing whatever he can, whenever he can, to make sure that the younger generation that comes to the ballpark doesn't just get their (or their parents') money's worth on the field, but they get the personal encounters as well.
There is the story of the young Phillies fan who caught (well, actually dropped and then got again) a Freddie Freeman home run ball, and then gave it to a Braves fan. The young man was lauded for his generosity, and was brought back to the ballpark the next day and given a ball signed by Freeman…and Harper. But Bryce wasn't done. He hooked up with the family on SportsCenter and invited the boy to Citizens Bank Park to visit the clubhouse. He made that connection, and seemed really happy to do so.
Or the moment last month when Harper, nursing his sore elbow in the dugout, spotted a college student in the stands wearing a cool Phillies cap. Bryce initiated a trade. His gamer (signed, no less) for the student's maroon-billed Phillies lid. The fan certainly didn't come to the park expecting that. But he left thinking Bryce Harper is one of the coolest guys ever.
And I would be remiss if I didn't point out how fervently Harper fought for the Phillies to re-sign J.T. Realmuto. Now, Dave Dombrowski would not have paid Realmuto $115M just because Bryce demanded it. But, according to NBC Sports, Bryce "wore T-shirts, posted on Instagram, and made subtle comments to the media in an effort to convince the Philadelphia brass to make retaining Realmuto a priority." Harper wanted the club to spend money to make it the best and most competitive team possible. At this point in his career, Bryce was truly playing for the name on the front of the jersey, not the back.
When the pandemic hit in 2020, even when he wasn't drawing a paycheck with the season shut down, Bryce and his wife Kayla donated $500,000 to three different charities in his hometown of Las Vegas and his adopted hometown of Philadelphia to help people in the most immediate need. Sure, other players do and did the same (although it is difficult to chart), but here was a guy who was often pegged (by people such as myself) as a "me" guy, going out of his way to be a "we" guy. That is growth, that is maturity, that is a man who deserves my/our respect and adulation.
This season Harper is dealing with a partial UCL tear and cannot play defense. By his own admission, it has been a hard transition from being a two-way player to a single dimension DH. But transition he has, including a game-tying grand slam in the 8th inning of last Sunday's game against the Angels. Harper is currently hitting .308, with a 1.001 OPS, and a 181 OPS+ (stats current through June 9th). Injury or not, Harper has played in 51 of 57 games, and is (again) putting the Phillies on his back in a desperate attempt to overcome poor managing and a poor bullpen. Philadelphia may not catch the Mets this season; and they may not even make the expanded playoffs. But it won't be because of Bryce Harper. And despite my prior distaste for the player, I, for one, will be rooting him on.
PLAY BALL!!