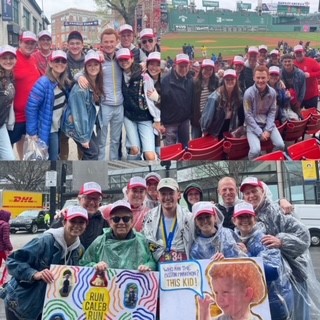 RED Hare Running / WHITE & BLUE Hair Cheering: A Very Special Patriots' Day
As a child of parents who grew up in Boston, the city holds a special place in our ancestral heart. As multi-generation Red Sox fans, the team holds a special place in our familial heart. As a two-decade runner and marathon finisher, the Boston Marathon holds a special place in my beating heart. And as someone who has tragically lost people too young, the 2013 Marathon bombing holds a special place in my broken heart.
For all of the reasons above, Patriots' Day in Boston is just plain special. So, when I got the message that one of my son's best friends qualified for this year's Boston Marathon – the 10-year anniversary of the bombing – the trip was booked post-haste.
Because the family of the boy – er, man – who would be running the race had never been to Fenway Park, I had another opportunity to present my "Billy Crystal Moment." That is the moment when you see the stadium, in all its grace and glory, for the first time. I presented this moment to my wife and daughters last year. And this year I was given the chance to do it for a whole new group. Few things give me more pleasure than leading people down the concourse on the third base side, walking them out to the main aisle, and then having them start by looking left and then sweeping their gaze to the right to take in the entirety of "America's Most Beloved Ballpark."
My buddy said: "Few things in life live up to the hype…this place lives up to the hype." I cannot tell you how happy that makes me.
This group of eleven then made our way to Loge Box 102 for the pregame festivities. To begin, the 2013 World Series team was honored. Who doesn't get a thrill and a chill when post-bombing ("this is our fucking city"), 2004 ALCS, and 2007 & 2013 World Series hero (and now Hall of Famer) David Ortiz takes the field? Who didn't sing along when "Three Little Birds" played as they introduced "The Flyin' Hawaiian" Shane Victorino? And who didn't chuckle when Stephen Drew was met with light applause? For Red Sox fans, this was a lovely jaunt down memory lane.
But after the "Band of Bearded Brothers" – the players who put the city on their back a decade ago – were announced, the real honors were bestowed. The Red Sox brought out special guests to throw out first pitches – all of whom are related to the 2013 bombing:
Carlos Arredondo, the marathon spectator in the cowboy hat who rushed to the aid of bombing victims, with his wife, Melida.
A family friend of fallen Boston police Sgt. Dennis "DJ" Simmonds, who died of injuries he suffered during a shootout with the bombers.
Bill Campbell, the brother of bombing victim Krystle Campbell, and his son, William.
Henry and Jane Richard, the siblings of bombing victim Martin Richard.
It was the last two people introduced who brought on the waterworks. After the bombing, this photo of 8-year old Martin circulated on the internet:
Martin and his family stood close to the finish line that fateful day, as Martin and his brother loved the race – a race that they vowed to one day run. The Richard family suffered too much that day: Mother Denise lost an eye; Father Bill blew out an eardrum; and Sister Jane lost a leg. Brother Henry, with just scrapes and bruises, lost his best friend.  
Last year, Henry ran the marathon wearing an "MR8" singlet, representing the Martin Richard Foundation that his family founded after the horror of 2013. But Henry was not done. This year, he led a team of Martin's friends – all of whom are now 18 and thus eligible to run the marathon – as a tribute to the boy they all loved. 
On the field on Sunday, Henry threw out a first pitch to Jane. The Red Sox beat the Angels. Our friends made it on the jumbotron in the 5th inning, and my kids and I did the same during "Sweet Caroline." And Rafael Devers tossed a ball to my son. What a day at The Fens. 
The visit to Fenway, the 2013 celebration, the game and the hot dogs, were all just a prelude to the main event: Patriots' Day.
At 7am our runner boarded his shuttle in Boston Common to the start line in Hopkinton. A group of us followed a few hours later, catching him in Framingham – but not before we were treated to an Eliud Kipchoge sighting (if you don't know, look him up). At first there was a smattering of runners; but then there were thousands pounding their way through this tiny hamlet in the rain. Craning our necks to find our guy amongst the horde of runners was an exercise in stress and excitement the likes of which I have never experienced. And then he appeared – right in the middle of the street. We saw him, he saw us, and then I cried. And then I ran a few hundred yards alongside him because, well, I have no idea why. 
We got back in the car, drove through Wellesley, Newton, Brookline, and back to Copley Square where we waited in the drizzle and then rain. The police wouldn't let us near the finish line, so we watched the television feed on our phones, and screamed as he ran right through the camera at the finish line, a giant smile on his face. A few minutes later we all hooked up. It was considerably more emotional than I ever imagined.
Before this little redhead – who I have known since he was two – crushed the Boston Marathon in 2:45, he was the ever-reliable leadoff hitter and second baseman on a travel team that I managed for years. I coached this boy from the time he was Martin Richard's age, and never did I have a more coachable kid; maybe never did I have a better kid. He is not my son, but standing in the rain in the heart of Boston, I could not have been more proud if he was. I thought of Martin, and his friends running for him, and my son hugging his buddy after 26.2 arduous miles, and I thought: But for the grace of G-d… And then I cried.
Baseball is and has been my bedrock, my foundation. It's what I can talk to my father and son about, whenever and wherever. It's where I can bring friends and family and allow them to revel in the beauty of a game that I never take for granted. It's when, as a coach, I was able to build lasting friendships and maybe, just for a moment – or for a lifetime – have a positive impact of someone's life.
Truth be told, I wasn't thinking these deep thoughts as I sat in the airport ready to head home to work and bills and more quotidian matters. But I was thinking about how terrific the weekend had been. I was thinking about how special it was to introduce this group to Fenway Park, and to be there with my son and daughter, and how we cheered uncontrollably on the streets as our runner passed us by and met us afterwards, and how it was through baseball that I truly forged my relationship with this kid, and his father, and his entire family (grandparents included). And then I received a text from the marathoner. Amongst the many amazing words he wrote, he said the following: "Don't think I would be crossing the finish line today if it wasn't for you."
And then I cried.
PLAY BALL!!