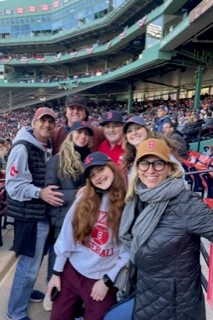 Fenway Park: A Family Affair
A few months ago, my wife, who is a master at planning vacations, hit me with this idea: How about we meet up for Spring Break in Boston? Because she knows the animal, she had already checked the schedule and confirmed that the Red Sox would be in town. And, because the kids are growing and at different schools and thus have different Spring Break schedules, she also made sure that they all could join us in the Back Bay. Since the two youngest had never been to Boston, and because I never pass up an opportunity to go to Fenway Park, the answer was an easy one.
A click on the MLB site and then a call to the Red Sox ticket office locked in seven choice seats for a Sunday afternoon in April. Now, when I bought these tickets the players were locked out, but I felt relatively confident that the owners and players would resolve their differences with plenty of time to spare. And then they didn't. And then Rob Manfred canceled the first week of the season. And then he canceled another week. While I wanted the impasse resolved and 162 games to be played, I clung to Manfred's assertion that missed games would not be made up, and that the current schedule would hold. As such, I still had a few days of wiggle room; but the outcome was beginning to look bleak. Of course, a trip to Boston would still be incredible without the Red Sox. Of course, there was plenty of sights to see, history to learn, food to eat, without noshing on Fenway Franks. But, all things being equal, why would one ever do that? It wasn't Red Sox or bust, but it was damn close.
As we all know, the owners and the players came to an uneasy accord. The first week of the season was lost, but all else remained on schedule, and our tickets for the Sunday before Patriots' Day would and could be put to use. Suffice it to say, there was jubilation in our house when the lockout was lifted.
My son flew in from college a day early to take his third public tour of Fenway – he just cannot get enough. And on Sunday, we arrived at Jersey Street before the gates opened. Rather than waiting on line, I took the kids to Lansdowne Street and bought some souvenirs. We walked up Ipswich to Van Ness and then back to Jersey, where fans were now flowing through the gates. A brief (can it be brief?) stop at the team store netted nothing additional (yet), so we walked around the former Yawkey Way and took in the sights and sounds. I have been to nearly every ballpark, and nothing really compares to the scene outside Fenway (unfortunately, one needs a ticket to get onto Jersey Street, so this excitement is not open to the public).
The law school roommate of a dear friend of mine is an executive with the Red Sox, and he met us outside Gate A to take us on a behind-the-scenes tour of the park. We saw nooks and crannies not available to typical fans (who knew the Red Sox had their own garden where they grow fruits and vegetables for both their luxury suites and local homeless shelters?), as well as well-worn haunts like the Top of the Monster. We went to Ted William's red seat and checked out the brand new bar and deck area behind the right field bleachers; and we watched Red Sox legend Tim Wakefield broadcast from the new NESN booth overlooking right field. In the Royal Rooters Club we saw "The Dave Roberts Base" (which is exactly what you think it is), as well as tons of memorabilia going back over a hundred years. I showed my kids pictures of what Fenway looked like when their papa attended games there as a kid. We saw four World Series trophies and the Red Sox Hall of Fame plaques. We had spent the previous days touring Boston and learning American history; we spent Sunday morning touring Fenway Park and learning Red Sox history. Your mileage may vary on which is more important.
After our multiple dime tour, we met the rest of the family back on Jersey Street. My wife and stepdaughter were now the last two who had never been inside America's Most Beloved Ballpark. So, it was my great pleasure to walk them up the grandstand and have them see the field and the Green Monster for the first time. It's not the same as Billy Crystal's description of first walking into Yankee Stadium, which he had only seen in black and white, but it is a close second. When your baseball life experience is essentially made up of Dodger Stadium, Fenway Park is otherworldly. You are just so close to the field; that wall is just so tall; and everything is just so green. And whether you are a Red Sox season ticket holder, or you are making your first visit to Fenway, the old building never disappoints.
The game got off to a slow start, but the offense picked up in the later innings. But the truth is, it did not matter. We bought snacks from the ubiquitous vendors, and held our breath when Kiké Hernández did his best Pudge Fisk impersonation, pulling one just foul down the line. Around the fourth inning my stepson said "this place is the best." He and I don't always see eye to eye, but on this we can agree.
And as we moved into the bottom of the sixth, I stopped my kids from leaving their seats, as I knew what was to come. The seventh inning stretch and then "Sweet Caroline" were capstones for the girls. The Red Sox win, "Dirty Water," and "Tessie" were the capstones for me and the boys. We piled out of Fenway Park with full bellies and smiles on our faces. But we still had to make one more stop at the team store. For those who had never been before, they now knew how special the Fenway experience is; they now had to have a keepsake.
I have been to more than thirty MLB parks, and nearly all of the current ones. When people ask me my favorite, I always start with the notion that you have to take Wrigley Field and Fenway Park out of the conversation, as those two are cathedrals, they are cultural institutions, they are historic landmarks. I have spent a lot of time at Wrigley over the past few years, and don't get to Fenway as often as I would like. But maybe that is for the best, as Fenway never stops being special; it never ceases to amaze, impress, and satisfy what my baseball-loving heart desires. As my friend Gabrielle Starr has written, "If you've been to Fenway before, you know what I mean. It's that buzz of magic, of history, and anticipation. It's the pulling of that thread that connects baseball's past and present."
I have pulled that thread, and been to Fenway Park with my dad, and with my sons. But this time I got to bring my wife and all my kids, and got to experience it through their eyes. They say you are only as happy as your most unhappy child. Well, after three hours in uncomfortable seats facing slightly the wrong direction, on a blustery Sunday in Boston, I was walking on sunshine.
PLAY BALL!!