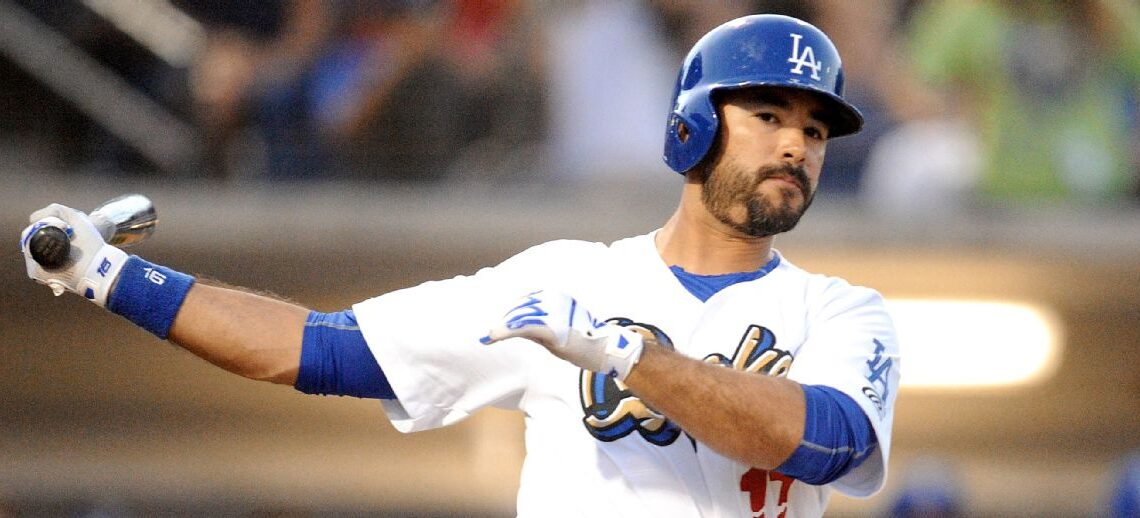 Re-Examining Andre Ethier
On May 28, 2006, the Los Angeles Dodgers started Matt Kemp in center field and Andre Ethier in left. This was the first time the two "rookie sensations" played together in Dodger blue. Kemp went 1-for-4 to start his career, and Ethier went 0-for-2 with a walk in his 22nd career game.
Starting on that late May day, these two would play side-by-side for the next eight seasons. By all accounts, the players got along just fine, with their only competition being who could do more to help the team win. But in the stands and on talk radio and on the message boards, there was definitely a split allegiance: people were either Team Kemp or Team Ethier. In the interest of full candor, I was always an Ethier guy (that could be owing to my being a L/L guy who loved Andre's smooth swing).
Ethier was a solid player who was never too flashy. He ended his career hitting .285 with 162 home runs, and 21.5 bWAR (24.2 fWAR). His Baseball Reference page shows a dearth of black ink – he never led the league in ANYTHING. He was fifth in Rookie of the Year voting in 2006, and sixth in MVP voting in 2009 when he won a Silver Slugger award; he went to two All-Star Games, and won a Gold Glove. Ethier earned more than $115M for his very respectable career, all with the Boys in Blue.
Kemp, on the other hand, was an athletic gem. Although his rookie campaign was lackluster (.259/.289/.448 in 52 games), he hit his stride in 2007. From 2007 through 2018, he never dropped below 101 OPS+, topping out with 172 in his remarkable 2011 season. After leading the league in games played in 2010 (his first black ink), Kemp roared into 2011 and throttled the rest of the league. He hit 39 homers, knocked in 126, scored 115 runs, had 353 total bases, and had the above-referenced 172 OPS+. All of those stats appear in bold on his player page. Some will argue (this writer included) that he got screwed out of the MVP award by a cheating and lying and unrepentant Ryan Braun, but one can shed no more tears about that spilled milk. In lieu of the MVP, he was an All-Star (his first of three appearances), a Silver Slugger, and a Gold Glover. All-in-all, an MVP-caliber season.
In 2011, Kemp signed an 8/$160M deal with the Dodgers. However, by 2016, that salary was being paid by three different teams: the Padres (to whom Kemp was traded in 2015), the Braves (to whom Kemp was traded in 2016), and the Dodgers (who remained on the hook for $3.5M/year through the end of the contract). At first blush, the various trades of Kemp may be a reflection of a player's worth. And to adapt Malcolm Gladwell's "Blink," that would be correct.
After posting an 8.0 bWAR in 2011, Kemp reeled off seasons of: 2.8, 0.7, 1.2, 0.5, 0.2, 0.1, -1.3, 1.2, -1.0, and 0.1. Rarely has a star player had such a precipitous and expeditious fall from grace. After those stints in San Diego and Atlanta, and since they were already paying him, the Dodgers brought Kemp back in 2018. He played 146 games in blue and treated the Chavez Ravine faithful to a decent season with 21 home runs, an .818 OPS, and 121 OPS+, good for a 1.2 bWAR. But the good times didn't last. The Dodgers traded Kemp to the Reds, who released him by early May of the following season. The Mets signed him three weeks later, only to release him within seven weeks. Kemp signed with the Marlins for the 2020 season, only to be released before the Covid-reduced season began. Kemp then signed with the Rockies, playing in 43 games and hitting .239 with 41 Ks in 132 plate appearances. That was the end of the line.
The above wasn't written to dunk on Matt Kemp. He played 14 more years in the major leagues than all but a tiny percentage of humans on the planet; and for a brief moment in time, he was amongst the best; and he earned more than $170M for his efforts. I wrote the above because I believe that the common perception is that Matt Kemp was a better ballplayer and had a better career than Andre Ethier. I believe that is simply incorrect (Ethier bests Kemp in bWAR 21.5 to 21.4, but Kemp bests Ethier in fWAR 25.3 to 24.2). Sure, Kemp had higher highs (that 2011 season is one for the ages), but he also had WAY lower lows. Injuries derailed Ethier's career in 2016 and 2017, and he elected to retire at the end of the 2017 season (after appearing in his 50th post-season game, a Dodger franchise record). He unretired, didn't get signed, and then officially called it quits in July of 2018.
Ethier vs. Kemp came to mind because Andre's name appears on the 2023 MLB Hall of Fame ballot. This is his first – and most likely last – time on the list. He is nowhere close to being a Hall of Famer; he isn't even close to being in the Hall of Very Good. Andre Ethier was simply a solid major league outfielder who went about his business with no fuss and no muss for twelve seasons. He was a pillar in the community, who was appreciated by teammates and opponents, alike. Unfortunately, for the bulk of his career, he was overshadowed by a player with considerably more athletic ability, more raw tools, and one season of VERY flashy stats. But that should not cloud our memory of Andre Ethier. Every team wants and needs a few Andre Ethiers. And, if he fails to garner 5% of the HOF votes (which, let's be fair, is highly likely), and thus this is the last time we truly reflect on his career, I want to make sure we all appreciate who and what he was.
PLAY BALL!!