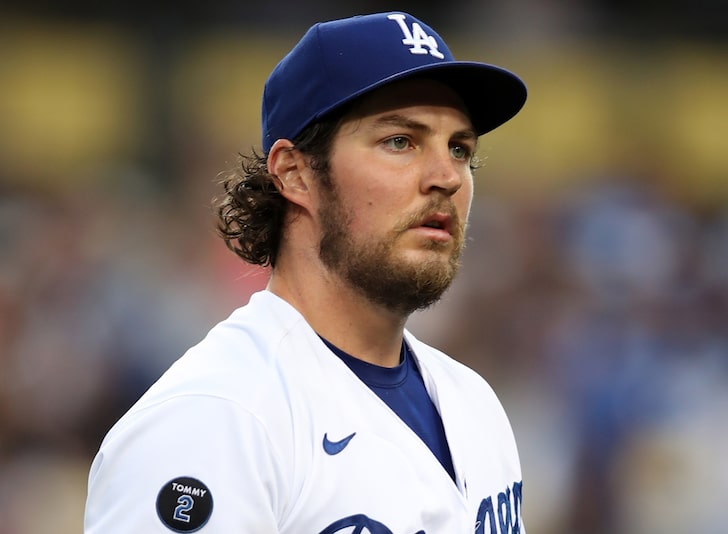 Laying Down With a Dog
I have always loved the Theo Epstein story. Local Boston kid leaves home, cuts his teeth, comes back and orchestrates the roster that ended an 86-year curse. When management wanted to go in another direction, he moved to the Midwest and orchestrated the roster that ended a 108-year curse. And then he became best buds with Eddie Vedder, the lead singer of his all-time favorite band. All the while he married a Harvard girl and had two adorable kids. What is not to love?
Well, there is this. It is a small detail that has always stuck in my craw. It is this one transaction that has sullied my appreciation for what Theo built in Chicago and my excitement over their finally turning "Next Year" into "This Year." Right before the 2016 trade deadline, the Cubs sent pitcher Adam Warren and prospects Rashad Crawford, Billy McKinney (lately of the Dodgers), and Gleyber Torres (currently playing Derek Jeter-level defense in the Bronx) to the Yankees in return for All-Star closer Aroldis Chapman. The Cubs were looking for something to put them over the top, and Chapman had the highest K/9 in MLB and was rocking a 105 mph fastball. At the time of the acquisition, Chapman was 20 for 21 in save opportunities on the year. It seemed like a great deal, except…
Chapman started the 2016 season serving a 30-day suspension under the MLB Joint Domestic Violence Policy ("JDVP") after an incident with his girlfriend wherein he allegedly choked her, pushed her against a wall, and then fired eight rounds in his garage in his ensuing fit of pique. Epstein and General Manager Jed Hoyer spoke with Chapman before closing the deal and felt sufficiently confident that he had learned his lesson, paid his debt to baseball (if not society), and was ready to help the Cubs win the World Series. Flags fly forever, but you have to ask yourself, at what cost?
As much as I – a fan of baseball – reveled in the Cubs victory in 2016, it pleased me to no end that Chapman melted down in Game 7 against Cleveland and wasn't on the hill when the last out was recorded. He didn't deserve that front page photo, that SI cover, that memory seared into the minds of every Cub fan within earshot of 670 The Score. The Chapman signing has always left a bitter taste in my mouth, and will always be a blight on Theo Epstein's legacy.
If there is a Theo Epstein 2.0, it would be former Rays GM, and current Dodgers President of Baseball Operations, Andrew Friedman. A wunderkind from the world of finance, he cut his teeth with a microscopic budget in the backwaters of Tampa Bay, and then moved to the glitz, glamour, and gargantuan pocketbooks of Los Angeles. One can question some of the moves Friedman has made since joining the Bums in 2014, but none more so than signing Trevor Bauer last February to the richest deal on per-year basis (first season only) in baseball history.
Bauer's exploits and "look-at-me" personality has rubbed enough people the wrong way, and enough writers have addressed his personality – shall we say – "issues," that I feel no need to recount them here. But all of those incidents look quaint when compared to what we learned on June 29, 2021. On that day it was reported that the Pasadena Police were investigating a potential sexual assault by Bauer with an unnamed woman from San Diego. The more details that were released, the worse the story got.
We all knew Bauer wasn't a good guy. He may not be Aroldis Chapman (or Milton Bradley), but he certainly isn't anybody's Nelson Cruz. It is hard to imagine any Dodger player learning that Bauer was joining their club and thinking, "alright, a great new addition to the team." At best they were thinking, "hopefully he pitches well every fifth day, and shuts the hell up the other four." Alas, it wasn't Bauer's mouth that got him into trouble.
Bad behavior from Bauer – in some form – was expected. What we should not have expected (and on this your mileage may vary) is the Dodgers woeful reaction and response to that behavior. When the news broke, the Dodgers publicly stated that Bauer would make the team's road trip to Washington and would be on the mound the following Sunday. That was followed by Dave Roberts' incredibly tone deaf – most charitably, ignorant – comment that the matter was "out of our hands." It seems that Roberts believed he could sidestep the issue by relying on the JDVP, which defers punishment to the league, not the team.
But last I checked, Rob Manfred does not fill out the lineup card (insert, "no, the Dodgers front office does" joke here). The Dodgers could have come up with a valid reason – the emotional toll of being charged with a serious crime being a pretty easy one – for skipping Bauer's next start. Hell, they could have come up with a magical hamstring strain – the same one that has caused the slumping Cody Bellinger to miss a few games last week. And while the Collective Bargaining Agreement prohibits teams from retaliating against players by benching them, the worst case scenario is that Bauer would have filed a grievance. And the Dodgers lost. And they were forced to pay a fine. As of last year, the team was worth $3.4 billion. You would think with that kind of scratch they could afford a small penalty from an arbitrator (assuming they lost the grievance) to retain the moral high ground, to send a message to the team that this conduct will not be tolerated, and to let their fans – many (50%?) of whom are women – know that despite signing Bauer in the first place, they are a class organization. Yeah, they chose not to do any of that.
Per the terms of the JDVP, MLB has the right to put a player on administrative leave for up to seven days while it investigates an incident. They have right to extend that with the consent of the MLBPA. Both of those things have occurred with Bauer. While on administrative leave, the player continues to get paid, continues to accrue service time, and has the right to continue working out at the team's spring training facilities. And as much as I dislike Bauer, the first part of that makes me very happy.
If MLB ultimately determines that Bauer violated the terms of the JDVP, they can and will suspend him without pay. Since 2016, the shortest such suspension has been 15 games (twice), with five suspensions of 75 games or more. Sam Dyson incurred the harshest punishment: the entirety of the 2021 season.
As I am sure you are aware, Bauer has vowed to fight the charges, and there is a real chance that MLB elects not to take any action unless/until the criminal matter is resolved, whenever that occurs. But Bauer could force everyone's hand and not consent to any additional administrative leave (he agreed this week to extend it through August 6th). If he were to do that, he would make the Dodgers put up or shut up, as they would no longer have the ability to punt their decision about what to do with their problematic pitcher.
Bauer's contract is not public. We don't know if the Dodgers would or will have a valid justification to terminate it. But, if such an off-ramp does exist in the legal boilerplate, it is unlikely that it would be possible to enforce that provision until the criminal matter is adjudicated. And that seems unlikely before September (when Bauer's last 2021 paycheck will be due). And that makes me happy.
Sure, I don't like seeing Bauer getting rich and not playing and trying to plead the fifth. But I find the idea of the Dodgers getting out their financial bind considerably more odious. The Dodgers bought their ticket; they bought a ticking time bomb; they knew the risks; they injected a virus into their World Series-winning clubhouse on a wing and a prayer that it would not turn into a cancer. Well, guess what?!? According to the Los Angeles Times' Bill Plaschke, the majority of Dodger players do not want Bauer back under any circumstances.
Even if Bauer is ultimately exonerated in the criminal matter, he still may be suspended by MLB without pay (each tribunal has different standards). That would benefit the Dodgers in the event Bauer exercises his $32M option for next year. But even if Bauer were suspended without pay for the entirety of the 2022 season (see Dyson, Sam), he still could theoretically exercise his 2023 option and make the Dodgers pay him $32M to either pitch as a pariah or play somewhere else. Oh, and if Bauer threw the Dodgers a bone and opted out of the 2023 obligation, the Dodgers would still owe him a $15M buy-out.
So, absent a criminal indictment or conviction that allows the Dodgers to terminate Bauer's contract, the Dodgers WILL PAY. It may not be the entire $102M, but they will cough up a huge chunk of it. And as loathsome as I find Bauer, the Dodgers being forced to spend nearly nine figures to rid themselves of this mess makes me happy.
The Boys in Blue can remove all the Bauer merchandise they want; they can cancel all the bobblehead nights they had planned; they can try to retcon their response to this episode however they choose. But we all know that they made a cold and calculated decision when they signed Bauer, who, as Plaschke rightly pointed out, "had a history of harassing and bullying women online, mocking transgender people, and spreading conspiracy theories." Andrew Friedman, like Theo Epstein before him, put FIP and WPA and a recent Cy Young award ahead of character and rectitude and principle. The Dodgers laid down with a dog. And now they have to pay for the fleas.
PLAY BALL!!