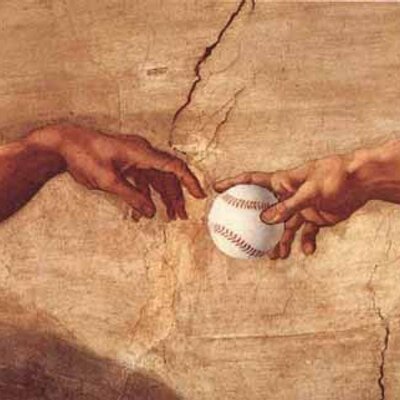 The Baseball Gods
Every season, it seems, for one reason or another, we are thrown into the abyss of the "unwritten rules." The list is long, if not readily understood. There are the age-old tropes of the "right way to play" and "that's not how it is done" and "everyone knows not to do that." And even with those, we learned a new one this week – one with obvious racial undertones – by Rangers manager Chris Woodward when discussing not swinging on a 3-0 pitch up by seven runs:
"It's kind of the way we were all raised in the game [emphasis added]."
There has been much written about Fernando Tatís, about his exuberance, and that of fellow Latin players. There has been gallons of ink spilt about new school vs. old school, about "letting the kids play," about stodgy standard-bearers, and the aforementioned "unwritten rules." There is no need to rehash the same here.
But what struck me this week was the beauty of the Baseball Gods (capitalized out of reverence). Don't believe in them? Live as a Red Sox fan until mid-October, 2004; or as a Cubs fan until the rain started to fall in Cleveland on November 2, 2016; ask an announcer about mentioning the number of base hits allowed when a pitcher is pulling his car up for his date with destiny; or just ask any Astro about the status of their pitching staff this season. Or read either of these books.
The Baseball Gods struck back this week in ways only they know how.
On Wednesday, I had the following text exchange with my brother-in-law about the aforementioned Tatís brouhaha:
Him: Our house is buzzing with Tatís talk. We don't get all the hoopla because in MLB people come back from 7 run leads and it's on the pitcher to not give him that pitch.

Me: 7 runs in that bandbox is not insurmountable…
We discussed more, like Chase Tingler's poor handling of the matter, and how Tatís should be more accountable if he missed a sign, but you get the essence.
And here is where the Baseball Gods decided to show up and flex all their celestial might: On Thursday, just about twenty-fours after the above back-and-forth, the Phillies put up seven runs on the Blue Jays in the first inning. Now, granted, a seven-run lead after half an inning is different than a seven-run lead after seven; and, granted, Sahlen Field is not the new Globe Life Field. Nevertheless, the lead is/was the same. The Jays scored two in the bottom of the first; and then – that magic number again – seven in the bottom of the sixth to take a 9-7 lead, ultimately winning 9-8.
No sooner had the baseball purists stepped down from Mt. Pious to say that players should play differently with a seven-run lead did a team come back from that exact deficit. Was the ultimate outcome of that Phillies-Blue Jays game the impetus for Tingler and Chris Woodward to change their respective tunes? Did all-timers like Johnny Bench and Reggie Jackson coming out on Tatís' behalf change the temperature?
So you take a pitch…now you're 3-1. Then the pitcher comes back with a great setup pitch…3-2. Now you're ready to groundout into a double play. Everyone should hit 3-0. Grand Slams are a huge stat. @tatis_jr https://t.co/4D3ilsD9Sh

— Johnny Bench (@JohnnyBench_5) August 18, 2020
Fernando Tatis keep playing hard and playing great, it's a pleasure to watch you play, love your success and the Padres rise to be a winner. Keep leading the way. It ain't easy to hit Hrs. Keep bringing energy you have to the game, we need players like you. An All Star

— Reggie Jackson (@mroctober) August 18, 2020
Did the sheer number of think pieces and/or the leveling of Woodward's hypocrisy make this nothing more than a tempest in a teacup?
Or, did the Baseball Gods strike down once more to remove this silliness from the front pages of sports columns by opening Thom Brennaman's mic before the second game of the Reds-Royals double-header on Thursday night? The truth is, we will never know.
But, if we learned anything these past few days it is that we doubt the Baseball Gods at our own peril.
PLAY BALL!!