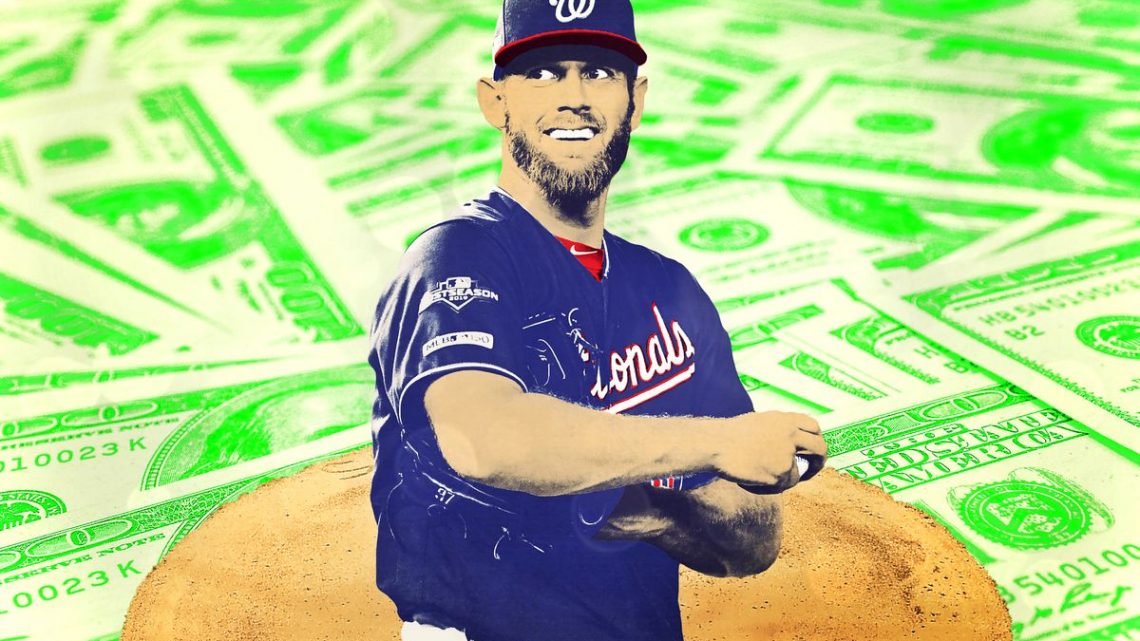 "What If": The Butterfly Effect
One on my favorite things to think about when watching baseball is the "what if…" "What if" that last pitch had been called a strike…?  "What if" that ball had been an inch to the right? "What if" the third baseman caught that foul ball?
But now that the baseball season has been in the books for two months, and the hot stove has been burning up, I got to thinking about an interesting (to me, anyway) "what if", and the butterfly effect that it had on the off-season.
Let's go back to the bottom of the ninth of Game 5 of the NLDS. While the Dodgers had led 3-0 after five, the score was 3-3 going into the bottom of the ninth. With one on and one out, and rookie catcher Will Smith lined the first pitch he saw from Daniel Hudson to deep right field. According to Rob Arthur (@No_Little_Plans) (who, if you don't follow, you should), during the regular season balls hit with the same characteristics (exit velocity between 99-101 MPH and a launch angle between 25-27 degrees) flew an average of 385 feet. If Smith's ball had traveled that far, it easily lands in the right field pavilion, and Smith finds his name mentioned amongst Gibby and Turner and Culberson (look that one up). A few more feet and the Nationals' curse remains in place, and we would have had yet another Dodgers-Cardinals NLCS, and we possibly get a 2017 World Series rematch.
That is the team analysis. But what about certain players? "What if" Smith became a hero and the Nats went home? What happens with Stephen Strasburg? He had an opt-out in his agreement with the Nationals, meaning he could have become a free agent and walked away from the remaining 4/$100M on his existing deal. It is likley that he would have opted out no matter what, trying to get the CC Sabathia / Clayton Kershaw leverage extension, adding maybe two years and $50M to the deal; or maybe even an additional $80M, pushing the AAV to $30M. But…
Smith's ball landed in Adam Eaton's glove, the Nationals won the game in the tenth, and then Strasburg threw seven innings of Game 3 of the NLCS, giving up one earned run while striking out eleven. The Nationals went on to win the pennant.
Then, Strasburg won Game 2 of the World Series, pitching six innings, giving up two earned runs, while striking out seven.
And to put a bow on his post-season, Strasburg went 8-1/3 innings in Game 6 of the World Series, yet again allowing only two earned runs while striking out another seven Astros. This led to him being named the World Series MVP. Which made opting out of his contract a no-brainer – he would never again have more value or more leverage.
So, rather than getting a deal like the ones described above, Strasburg got himself a record contract of 7/$245M. There is simply no way he gets that deal if his season ended at Chavez Ravine in the NLDS.
With Strasburg's deal in the books, his agent Scott Boras had a baseline to negotiate Gerrit Cole's new contract. If the Astros has been playing the Dodgers (or the Cardinals) in the World Series, there is a better than zero chance that Cole wouldn't have been sitting in the bullpen begging to pitch in Game 7, only to be spurned while his team walked off the field in defeat. In fact, against those other opponents, there is a better than zero chance that Cole would have found himself bathed in champagne and on a parade float through the streets of H-Town. And, in that alternate universe, there is no bitter Cole donning a Boras Corp. hat in the clubhouse after said Game 7, seemingly making the decision right then and there that he would be taking his talents elsewhere.
With Cole truly on the market, and with Strasburg's deal inked, Boras preyed on the Yankees to get a ridiculous 9/$324M out of the Steinbrenners. Without Strasburg's deal as a precedent, there is simply no way that Cole gets that deal. In fact, odds are that Cole would have gotten – and been happy with – Strasburg's 7/$245M.
And with those two record-breaking deals done, Boras went to work for Anthony Rendon. Had his season ended at Dodger Stadium, he doesn't hit .317 with 10 RBI over the NLCS and the World Series, including two huge homeruns in the seventh inning of both Games 6 and 7 in Houston. Going into free agency, the benchmarks for Rendon were Manny Machado at 10/$300M and Nolan Arenado at 8/$260M. But Rendon was able to command $35M/year from the Angels – for 7 years. Without those extra eleven games, there is simply no way Rendon gets a higher AAV than both Machado and Arenado for that many years.
Seven feet. Less than an eyelash of seam height differential on the ball. A fraction of an inch on the barrel of the bat. The flap of a butterfly's wings. That's all it would have taken to change history…and destiny. Millions – maybe hundreds of millions – of dollars changed hands when Smith "flew" out to right rather than walking the Dodgers off. Families, teams, and cities were transformed over 84 inches. Will Smith has a long career ahead of himself, so maybe he has easily moved on. But for Clayton Kershaw (he of the back-to-back dingers in the eighth), Dave Roberts, and Andrew Friedman, they have probably gone to bed every night for the past three months thinking, "What if…?"
PLAY BALL!!