A DAMN SHAME
A DAMN SHAME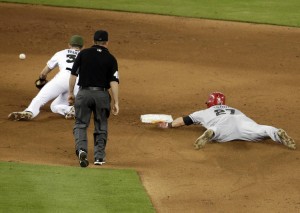 Many people remember Tuesday's AL Wild Card game for the six first inning runs (including three homers); or the fact that the starters recorded a combined seven outs.  For me, I will remember a little-noted play in the bottom of the 7th inning.  Aaron Judge led off with a walk, and took off for third on a base hit by Gary Sanchez.  A decent throw by Eddie Rosario gets Judge (first out of an inning at 3rd base?!), but Rosario air-mailed it, allowing Judge to take second.  What was remarkable about the player, however, was Judge's slide into third.  Putting aside the awkwardness of the actual landing, it was that Judge dove into third base.
This is the same Aaron Judge who hit 52 homeruns, led the AL in runs, slugging percentage, and on-base percentage; who had already left the yard earlier in the game.  A player who is a lock for Rookie of the Year and is in a dead heat for MVP.  And yet, in the first game of what Yankee fans hope will be a long post season, Judge put that all in jeopardy with a head first slide.  Why?
It is well-worn territory to say that Mike Trout is the best player in baseball.  By some metrics, he is on his way to being the best player of all time.  And even though it does not seem possible, he keeps getting better.
After the first two months of this season, Trout was off to his best start, leading the league in WAR (33% better than Bryce Harper).  In fact, the early-season disparity between Trout and Harper (#1 & #2 on Fangraph's WAR list at the time) was the same as the disparity between Harper and #20 on the list (Mookie Betts/Nolan Arenado).
Trout was second in the league (behind only the aforementioned Aaron Judge) in homers; led in OBP and OPS; second in slugging; and in the MLB Top 12 of batting average, runs, stolen bases, and RBI (if you're into that type of thing).  In short, we were on our way to witnessing greatness squared – Trout outperforming otherwise peak-Trout.  The Millville Meteor was well on his way to another first or second finish in the MVP race for the sixth straight season (besting Barry Bonds in the process).
Alas, it wasn't meant to be.  On May 28th, in completing his tenth stolen base, Trout dove head first into second.  He came up with a torn UCL in his left thumb; had surgery two days later, and didn't return to the lineup until July 16th, after missing 39 games.  Trout made $19.2M this year, which means this dive into second cost the Angels about $6.5M of lost productivity (and, truth be told, that is a gross under-estimation of his true worth).  But, more importantly, the Angels lost their best player, their best hope for contention, their best draw, and the best reason to tune into an Angels' game.  We as fans lost the best player in the game.  No more highlight catches; no turning on inside fastballs and hitting them to the rocks at Angels Stadium; no going from first to third on a single to left; and now no reason to pitch to Albert Pujols.
Two years ago I wrote a piece about the stupidity of sliding head first ("Using Your Head…By Using Your Feet").  After watching Trout walk off the field that Sunday night in May, I went back to take another look.  The article was as relevant in May, as relevant this week, as it was two summers ago.  In case you missed it then, here it is again – maybe Judge can read it before he does something this stupid again.
Losing Trout for a quarter of the season (his first DL stint of his) for an injury that was self-inflicted; for doing an act we specifically prohibit kids from doing.  All you can say is that it's a damn shame; just a damn shame!
Use your feet…
PLAY BALL!!