WHEN REPUTATIONS PROCEED YOU
WHEN REPUTATIONS PROCEED YOU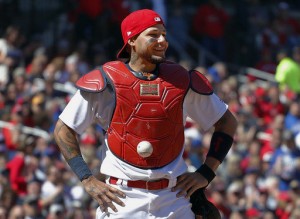 Good reputations are earned.  Through hard work, dedication, and good public relations. They are earned over the course of years, decades, an entire career.  But the one sure way to earn a good reputation, to cement your stature into people's hearts and minds, is by winning.
And once a winning reputation is earned, it is exploited.  And we, as consumers, become suckers for those reputations; lemmings lead to sometimes illogical conclusions because those reputations become hard-wired into our psyches.
I first became aware of this phenomenon back in 1988.  The Dodgers, coming off a 73-win, fourth place finish, brought in a winner.  They signed Kirk Gibson, and his hustle, heart, and (eventual) heroism to a 3/$4.5M contract (how quaint that seems today!).  Gibson, the former Michigan State football star, hitter of that dramatic homerun off Goose Gossage in the '84 Fall Classic, and owner of a World Series ring.  It was that Kirk Gibson; and he was bringing a certain "something" to the moribund Boys in Blue.
It took only a few weeks into Spring Training to find out what that "something" was.  The team's official prankster, Jesse Orosco, decided to pull one over on the newest Dodger.  A little eye black around the inside of his cap; a player donning said cap; eye black on the forehead; hilarity ensues.  Well, maybe not.
Gibson didn't take too kindly to the joke, and stormed off the field.  He had a few choice words for Hall of Fame manager Tommy Lasorda as he stomped away, and then – channeling his best Buddy Revell – he challenged the culprit to meet him in the cafeteria.  Orosco waited a day, let Gibson cool off, apologized, and we all know how the 1988 Dodger season ended.
Gibson explained away his tantrum by simply saying that game time was the wrong time to mess with him.  And I guess PFPs and infield-outfield the first week of March classify as game time in the world of Kirk Gibson.
Which brings me to my point.  By Spring Training 1988, Kirk Gibson had a reputation as a fighter, a leader, and a winner.  Nothing stood between him and the goal line or a 98 MPH heater.  He was the adult in the room; and anyone who disrespected that did so at their peril.
But what if it hadn't been Kirk Gibson; what if had been Mike Marshall (the oft-injured first baseman, not the rubber-armed reliever); what if it had been Don Sutton or Steve Sax or John Tudor who lashed out over a silly prank?  The papers (there was no Internet in 1988) would have howled with "cry baby", and "can't take a joke", and "prima donna", and "get over yourself".  But, because it was the exulted Kirk Gibson, the World Series hero with the tough guy moustache and the winning reputation, it was a case of "I am here to win…not play games".  And we all ate it up.
Let's change sports for a moment.  Tom Brady is arguably the greatest quarterback in NFL history.  He has won two MVPs, four Super Bowl MVPs, and five rings.  In short, Tommy is a winnah!  But watch Tom stalk the sidelines screaming at his teammates.  Will to win, or sore sport?  Demands excellence from all of his teammates, or casts blame on everyone else?  We know the answers to these questions because it is Tom Brady.  But change the paradigm ever-so-slightly, and ask yourself if Tom's sideline tirades are all that different than those of the hated Jay Cutler.  Cutler "doesn't care", "isn't a leader", "has a bad attitude", and is a "cry-baby".  Really?
Reputation matters.  You wear them like a badge of honor, or they get hung around your neck like an albatross.
How about Joey Bats.  For years we have disliked that guy – for one reason or another – so when he had the bat flip heard 'round the world, it became an international incident with pearls being clutched from sea to shining sea, across two sovereign nations.  But when lovable Manny Ramirez exalted with joy, it was just "Manny being Manny", a slugger who plays the game with youthful exuberance.
This all become relevant during opening week when Yadier Molina was involved in one of the strangest plays you will ever see.  Now, Yadi is beloved in St. Louis – he just signed a 3/$60M deal that will take him to his age 37 year – and he is a two-time World Series champion.  He is beloved in Puerto Rico as a conquering hero and the captain of their highly successful WBC team.  And he is beloved in baseball circles for his throwing arm, his in-game acumen, his control of the pitching staff, and for being the best of a trio of catching brothers.
But when Yadi Molina is caught, not red-handed, but no-handed, using an illegal substance, we all laugh it off.  Broadcasters, writers, pundits, all effused with "Wasn't that strange!" "How wacky!"  "We've never seen that before."  Buster Olney and Derrick Goold called him out, but the whole incident essentially went away.  But imagine if that had been the hated A.J. Pierzynski?  Or the decidedly old-school Brian McCann? Or rookie Gary Sanchez?  Hell, what if it had been one of the other Molina brothers?  I doubt the public perception would have been:  ¯\_(ツ)_/¯.
But Yadi's reputation precedes and proceeds him.  He is a leader and a winner.  We, as baseball fans, have decided that we love Yadier Molina, and – as such – are willing to overlook his "look ma, no hands" routine.
I guess the moral of the story is do good unto others (i.e., be a leader); treat people with respect (i.e., see their greatness and push them to achieve levels they never thought possible, even if it requires berating and harassment); play as hard as you can (i.e., if you ain't cheating, you ain't trying); but most of all, win.  Win and the world will shrug its collective shoulders, will avert its prying eyes, and will tolerate nearly any boorish, unethical, or illegal behavior.
And if you don't believe me, take at a look at the current denizen of 1600 Pennsylvania Avenue.
And if it is not stuck to your chest protector, I say:
PLAY BALL!!
p.s.  It has taken me a bit to actually write and publish this piece.  In that time, at least in one instance, shoulders were not shrugged, eyes were not averted, and boorish and unethical behavior was not tolerated.  When I first penned this, the penultimate paragraph read:
And if you don't believe me, take at a look at the men who work at 1600 Pennsylvania Avenue and 1211 Avenue of the Americas.