A Tale of Two Free Agents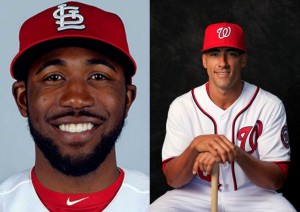 Last year I wrote about two players who had made difficult contract decisions.  While it seemed relatively easy to assess those decisions at the time, now, with the benefit of hindsight, we can look at those decisions with a little more clarity and see which player made the right (or wrong) call.
Let's start with the easy one: Dexter Fowler.  As you may recall, after the 2015 season, the Cubs made Fowler a $15.8M Qualifying Offer ("QO").  He, of course turned that down, and then sat around unemployed until after pitchers and catchers reported for Spring Training.  However, because fortune favors the brave, before position players reported, the Orioles offered Fowler a 3/$33M deal to play right field.  With just a single phone call, Fowler had doubled his guaranteed money.
But before the phone line could go dead, Fowler reversed course and signed a 1-year/$8M deal to remain the Cubs' center fielder.  The deal included a $5M buy-out.  Fowler could have taken the easy route, signed the QO, and made $15.8 million with the Cubs.  Instead, he tested the market, and ended up taking a $2.8M hit.  That is money he can never get back.
As we all know, Fowler led off, played great defense, and helped the Cubbies win their first World Series in over a century.  And then, flush with his playoff money (~$365K), and his $5M buy-out check, Fowler signed a 5/$82.5M deal with the rival Cardinals.
Obviously, rejecting the 3/$33M deal from Baltimore made perfect sense (especially in hindsight), but rejecting the original QO still doesn't make any.  But all's well that ends well:  Fowler has a ring and will make more than $95M over a 6-year period.
Now the trickier one: the curious case of Ian Desmond.  After the 2013 season, Desmond turned down a 7/$107M offer from the Nationals.  Instead, he signed a 2/$17.5M deal to keep his options open after 2015.  He then turned down the Nats' QO ($15.8M) for 2016, and found himself unemployed.  The Rangers threw him a lifeline and signed him to play center field for $8M.  If you are counting at home, at this point Desmond had cost himself $20M in actual dollars, and $61M in additional guaranteed money.  Ouch!
In 2016, Desmond had a great first half (15/55/.322/.375/.524), and seemed to be positioning himself for a big contract.  But then, in the second half, his production cratered (7/31/.237/.283/.347); the new CBA changed the way teams view long-term deals; and Desmond turned down the Rangers' QO, thus any team that signed him would forfeit a first-round draft pick.  The pickings were again looking slim for Desmond, and he seemed to have lost both leverage and money.
But, because fortune hath many roads, the Rockies came to the rescue.  For reasons that are still inexplicable to the baseball cognoscenti, the Rockies gave up their first-round pick to sign Desmond to a 5/$70M deal to play first base (a position he has never played).
Assuming that money is the only thing that matters, Desmond may come out okay (but not great) in all this.  Had he just signed on the dotted line after 2013, Desmond would have been the Nationals shortstop for seven years and pocketed $107M.  As it stands, he had to move cities twice, leagues twice, positions twice, now plays for an also-ran in a loaded division, and will play an additional season for $11.5M less in total money.  Hubris or simply bad decision-making cost Desmond at least $11.5M, and probably closer to $25M (assuming a $14M deal for the 2021 season after the long-term Nationals deal expired).
Patience isn't always a virtue, and good things don't always come to those who wait.  Dexter Fowler and his reps made smart, long-term, and thoughtful decisions about his career, and it paid off handsomely.  Ian Desmond, on the other hand, seemed to make disjointed, short-sited, and capricious decisions, and will pay in the long run.
But hell, they both still play baseball for a living, so don't feel to bad for them.
PLAY BALL!