G.O.A.T. (Game 7 Edition)
G.O.A.T. (Game 7 Edition)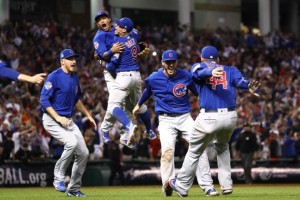 Wow!  Just, wow!  How else to describe what we witnessed Wednesday night in Cleveland?
That game had so much, nearly all of which has been written about – wonderfully, poignantly, emotionally, by Buster Olney, Ken Rosenthal, Bob Nightengale, Ben Lindbergh,  Jonah Keri, Rick Telander, Michael Bauman, Jayson Stark, Peter Gammons, and too many more to count.  Hell, 96-year old Roger Angell cracked out the old Selectric to write a short article about the game.
As always, I try to find the nooks and crannies that aren't being covered by the MSM.  For instance, everyone is discussing Joe Maddon's use of Aroldis Chapman with a 7-2 lead in the 7th inning of Game 6, and what effect that had on him in Game 7.
Everyone is writing about Maddon's decision to pull Kyle Hendricks with two outs in the 5th inning of Game 7 to bring in Jon Lester for a "dirty" inning.
Everyone is talking about Maddon's safety squeeze on a 3-2 pitch with a guy at the plate who had already hit a homerun.
Everyone is praising Jason Heyward, fighting through his struggles at the plate to continue to be the best right fielder in baseball, and the consummate leader by calling an impromptu team meeting under the stadium during the rain delay.
But is anyone talking about Terry Francona's decision to pull a Little League move by bringing in a new right fielder and shift his right fielder to left, in the middle of an inning?  When was the last time you saw that (outside of a double-switch)?  That decision, defense over offense, would prove costly in the bottom of the 10th.  Haven't heard much about that.
Winning cures all ills, but can we talk a minute about the disaster that was Javy Baez for the first three innings?  I truly love how he takes a knee to insure he fields ground balls.  But, come on, throwing from said knee?  Sidearm?  How about trying to turn two without the ball.  Memo to Baez, SSK provides you with quality leather – try using it rather than attempting a bare hand catch and throw in one motion.  It looks cool when it works, but when it doesn't, we get a two-minute replay delay wherein 50 million people repeatedly get to see you look like a hot dog with no mustard.
Is anyone wondering what happened to John Lackey?  With all of the talk about Jon Lester coming out of the bullpen for his first relief appearance in nine years, where was Lackey?  He had three days' rest (Lester had only two), threw 84 pitches in his last outing (Lester threw 90), and came out of the pen in Game 4 of the 2013 World Series, and Game 2 of 2002 World Series.  He had done this before.
No one is mentioning how silly it is to just give a runner second base.  Brandon Guyer worked a two-out walk in the bottom of the 10th, bringing the tying run to the plate in the person of Rajai Davis.  Anthony Rizzo played behind Guyer, allowing him to take second without a throw.  Yes, I know his run "didn't matter" as the Indians were down two.  But…but, three things happened with that seemingly inconsequential defensive indifference: (1) It denied the left-handed throwing Mike Montgomery an opportunity to pick off Guyer; or, at a minimum, keep him close; (2) It denied the slick Cubs infield the ability to go the "short way" on any ball hit into a hole; and (3) It allowed Guyer to make it a one-run game when Davis dropped a single into center field.  How much better would Cubs' fans have felt being up 8-6, with runners on first and second and Michael Martinez coming to the plate?
Another thing that got overlooked was Dexter Fowler's poise in not attempting to throw out Guyer at the plate.  Had he done so, which seemed like a possibility based on the trajectory and speed of the hit, Davis would have been standing on second base instead of first; with the tying run now in scoring position.  A lesson for our kids watching at home, note how Fowler understood the circumstances and made the heady play, not the heroic one.  (Said differently, "what do I do if the ball is hit to me?")
And while we are on the topic of Fowler, it was he who started the game by "cutting the Russian".  He showed the entire Cubs organization that Corey Kluber was mortal and could be scored upon.  Putting aside all of the reasons that was important, it is incredible to think that Fowler shouldn't even have been there – he was supposed to be the starting right fielder for the Orioles.  How did the Fox crew not mention this?  Check out what I wrote about this deal back in February.  It looks like Fowler made the right call.
Just a few more . . . I promise.
Everyone is talking about Rajai Davis' 8th inning homerun.  That hit had the third highest WPA in the history of the game.  Think about that.  But few are talking about the actual at bat.  Davis went down 1-2, took a ball (99.8 MPH), and then fouled off two 2-strike pitches (98.1, 99.6) before depositing his liner into the lens of the left field camera.
The only thing better than Game 7 dramatics are Game 7 dramatics with two strikes.
And not nearly enough is being made of Albert Almora, Jr. tagging up and going from first to second on Bryant's flyball in the 10th.   Sitting on the bench for nearly four hours, he had the presence of mind to read the ball, the fielder, the moment, and take an extra 90 feet. That set up the intentional walk of Rizzo, which set up Zobrist's tie-breaking double. If Almora stays put, who knows what kind of at-bat this guy would have given the Cubs.
What I haven't heard a single person mention is that Kris Bryant slipped on the wet grass as he made the final throw.  I saw it.  I am sure legions of Cubs fans saw it.  I am quite certain that generations of Chicagoans registered it and assumed that the ball was being airmailed over Rizzo's head, setting up the tying and winning runs in scoring position with Tyler Naquin (looking for redemption) coming to the plate.
Maybe the dramatics of the moment overwhelmed that detail.  Maybe Bryant's ear-to-ear smile 

as he fielded the ball rendered his ice skates meaningless.  But, for me, let's just say my heart skipped a beat.
And last, and maybe – in light of outcomes – least, how soon we forget that Jason Kipnis' foul ball with one out in the bottom of the 9th certainly looked like Aaron Boone, Joe Carter, and Bill Mazeroski all rolled up into one.  Kipnis, the Chicago kid, eventually struck out, so the at bat became a footnote in the "I cannot believe Chapman came back out for the ninth and got a 1-2-3 inning" story.
But, for a nanosecond or two, it seemed like Joe Buck was about to parrot his father with an "I don't believe what I just saw" call to end a 68-year drought.  Alas, it was not meant to be, and only baseball nerds like me even made note of an ultimately harmless foul ball down the right field line.
So there you go.  I have tens more, but we can save them for coaching clinics and backyard BBQs down the road.
The greatest Game 7 of all time.  The only downside: it is 150 days until we hear . . .
PLAY BALL!!