MORALITY vs. IMMORTALITY
MORALITY vs. IMMORTALITY
The Mets won their first pennant in 15 years last season.  They had high hopes for this year.  And then the cornerstone of their franchise – and their infield – went down with a season-ending injury.  What is a contender to do?
The Cubs haven't won a playoff game since 2003 (cue, Bartman).  They are the odds-on favorite to win their division, win the pennant, and win the World Series this year.  But, if they had one weakness, it was bullpen depth.  What is a team with a 108-year championship draught to do?
Winning helps a team's valuations  Furthermore, winning in the post-season really helps bottom lines; to the tune of $20-$30M/season.
According to Statista.com, the Mets franchise value was $850M in 2014, which rose to $1.35B after the 2015 season, and their current value is $1.65B.   (For some added context, the Royals went from $457M in 2013 to $865M today, after two WS appearances and one title.)
The Mets needed a third baseman.  The Colorado Rockies had no use for the shortstop they had under contract for 2+ years and owed $38M, so they fired him.  Cynics might say the Rockies decision to release Jose Reyes was due to rookie sensation Trevor Story (who hit 14 HRs while Reyes was under league suspension).  The optimist would say the Rockies cut ties with Reyes because his behavior in a Maui hotel room against his wife was wholly unacceptable;  and an organization that doesn't hide its Christianity wanted no part of such a player.  If the Rockies didn't put morality above winning, they certainly put it above their bottom line.
The Mets had no such compunction.  They signed their former player, sent him to the Minors to get some reps at third base, and re-introduced him to the Flushing Faithful two weeks later.  The Mets – morality be damned – had a division (Wild Card?) to win.  Anyone who has watched the Doc & Darryl 30 for 30, or read Jeff Pearlman's book, or Ron Darling's book, or Lenny Dykstra's book, shouldn't be surprised.  As we have learned this election season, New Yorkers love "winnahs", and how you go about "yuge" success is beside the point.
The aforementioned Cubs didn't need a closer – Hector Rondon was doing quite well, thank you very much.  But the Cubbies are all-in for 2016.  On July 25th, according to FanGraphs, they had a 98% chance to make the playoffs.  But the playoffs aren't the World Series, and the World Series doesn't guarantee a parade.  The biggest "game changer" on the market was Aroldis Chapman – with his unhittable 105MPH fastball and his (allegedly) very hittable girlfriend.  Would Theo Epstein put the prospect of immortality over the simple concept of morality?  As we all know, yes he would.
Theo joined the Cubs in 2011, when the team's valuation was $773M.  Since that time, it has risen nearly 300%, to $2.2B.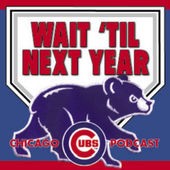 "Wait 'til next year" was selling tickets and moving the needle.  The team didn't need a championship to add value.  But this move was about winning a title.  And if a few people looked askance at the player they acquired, if those people were not overwhelmed by his tepid apology after coming back from his 30-game suspension, if fans would rather "wait 'til next year" than win with "that guy", well, Epstein was not going to be deterred.  Break the Curse of the Bambino and the Curse of the Billy Goat, and Epstein could pick his Hall of Fame induction date. Win at all costs – potentially even your soul; remember, flags fly forever.
But one has to wonder what a parent in Queens or a parent on the North Side says to their kid when they are asked why Reyes and Chapman had been suspended, and why the Rockies and the Dodgers didn't want these guys around, and why their hometown teams did?  All of that may be forgotten in October, when chants of "Let's Go Mets" and "Go Cubs Go" ring in the streets, but it doesn't make the questions any easier to answer.  I guess the answer is: "we root for laundry, and the laundry won; so, HOORAY!"
And, for better or worse, our society seems just fine with that answer.  When we plunk down our hard-earned money to go to the park to cheer for our team, we aren't worrying about morality, we are praying for immortality.
PLAY BALL!!