FROM G.O.A.T. to GOAT
FROM G.O.A.T. to GOAT
We live in a funny society.  And by "funny", I mean wholly cruel and punishing.
As a society, we love nothing more than a great story, a fairy tale come true.  And then we wait for – nee, we wish for, and often precipitate – the great fall.  It is as American as apple pie, the 4th of July, and a Kardashian in your face at the checkout stand.
Sports are no different.  In fact, they may be worse.  Not a month goes by when SportsCenter or SI or The Magazine isn't proclaiming some athlete "the greatest", "the best", "can't miss", "the leader for [insert annual award]", "on pace to shatter [insert hallowed record]", etc. and etc.  And then, when it doesn't happen, when a player on a hot streak (regardless of length) finally comes back to Earth – and by Earth I mean the 1 in 1,000,000 of people in the world who can do what they do at the level they do it – take cover.  The talking heads, the "Hot Takes", the radio guys, the syndicated writers, the blogosphere, your Fantasy Football buddy, they will have their torch in hand and will be marching to the stake to take down last week's hero.   It don't take long to go from G.O.A.T. to Goat.
Lo what a cruel and usual world in which we live.
As I watched this year's baseball playoffs unfold, I saw this phenomenon writ large and small.  Herewith is a brief summary:
Carlos Correa: There really aren't enough superlatives to describe this guy's rookie season or his future.  He came up to the Astros in June and took the league by storm.  He hit for average, he hit for power, and he seemed to make a "Web Gem" every night.  There was a point in August-September when the rook put the team on his back and carried their faltering bullpen into the playoffs.  Announcers and pundits were falling all over themselves to sing the kid's praises, with Alex Rodriguez (cue the laugh track) proclaiming that Correa was a certain Hall of Famer.  Easy, A-Rod.  Let the kid get 500 ABs before he poses for his bust.  But he was playing really well.
Then came the 8th inning of Game 4 of the ALDS.  The Astros scored three times in the bottom of the 7th to take a 4-run lead.  At this point, the Rookie Sensation already had 3 hits and 2 dingers in 3 at bats.  The 'Stros were poised to get to the ALCS a year or two ahead of schedule, and this kid was the main reason.
But in the top of the 8th, the cockroaches from Kansas City started doing what they do.  Five consecutive singles made the score 6-4, and people in Houston were more nervous than an Enron accountant.  But when slow-footed Kendrys Morales hit a two-hopper to short, it looked like the Astros were about to avoid catastrophe.  A twin-killing would have made the score 6-5, but the Royals would have had two outs and a lone runner on third.  Of course, the Royals being the Royals, they probably would have converted that into even more runs, but at the time, it looked like the Astros might head to the 9th with a lead.  If only . . .
Correa misplayed Morales' grounder, no outs were recorded, two runs scored, and the Royals now had runners on 1st and 3rd.   They scored twice more in the 8th, twice more in the 9th, won Game 4, and then went on to win the series in Game 5.  So much for the ALDS MVP, so much for the hero.  Correa misplayed an easy grounder and the Astros season went down the drain.  From G.O.A.T. to Goat in the space of one inning.
Jose Bautista:  Enough has already been written (by me and others) about Bautista's homerun in the 7th inning of Game 5 of the ALDS that we don't need to add anything to the canon.  After hitting the game-winning bomb in a deciding game to propel his team into the ALCS, Joey Bats may have become the G.O.A.T. of bat flips.  (That said, he has some tough competition from Tom Lawless, circa 1987.)
After dropping Game 1 of the ALCS to Kansas City in Kansas City, the Blue Jays needed David Price – and his 0-5 playoff record – to come up big.  Price answered the call.  After giving up a base hit on the first pitch of the game, Price retired the next 18 batters.  It looked to be an epic performance.
But then Ben Zobrist led off the bottom of the 8th with a flair to short right.  Ryan Goins went out, Jose Bautista came in, and neither caught the ball.  Any Little Leaguer would tell you that it was Bautista's ball – as he was moving in.  Bautista neither caught the ball nor took responsibility (check Goins' back for tire marks).
Sensing an opening (smelling blood?), the Royals went single, single, ground out, single, strike out, double, single.  And before the dust had settled in the Midwest, the Royals were up 5-3 on their way to a 6-3 win and a commanding 2-0 series lead.  Joey Bats: from G.O.A.T. to Goat in the space of a 150-foot duck fart.
Yoenis Cespedes:  It wasn't too long ago that people were actively trying to make the case that Yoenis Cespedes could be/should be the National League MVP – even though he only played 57 games in the senior circuit.  The case was strong – sort of.  There is no question that the acquisition of Cespedes changed the complexion of the team, vastly improved their offense, and turned them into a pennant contender.  Cespedes hit 17 HRs and drove in 44 runs in two months.  The team had a .660 OPS before Cespedes arrived from Motown, and then had an .819 OPS in August and September.  Cespedes was THE man.  Until he wasn't.
In 14 games during the playoffs, "Yoenis for the Rest of Us" hit like the rest of us.  With a .222 average, 2 HRs, 8 RBI, no HRs in his last 11 games, and 6 of his 12 total hits coming in just two games.  Add to that productivity, he badly misplayed the first pitch of the World Series into an – ahem – inside the park homerun.  Then misplayed another ball in left field.  And then, with two on and one out in the bottom of the 9th inning of a must-win Game 4, he somehow got doubled-off to end the game.  (See, That Just Can't Happen, October 10, 2014).  When he fouled a pitch off his left knee in Game 5 and hobbled off the field, I am sure more than a few Mets fans were actually relieved.  From G.O.A.T. to Goat within the space of a few weeks.
Jeurys Familia:  This guy was the personification of nasty.  During the season he appeared in 76 games, opponents hit .207 against him while striking out 86 times, and he collected 43 saves.  When he walked out of the pen, it was lights out.  The talk of the town was his "bowling ball" sinker that – even if you made contact – was bound to bound to an infielder inflicting little, if any, damage.  He pitched five innings in the NLDS against the Dodgers, struck out three batters and did not allow a hit or a walk.  He pitched four innings in the NLCS against the Cubs, struck out three, allowed two meaningless hits and issued two walks.  Maybe those two walks were a sign of impending doom.
In the World Series, Familia blew a record three saves.  How did that happen?  Well, he pitched five innings in four games, gave up three hits, struck out three, walked one, and gave up a total of 1 earned run (however, that 1 earned run was a massive game-tying bomb by Alex Gordon with one out in the bottom of the 9th inning of Game 1; cue Gibby!)  It happened because Daniel Murphy forgot how to play second base in Game 4.  It happened because Lucas Duda couldn't throw a ball 90 feet without taking out the mascot.  Give him one huge blown save.  But the others, as they say in Queens, fuggedaboutit!  Familia became the first pitcher to ever blow three Fault or not, blowing three saves on the biggest, that will leave a mark (on his legacy).  He went from G.O.A.T. to Goat (unwittingly) in the short distance between Chicago and Kansas City.
Matt Harvey:  This one is really fun.  The "Dark Knight" was supposedly a savior in New York.  A legend in the making.  He was the guy they built their pitching staff around, and he had all the makings of becoming the G.O.A.T.  Then he blew out his elbow and fought the team to get back on the mound sooner than was rational or prudent.  But when he did come back, he was awesome.  And then his agent leaked some thoughts about innings limits, and all hell broke loose.  In a master class of poor P.R., Harvey essentially conceded that, in order to protect his precious arm, he would not/could not pitch in the playoffs.  New York fans went ape shit.  Harvey was – before anything horrible actually happened – already the Goat for the Mets continued misery.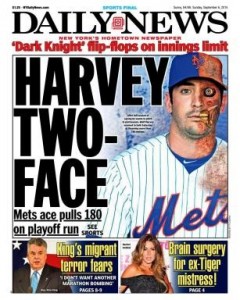 But then Harvey told his agent to pipe down, told his skipper he was ready to go, and took the ball and pitched masterfully.  He may have been the #3 on this awesome staff in the playoffs, but he still drew the most heat and the most attention.  And with the innings limit behind him, he went out and dominated.  The G.O.A.T. had returned – black cape and all.
Fast forward to Game 5 of the World Series.  Harvey was out of his mind.  He pitched 8 scoreless innings, giving up only 4 hits while striking out 9.  And then, irony of irony, everything came down to Harvey wanting to pitch more innings.  Terry Collins relented (possibly because he misused his closer in Game 3 (Collins, a Goat?) and let Harvey take the hill in the 9th.  Harvey got ahead of Lorenzo Cain 1-2, and we all but recorded K #10 in our scorebook.  But fate is a fickle bitch, and Cain worked a 9-pitch walk.  Eric Hosmer (more on him below) promptly doubled to left-center to bring the Royals within a run.  Is/was Harvey a Goat?  Hard to say, but his great outing went down the drain over the course of 5 minutes.  Had he got through the 9th, the G.O.A.T. chant would have been heard throughout four boroughs (I excluded The Bronx).
Eric Hosmer:  It's 3-3 with two on and two out in the top of the 8th inning of Game 1 of the World Series.  So what better time for a Gold Glove first baseman to side-saddle a chopper, misplay it, and allow the lead run to score?  It didn't take long for the Blogosphere to come up with this nugget: "That's the first go-ahead run in the 8th inning or later of a World Series game since, you guessed it, the Buckner game in 1986 World Series" or for Fox to give us this:
A new Goat was born.  But a mere six innings later, Hosmer hit the sacrifice fly to score Alcides Escobar to win an epic Game 1.  Not quite the G.O.A.T., but a minor redemption.
Fast forward to the 6th inning of Game 5.  The Mets led 1-0, got a lead-off walk followed by a single.  Two on, no out.  Daniel Murphy hit a shot – but a fieldable shot – to Hosmer.  When you win Gold Gloves, you are expected to make that play and turn it into a 3-6-3 rally killing DP.  But Hosmer again attempted a backhand, and again came up short.  And now the Mets had the bases loaded with no outs.  Through guile, luck, and a well-placed foul ball off Yoenis Cespedes' knee, the Royals were able to get out of the inning giving up only a single run.  But, for a few moments there, Kansas City fans were asking themselves, "Hosmer . . . again?!"  "Could he be the Goat . . . again?"
Baseball is a great game.  Trailing 2-0 in the top of the 9th, Lorenzo Cain works the best walk of his life (see Jeurys Familia, above).  And then Hosmer promptly doubles off his former travel ball teammate (little known fact: Hosmer and Harvey won a Connie Mack World Series after living, traveling, and playing together in the summer of 2007), bringing the Royals within a run, with no one out.  Hosmer moved to third on a ground out.  But when Salvador Perez could only muster a soft hopper to David Wright, it appeared that the Royals may again leave the tying run 90 feet away.
But then Hosmer made his crazy dash for the plate.  A good throw gets him by 10 feet (sound familiar?), and sends the series back to Kansas City for Game 6.  A bad throw ties the game.  When Hosmer popped up with a filthy uniform, I think everyone from Queens to Kansas knew the eventual outcome of this game/series.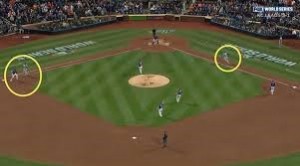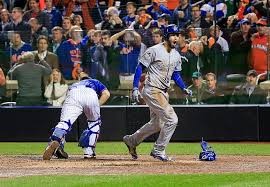 From Goat to G.O.A.T. to Goat to nearly a Goat to G.O.A.T in the space of 4 games.
KC Coaches: I love this one.  My very first post (oh so many year ago) was an in-depth analysis of third base coach Mike Jirschele's decision to hold Alex Gordon at third base with two outs, trailing by one run, in the bottom of the 9th inning of Game 7 of 2014 World Series.  I said then, and I say now (and nearly everyone agrees) that it was the right call.  The odds were stacked just too much against scoring that run that way in that moment.  Win one for the coaches.
But the Kansas City coaching staff – and Ned Yost in particular – don't get nearly enough credit for their preparation and execution.  Yost has been a laughing stock in Kansas City for half a decade.  #FireYost and #Yosted were familiar refrains in the Twitterverse for years.  I guess something changed (and, by something, I mean our impression of the man and his coaching staff).
Drew Butera, who came to the Royals from the Angels in May after playing with three other teams, was quick to remark how the Royals did things differently.  In his first pre-series meeting for pitchers and catchers, he was astonished to find that they had advanced metrics on everything – including each game's umpire.  This coaching staff didn't leave anything to chance.
So, when Lorenzo Cain was hugging first in a 3-3 tie of Game 6 of the ALCS, and Eric Hosmer (there's that guy again) hit a sharp single down the right field line, Jirschele put his advanced scouting to work.  Jirschele analysis revealed that every time a ball like that was hit, Jose Bautista came up throwing to second base.  Knowing he would do so again, Jirschele wheeled Cain all the way around with the Royals 4th and eventual pennant winning run.
Now, a quick aside: A lot has been made in the press about Cain scoring from first on a single.  While this is technically accurate, it is a bit disingenuous.  The only reason it was a "single" was that Bautista threw the ball to second to keep Hosmer from getting a double, which, as stated above, allowed Cain to score.  Had Bautista thrown home, whether or not Cain was safe, Hosmer would have gone to second and been credited with a double.  So, while Cain was flying, and Jirschele made a gutsy (and ultimately correct) call to send him, this isn't the stuff of legend.  Okay, now I feel better.  Let's get back to our regularly scheduled programming.
It was also the Royals coaching staff that had prepared their players with the following information: if and when you have the chance, run on Wright and Duda.  Through four games, the opportunity hadn't presented itself.  But when Wright shuffled to his left to get Perez's bouncer, Hosmer was already armed (legged?) with the information he needed to take the risk (and it bears mentioning that the Royals coaching staff has encouraged risk-taking on the base paths all season).
Some people hate Ned Yost, and some people love him.  But you cannot deny that he and his coaching staff are prepared each and every day.  A year ago some were calling Jirschele a Goat, but – for a few days at least – this coaching staff is the G.O.A.T.
And lastly . . .
Daniel Murphy:  Who would've thunk when I wrote about Daniel Murphy back in March (Opening Gay (A Conversation)) and stated that I didn't know much about him, that he would become a folk hero in an October fortnight?
Here is all Daniel did in two series against the best pitchers in the world (including Clayton Kershaw, Zach Greinke, and Jake Arrieta): Hit .421, slugged 1.026, and hit homeruns in 6 consecutive games.  For that he was rewarded with the cover of SI, a place in the record books next to Barry Bonds (good news?), and compared to Reggie Jackson, Albert Pujols, and other October greats.  After homering in the 8th inning of Game 4 of the NLCS to finish off the sweep of the Cubs, New Yorkers were hopeful that they could ride four electric arms and one scorching bat all the way to the Canyon of Heroes (or wherever the Mets would have held their parade).  For a few weeks, Daniel Murphy was the G.O.A.T.
But a funny thing happens when you sweep a series – you are forced to sit, and wait, and answer hundreds of questions, and get out of rhythm, and start thinking about how and why a guy who had multiple seasons  of 6 total homeruns could hit 7 in 9 games.  And then you fly to Kansas City.  Toto, I guess we're not in Los Angeles, Chicago, or Long Island anymore . . .
For starters, Murphy lost his mojo at the plate.  He glared at umpires after looking at repeated strike threes, on his way to hitting an anemic .150 over 5 games, mustering a total of 3 singles.  But that wasn't even close to the worst of it.
Trailing 2-1 in the series, but leading 3-2 with two on and one out in the 8th inning of Game 4, Eric Hosmer (that guy again!) hit a slow roller towards second base.  Murphy, channeling his inner Buckner, misplayed the grounder, allowing it to roll into right field and the tying run to score.  Two singles later and the Royals had themselves a 5-3 win and a 3-1 series lead.  This Halloween became a ghoulish nightmare for The City that Never Sleeps.  Murphy took his lumps as a true pro, and his teammates had his back.  However, there was no escaping the fact that he had become a Goat.  But that's not all.
From the Department of Obvious, Game 5 was a must-win for the Mets.  As per above, Matt Harvey did all he could through 8 innings to will his team to victory.  However, the Royals would not be swayed, and tied it in the 9th.  On to extras we went.  When KC pushed across the lead run on a Christian Colon single (first at bat in a month, natch), the Royals had the slimmest of leads. 
So when Paulo Orlando hit a grounder to Murphy, you couldn't help but think that the Mets would turn two and get back to the dugout with a chance to keep the series going.  But Murphy was all thumbs.  He misplayed yet another groundball, putting the Royals up 4-2.  Two doubles later, the Royals had a commanding 7-2 lead with Wade Davis on his way in from the bullpen, and the plastic was being hung in the visiting clubhouse at Citi Field.
Daniel Murphy, from G.O.A.T. to Goat over the course of a 5-day layoff and a 5-game series.
People often complain that baseball is too slow.  Maybe.  But, as we have seen – time and time again – in the blink of an eye, fortunes can change.  Guys can go from G.O.A.T. to Goat faster than you can say "Baahhh!"
Hear we sit, sadly waiting 149 days (damn Leap Year) until we hear an umpire officially say:
PLAY BALL!!