THEY'RE BACK
THEY'RE BACK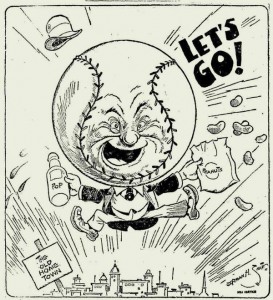 Forget all this nonsense about the Monday after the Super Bowl; and forget ESPN's world dominance and their creation of "Opening Night" the Sunday before.  Opening Day – Monday – should be a National Holiday.  A day when kids are off school (oh, right, they are already), and parents have freedom from meetings, and phone calls, and what's that thing called, "work", and everyone has the G-d given right to head over to the ballpark and enjoy this (hint: it's the D-Backs' new dessert, the Churro Dog):
I guess the one benefit of "Opening Night" is that the Cubs get to actually "start" the season 0-1.  The more things change . . .
. . . The less they stay the same.  There were exactly 158 days between Alex Gordon being left 90 feet from the promised land of a tie game in the bottom of the ninth inning of Game 7 of the World Series, and Jon Lester's first pitch (a strike) at the corner of Sheffield and Waveland (where, apparently, there are no bleachers and not nearly enough working bathrooms).  The times, the ballparks, the rules, the teams, they are a changin'!
If you are not like me (and hopefully you are not nearly as obsessed), you kept only half an eye on the Hot Stove, you read a few columns (hopefully even this Blog), and you heard a few rumors.  Well now that the 2015 baseball season is upon us, allow me to highlight some of the changes you may have missed, overlooked, or simply forgotten about.  These are provided with commentary, but in no particular order:
Hot Topic: Pace of Play.  Batters must keep one foot in the batter's box at all times.  There are enough exceptions to this rule that it will probably be legally not enforced more often than not.   Don't tell that to Adrian Beltre.
The first pitch of an inning must be thrown within 2:25 of the last out of the previous inning if the game is only televised locally; and within 2:45 if the game is national.  Got that?  And remember the ol' 8 warm-up pitches?  Well, they only exist if you can get them in before the clock strikes the :30 mark.  If not, you forfeit the rest.  Violation of these rules will result in no discipline until May 1st, and then will consist of warnings and fines.  Good luck with that.  Not for nothing, a future installment of Baseballcraziness will deal with the pace of play (stay tuned).
The Front Office Move DuJour: Andrew Friedman, the 38-year old wunderkind from Tampa got 5/$40M from the Dodgers – not to pitch or play centerfield or hit home runs – but to make player personnel decisions.  I guess in a world where CEOs make $50M/year, this is not such a bad deal.  But, come on, that is a lot of money for a guy in khakis.  And the Dodgers still have Ned Colletti on the payroll as a "consultant", a new GM (Farhan Zaidi, from Oakland), and a new Sr. VP of Baseball Operations (Josh Byrnes, from the Padres).  Chavez Ravine is rocking quite the "C" Suite.
So go the dominoes.  When Friedman left the Rays, it made available an opt-out clause in Joe Maddon's contract with the Rays – a clause by all accounts he didn't know or forgot he had.  Traveling across the country in his Winnebago, Maddon decided to test the market and landed on the North Side of Chicago for 5/$25M.  In keeping with the AL East to the NL Central theme, Theo Epstein and Jed Hoyer (formerly of the Red Sox), along with Crazy Joe (formerly of the Rays), were able to woo Jon Lester (formerly of the Back Bay) to the Friendly (if currently unsightly) Confines.  I guess familiar faces and $155M have a way of making that type of transition a skosh easier.
Back in L.A., Friedman immediately went about cleaning house, spending Guggenheim's money, and remaking the ballclub in someone's image.  In baseball there is an adage about being strong up the middle.  I guess Friedman and Company think the same way.  A new catcher (Yasmani Grandal from San Diego, by all accounts a defensive upgrade over A.J. Ellis, although Ellis did get a 1-year deal to catch Clayton Kerhsaw every 5th day); a new 2B (Dee Gordon out in a "sell-high" move; and their neighbor to the south, Howie Kendrick, in for at least 1 season); Hanley gone in an effort to avoid the expensive long-term deal knowing that they have a stud knocking on the door in AAA, and J-Roll in from Philly to hold the fort for a few months – potentially the whole season (and rewarding the faithful with a game-winning three-run jack on Opening Day, and two painful errors in Game 2); and the merry-go-round in CF is over, with Joc Pederson taking over full-time duties (service time be damned (and if you don't know what that means, maybe it should be the topic of another article down the road when Kris Bryant and Addison Russell make their debuts)).
As a side note, when 70% are not watching the Dodgers, it is easy to forget that the Dodgers have Juan Uribe at 3B, they signed Hector Olivera for $60M+ to play where, exactly?, they still have Alex Guerrrero ($28M) who has a contract that allows him to refuse to go the minors (which is just as well as he got his ear bitten off there last season), Justin Turner, and Kiki Hernandez, all to play the infield.  And we cannot forget that, even with all of the off-season moves, there are still 4 outfielders for what I count as 3 positions, which means that Andre Ethier will be the most expensive pinch hitter in baseball this season (3/$55M).
Moving on . . .
As previously discussed on this site, Max Scherzer went to the Capital.  And, living up to the hype, nearly threw a no-no on Opening Day (only to suffer a loss because Ian Desmond forgot how to play baseball over the past few months).
After finishing last (for the second time in three years), the Red Sox yanked out their checkbooks to the tune of nearly $200M for the Panda to play 3B and the aforementioned Hanley Ramirez to (a) gahd the Monstah and (b) try to live up to the legacy of another dreadlocked right-handed slugger by the name of Ramirez who played LF for the BoSox and (c) remind all Red Sox fans what they missed when he was traded to the Marlins for a young hurler named Josh Beckett (who, helped the Red Sox win a World Series, was then traded to the Dodgers as part of a blockbuster deal two years ago, and retired this off-season).
But the Red Sox were not done.  Because they have 7 outfielders (Hanley, Mookie, Shane, Allen, Daniel, JBJ, Rusney Castillo for $72.5M), they decided to try to match that by spending $72M for an infielder who will not – any time soon – displace Panda at 3B, Xander at SS, or Pedey at 2B.  I guess it's good to be rich.  And yet, they didn't spend any money to get a #1 starter.  They did, however, dole out $82.5M for Rick Porcello on Opening Day – that's $20M+/year for a guy with a career 4.30 ERA.  Yes, it is really good to be rich.
Staying in the AL East, Russell Martin went home to Canada, and Alex Anthopoulos brought in one of baseball's most underrated stars, Josh Donaldson, to play 3B.
This is the first Opening Day since 1996 that Derek Jeter was not on the Yankees roster.  In his place, Didi Gregorius.  And Stephen Drew to back him up.  Bronx Bombers?!?
Nelson Cruz took his talents to the Great Northwest, and made the Mariner bandwagon the most popular place to be in March and April.  It will be interesting to see how many seats are available come the Dog Days.
Ervin Santana got busted for the juice – I guess baseball's drug problem is not in it's past.  No matter, while he gives up about $7M in salary for 80 games, he is still guaranteed another $47M+.  Who says cheaters never prosper?
Hopefully this guy is true to his word, as Giancarlo Stanton – as previously written – signed the richest contract in sports history.  And it certainly doesn't look like getting hit in the face has had any effect on his power stroke.  Query: How soon until Schutt starts marketing custom faceguards for the Little League set?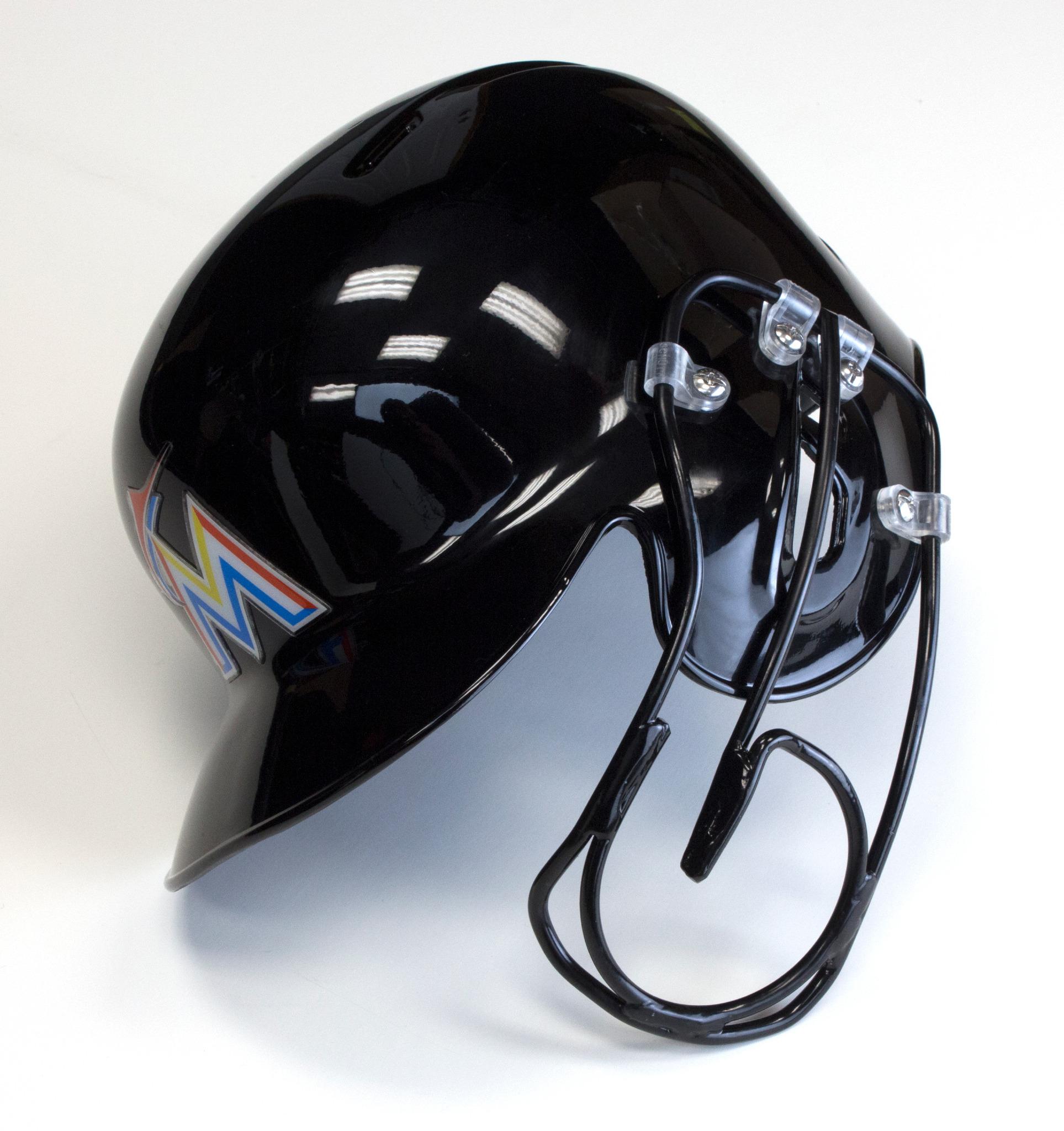 As previously written about here, the Cardinals' present and future slugger, the guy with the million watt smile and million dollar personality, Oscar Tavares, died while driving drunk in the Dominican Republic.  His girlfriend also died in that car.  So tragic.
As morbid as it sounds, the Cards found themselves in need of a new right fielder, so they acquired Jason Heyward from the Braves.  He repaid them with 3 hits on Opening Night.
A-Rod is back.  He scribbled out an apology note to anyone who cared to decipher his handwriting. I guess bygones aren't always bygones: "Batting seventh for your New York Yankees: Alex Rodriguez . . ."
Torii Hunter is back home.  He signed a 1-year deal with the Twins rather than retiring to watch his sons play baseball and football.
Pete Rose wants back in.  Is this funny or tone deaf (I vote the former):
I saved the best two for last:
The San Diego Padres went out and hired a G.M. with what some might call a checkered past with respect to playing by the rules.  They then decided to forego honoring their long-time play-by-play guy, Jerry Coleman, and instead honor the departing commissioner, with his own special plaza in Petco Park.  The fans loved this idea so much that they started a petition to strip the commissioner's name from the area.  The Pads were two for two.
But then the Winter Meetings started, and like a drunken sailor stumbling into the Gaslight with a fist full of hundies, A.J. Preller went to work.  In short order he acquired:
Matt Kemp to play RF;
Will Myers to play CF;
Justin Upton to play LF;
Will Middlebrooks to play 3B;
Derek Norris and Tim Federowicz to catch; and
Brandon Morrow and Josh Johnson to round out the pitching staff.
But wait, there's more.  When no one else was willing to step up and sign Big-Game James Shields, Preller pulled out his Black Amex and ponied up 4/$75M for the horse.  Okay, their work was done, now A.J. could take a breath.
What's that you say, "the season hasn't started yet, there's still time"?  Well, okay, then.  Moments before the first pitch in Wrigley on Sunday night, the Padres acquired the best closer in baseball, Craig Kimbrell, and gave Justin Upton (and the Braves) a nice gift by bringing in his lousy older brother, Melvin, Jr. (nee, B.J.), and the remainder of his $72.25M contract (just $46M left to be paid).
That is a lot of work for the first few months on the job.
And the best story of the off-season happened in one day, in 5 parks, in the Arizona desert.  That is when Will Ferrell decided to go all Jose Oquendo (or, for you local types, Derrel Thomas) and play 10 positions in 1 day – but he added the flair of doing it for 10 different teams.
And he did it all to raise money for cancer research.  Stay classy, indeed!
So there you have it, 5 months synopsized in under 2000 words.
Crack out this mug . . .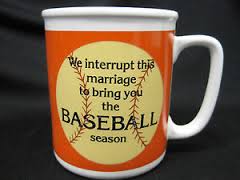 And, as Mike Winters said at about 7pm CDT Sunday night . . .
PLAY BALL!!!