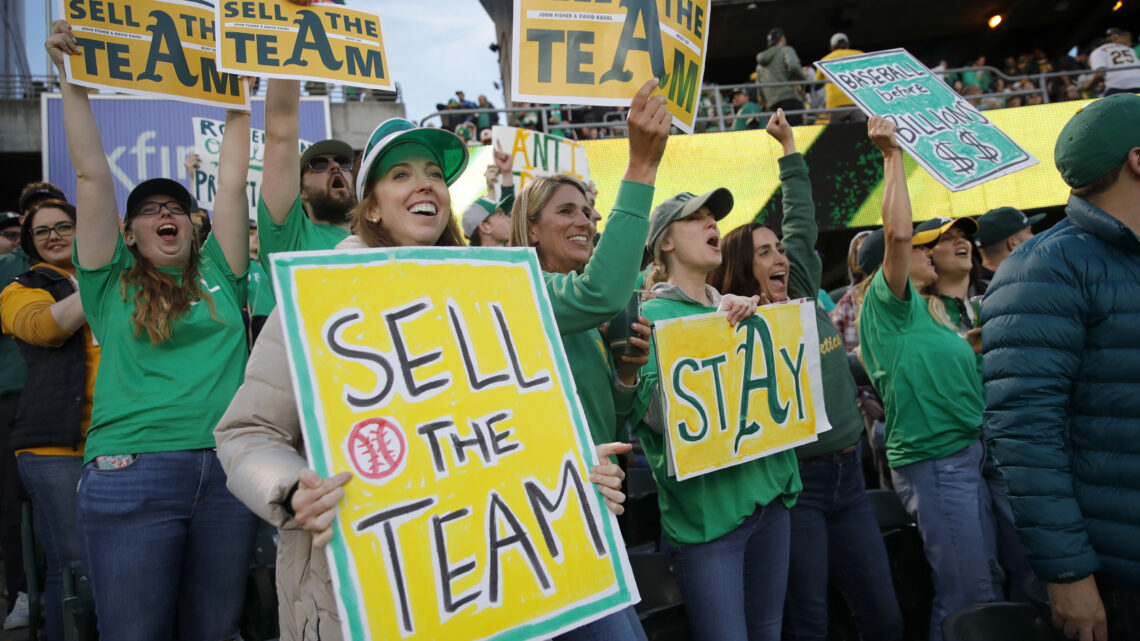 The A's Fans Deserve Better: Sell the Team
*This article first appeared in today's edition of the IBWAA Here's the Pitch newsletter.*
I visited Tropicana Field last year. And, as a glutton for punishment, I gave into to my son's wish to visit an equally squalid ballpark: The Oakland Coliseum. This wouldn't check any stadium off my list, but it did seem like a fun day trip.
I first visited what was then the Oakland-Alameda Coliseum in the late '80s. Even back then the park left a lot to be desired, but (a) the team on the field was something to behold (winning the AL West four of five seasons between 1988–1992; Mark McGwire, Jose Canseco, Dave Stewart, Dennis Eckersley, etc.), and (b) we had nothing of great import to compare it to (Fenway hadn't yet been remodeled; Wrigley had recently installed lights but not clean restrooms; Pittsburgh, Cincinnati, and Philadelphia all played in the exact same multi-purpose cement stadium; a single Giants game was a four-season experience, requiring sunscreen and a parka; etc.). Ignorance, in 1989, was bliss.
Commissioner Rob Manfred has repeatedly stated that MLB will not consider expansion until the stadium issues in Tampa Bay and Oakland are resolved. It seems the Rays have landed on a new park plan and design (here's to hoping it will be a massive improvement), while the A's have all but started packing their bags for Vegas. So, before they leave The Town, my son wanted to see The Coliseum in all of its lack of grace and never-present glory.
Now, I will not get into the many and varied ways that a move to Sin City is a horrible idea and is not in keeping with what A's ownership claims they actually want to do with the team, their ballpark, and the surrounding environs. What I will get into is the current state of where the A's – for the time being – still call home.
Like I stated, it's been more than 30 years since I last saw a game in Oakland. Suffice it to say, time has not been kind to the ballpark. We flew up on a Saturday afternoon, and went through the gates as soon as they opened so that we would have plenty of time to observe the stadium from every angle. We circled the park at the lowest and the highest points; we walked the concourse from the 100 to the 300 level. We climbed to the tippy top and got a view of San Francisco and a vertigo-inducing view of the field below. We stood in the bleachers amongst the "Sell the Team" signs and the drums. We found ourselves in dark hallways and bright bleachers. In short, we took it all in.
If there is one word I would use to describe the park, it would have to be: "janky." The stadium itself is just horrible. Now, here is where I need to state – without equivocation – two undeniable facts:
(1) The A's fans are amazing. They are spirited, excited, and into their team. I did not witness any of the deplorable behavior that I have heard tale about at Raiders games. The tailgate, and tailgaters, were epic. The dancing to live music before the game was intoxicating. And the fans' absolute unity in their love of their team and their antipathy toward the current ownership is impressive. These fans deserve more; they deserve better.
(2)  The field itself is beautiful. From nearly any location inside the park, you can look out and take in the vast expanse of the field itself (but don't let your eyes wonder), and it is impressive. Maybe the splendor was enhanced by this being a gorgeous afternoon in The Bay, with a blue sky above. But, regardless, the groundskeepers in Oakland deserve a raise.
Now, back to the park. Boy oh boy. Where to start? How about at the beginning? We took the BART to the yard, and walked across the bridge to get in. With the chain link fence on the outside and massive cement exterior walls, it was hard to know whether we were heading into a ballpark or a maximum-security prison.
Once inside, the concourses were narrow but fine. The concessions on offer were actually pretty good (and, when compared to Dodger Stadium, downright plentiful); however, you need to go to the deepest recesses of the outfield to find decent ice cream (but I digress).
When we arrived, the A's were taking batting practice (this was about 2½ hours before first pitch). Some of the ushers were great (one even gave a ball to my son). But others acted as if we were trying to get onto the floor for the Showtime Lakers. At one point I asked an usher: "If your team is averaging 8,500 fans per game [about 18% of capacity], why do you care where the fans – who actually show up – go or sit?" The answer was less than satisfying. According to a few diehard fans I chatted with, this has been a theme for a while.
As we walked through the aisles, we noticed three things we had never seen in a major league park:
(1) Duct tape holding various items in place. This includes wires, cables, and seats. Everywhere you looked you caught sight of grey tape in places where cement or bolts or paint would otherwise be.
(2)  Rusted, broken, and discolored seats. And it was not just one or two; it was more like one or two per section. When walking through the aisles, we had to maneuver around seats that could no longer be folded up. The seats lay there, open and faded, as if to say, "We have seen some things, but we are going down with this rusted ship."
(3) A scoreboard missing signage on one side, and on the other side, a panel wherein the former name (O.co) could still be seen through a bad paint job.
It's truly hard to square the circle of the Oakland A's. A team with a storied history in three different cities, potentially on its way to a fourth. The team spent 54 years in Philadelphia, but has now spent 55 in Oakland, and will most likely be there for at least a few more. They won five World Series in Philadelphia and four in Northern California – and whether or not they move, it will be at least a few more years before they win another.
But, regardless, the fans of Oakland have lost their football team (to Las Vegas, natch) and their basketball team (across the bay to San Francisco) – they deserve better. According to reports, only about $30 million separated the team and the City of Oakland when John Fisher abruptly informed the Mayor they accepted a proposal from Las Vegas. While $30 million may seem like a lot, it is only one quarter of one percent of the $12 billion dollar intended project. And the team has already gone back on the deal they originally closed in Las Vegas, opting for a much smaller plot of land and considerably less state money. None of this makes any sense.
It is not too late for Oakland. Commissioner Manfred expects the final owners' vote to approve the move will happen in November. There is no reason that 22 owners need to assent to the relocation. The owners could hear the rallying cry from the fans who have made themselves heard time and again and reject the move; or they could listen to the admonition of now-retired A's pitcher Trevor May, who had the following to say as part of his retirement announcement:
"Sell the team, dude. Sell it man. Let someone who actually takes pride in the things they own, own something. There's actually people who give a shit about the game. Let them do it."
Here's to hoping that in Oakland, for years to come, they will be saying:
PLAY BALL!!