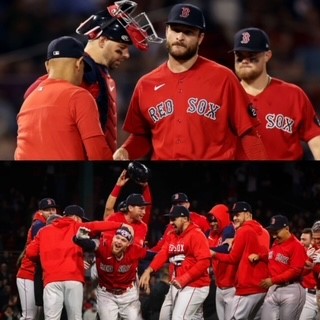 Are the Red Sox Good?
My son, who in his 20 years orbiting the sun has known essentially nothing but triumph for our beloved Red Sox, remains an eternal optimist. Every year, he views the team through the prism of inevitable success. Pitching woes? Those will be solved when Chris Sale comes back. Hitting woes? Triston Casas will be the next great slugger. Shaky defense? Kiké can play anywhere.
But for me, even with four World Series rings in the last twenty years, I still harken back to 1978, and 1986, and 2003, and 2011, and many years in between. The Red Sox are always the sword of Damocles hanging over my head. I try to enjoy the wins and the championships, but I have been burned just too often. Hell, in 2004, I was counting Cardinals batters starting in the fifth inning of Game 4, knowing that their lineup was extremely formidable, and if they won Game 4, why couldn't the Red Birds run off four straight like the Red Sox did in the previous series? Simply put, I never feel "good" about this team.
Which brings us to the 2023 squad. Coming into this season, there were many unknowns, and many distractions. Losing Xander Bogaerts to the Padres was most decidedly not made better by signing Rafael Devers to a long-term extension (they should have signed both). Having a catching tandem where one guy can catch and throw and the other guy can hit, but neither can do both, didn't feel like a recipe for success after years of Christian Vázquez's steady stewardship. And adding the aged (and decaying?) Kenley Jansen to the back of the bullpen for two years and $32 million didn't seem like a good use of resources nor good for our collective heart health (this, of course, was a wrong assessment).
But the Red Sox have surprised many in the ultra-competitive AL East. We are just under the quarter mark on the season, and the BoSox are winning at a .568 clip, a 92-win pace*. Sure, that is only good for fourth place in this division, but this division may send four teams to the playoffs. So, that will play. But here is the question: Are the Red Sox good?
The answer to that question truly depends on when and where you are looking. If you are judging the team while sitting in the Fenway bleachers in the top of the first inning, you may have an entirely different view than if you are sitting in those same seats in the bottom of the ninth. Your opinion will vary depending on whether the defense is on the field, or batters are at the plate. The Red Sox — in this age of the universal designated hitter — are truly two different teams. Let's take a look, starting with ugly:
PITCHING:
| | | |
| --- | --- | --- |
| Runs Allowed/Game | 5.19 | 4th worst |
| Hits Allowed | 330 | 4th worst |
| ERA | 4.97 | 4th worst |
| ERA+ | 95 | Tied for 4th worst |
| WHIP | 1.353 | 4th worst |
| HR Allowed | 49 | 5th worst |
It's tough sledding when you are just above the A's and the Royals, both of whom are vying for record-setting ineptitude this season, and the White Sox, who have been a dumpster fire on the South Side. There is some good news to be found in their arms, as the team has the eighth-best bullpen ERA and is tied for the fifth-most saves in the AL. But 37 games into the season has taught that as currently constructed, the Red Sox pitching may prove to be their downfall.
But now we get to the good:
HITTING:
| | | |
| --- | --- | --- |
| Runs/Game | 5.70 | 3rd best |
| Runs | 211 | 3rd best |
| Hits | 344 | Tied for 1st place |
| Doubles | 82 | 1st place |
| Home Runs | 48 | 3rd best |
| Batting Avg. | .270 | 2nd best |
| OPS | .790 | 2nd best |
| OPS+ | 113 | 3rd best |
It's pretty solid when you are competing with a Rays team that has won 80 percent of its games and is leading the league in nearly every offensive category, and with the surprising Rangers, who have found a brand new alchemy under manager Bruce Bochy.
DEFENSE:
The Red Sox defense is the perfect love child of their offense and pitching. How else do you get a team that is fourth in the league in assists, but also third worst in the league in errors? They are in fourth place for the most double plays, but have the third-worst fielding percentage. Just to put a button on this bizarre defensive unit, the Red Sox are below league average at catcher, second base, third base, shortstop (where they are in last place), and left field. But they have the best league-wide fielding percentage in center field and in right. They are just plain weird.
TOTAL PACKAGE:
So who is this team? Which version is real? The better question is which side of the ball will revert to the mean? If James Paxton and Garrett Whitlock can come off the IL and stabilize the rotation; if Sale can stop being Jekyll and Hyde and have a run of consistency; if Corey Kluber could even be a shadow of "The Klubot"; if Brayan Bello finally lives up to the hype; then the Red Sox have a chance to play well into October. But, if even one or two of the above-referenced puzzle pieces doesn't perform up to snuff, it could be another last-place finish, with the AL East getting four teams into the playoffs and the Red Sox on the outside looking in.
You can say this: This team is fun to watch. They already have 14 come-from-behind wins. Alex Verdugo already has three walk-off hits. They came back from a six-run deficit to the Orioles and a four-run deficit to the Angels. This is a team that doesn't quit; they grind out at-bats and grind down pitchers. And, despite how bad the pitching has been overall, they are 16-0 when leading after six innings, and 18-0 when leading after eight. So maybe something is there.
When watching the Red Sox, my blood pressure will always rise and fall like the team's win probability chart. But as I have aged, I have adjusted so that my happiness is not predicated on the team's success. So I will tune in all summer long (and hopefully into the fall). I will never feel "good" about their prospects, and I will always pass along my pessimism to my son, who will refute my misgivings with stats and vibes, and we will continue this lifelong obsession that has taken over at least three generations of our family.
But will we ever truly know: Are the Red Sox good?
PLAY BALL!!
*All statistics current as of May 10, 2023.