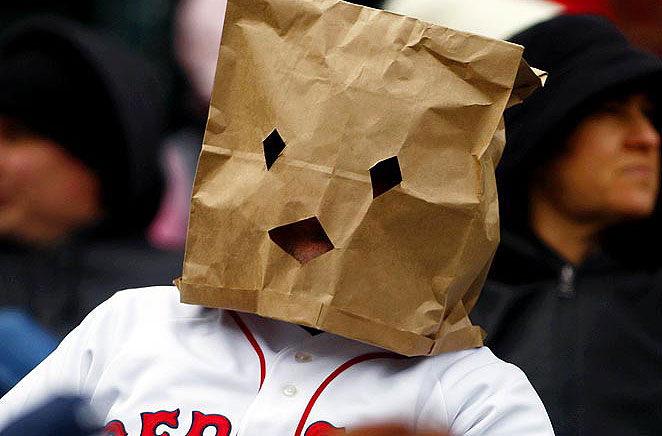 Taking Off My Red Sox?
Joe Posnanski, the fantastic sportswriter and podcaster, simply had enough. After a lifetime of Cleveland Browns fandom, after "Red Right 88," "The Drive," "The Fumble," a middle-of-the night absconding to Baltimore, after a revival of the franchise, after all the heartbreak, and near elation, the ownership of the Browns dropped one additional straw — a $230 million guaranteed contract straw — onto an oft-injured camel, and Joe was out. As he has written in his terrific blog and talked about on The Poscast, when the Browns threw caution and morality to the wind and signed (alleged) serial sexual harasser Deshaun Watson to a fully guaranteed $230 million contract, with only $1 million allocated to this season when he was certain to be suspended (he was, for 11 games), Joe took his rooting interest elsewhere. Where? He is not sure yet; he has spent this season searching for a new team.
Last year, Cincinnati Reds fans were none-too-pleased that the team traded Sonny Gray, Jesse Winker, Eugenio Suárez, and Amir Garrett. When a reporter asked team COO (and son of the owner) Phil Castellini how he would respond to the fans booing the product on the field, he asked: "Well, where are you going to go?" Now that is a front office executive who really seems to care about the fans, their enjoyment, and their willingness to support the organization. While it is not possible to know if — or how many — Reds fans called Castellini's bluff and went elsewhere (Posnanski style), we do know that fewer fans showed up to watch the Reds play last season than at any point since 1984 (2020 excluded).
Joe's plight with the Browns, and Cincinnati fans' rejection of the Reds, got me thinking about my beloved Red Sox. It seems that Boston's ownership group, who should never need to buy another drink anywhere in New England ever again after bringing four World Series championships since 2004, has turned its back on the fans they claim to cherish so much.
These owners formed Fenway Sports Group to spread their investments over the BoSox, Fenway Park, Liverpool in the Premier League, the NHL's Pittsburgh Penguins (who lost the NHL Winter Classic at Fenway Park on Monday while John Henry was heckled and cursed walking the concourse), 80% of NESN, and 50% of NASCAR's RFK Racing. 
With all of these disparate interests, the owners seem to have taken their eyes off the Red Sox ball, or are just too busy keeping their eyes on Boston's bottom line. They appear to care little about the success of the club or their fans' feelings. So — like it was for Joe P. — the question becomes: When are ownership's actions so egregious that it is time to pick a new favorite team? In the case of the Red Sox, when is too little simply too much?
Jon Lester
One could argue that the beginning of the end was offering home-grown hero Jon Lester (overcame cancer, threw a no-hitter, and won the World Series in 2007 and 2013) a ridiculously below-market deal before the 2014 season. Lester had said that he would take a hometown discount to stay in Boston. So, the club offered him four years and $70M. Lester viewed that offer insulting and never even responded. He was traded to the A's before the end of the season, and ultimately signed a six-year, $155M deal with the Cubs (and helped break their curse in 2016).
Mookie Betts
And then there was the trade of the beloved Mookie Betts. Entering his final season before free agency in 2020, the Red Sox traded Mookie and David Price to the Dodgers for pennies on the dollar. (Note: This trade got worse in the past few weeks when the Red Sox DFA'd Jeter Downs, one of the highly-touted prospects included in the deal.)
The organization will say that they tested the contract extension waters with Mookie, and couldn't come to terms. Mookie will say that he would have agreed to the deal that the Dodgers ultimately lavished on him (12/$365M). In the interest of candor, I was (and remain) in favor of trading Betts, as I believe he truly wanted to become a free agent, and I find his after-the-fact proclamation that he would have taken a similar deal in Boston a touch too convenient. That said, the team didn't make a competitive offer for Betts, and off he went.
Hunter Renfroe – JBJ = JBJ – Hunter Renfroe
In 2021, the Red Sox signed Hunter Renfroe to a $3.3M contract, and let fan-favorite (but chronic offensive under-performer) Jackie Bradley Jr. leave in free agency. Sentiment aside, these were good/smart deals. But after the season, rather than paying Renfroe the $7.6M he was due to make in arbitration, they elected to trade him to the Brewers to bring back … JBJ — at a much higher salary ($9.5M + an $8M buyout). Huh?
Last season in Milwaukee, Renfroe hit 29 dingers with a 126 OPS+. No Red Sox player hit that many home runs, and only two players had an OPS+ of more than 126 — we will get to them below. Oh, and Jackie played only 90 games in Boston, posting a 60 OPS+, before he was unceremoniously traded to the Blue Jays.
Xander Bogaerts
Mistakes can be overcome, and the spring of 2022 provided an opportunity. The Red Sox faithful could easily overlook losing Renfroe and replacing him (at considerably more cost and considerably less productivity) with JBJ, if the team could have locked up the de facto captain, the heart and soul of the club, Xander Bogaerts. As a reminder, in 2019 Bogaerts signed a team-friendly six-year, $120M contract, with an opt-out after three seasons. 
Knowing that an opt-out was likely, the Red Sox engaged Bogaerts in negotiations last spring. Those words are italicized because what the team offered was neither engagement nor a negotiation. With three years and $60M left on the deal, the Red Sox proposed making it four years and $90M. Said differently, they wanted Bogaerts to forego the open market by taking one additional year at $30M. As the saying goes: Those who don't learn from the past are destined to repeat it.
Suffice it to say, like Lester eight years earlier, this "offer" landed with a thud. As such, the Xander contract/opt-out hung over the player and the team all season. But, if there is a silver lining in a last-place finish, it is that you get a full month head start on the off-season. After failing in Spring Training, the Red Sox had the entire month of October and into November to fix it. Narrator: "They didn't."
At 9 a.m. on Nov. 6, 31 days after the final out of their season, Bogaerts was, for the first time in his professional career, not a member of the Red Sox. But, all was not lost. When the general managers met in Las Vegas later that week, there was hope that something would get done. Narrator: "It didn't."
But there were still the Winter Meetings in San Diego in early December. Presumably, the owners of a multi-billion dollar conglomerate wouldn't let history repeat itself; wouldn't lose another face of the franchise; wouldn't let Rafael Devers' big brother, and the role model to their other young players, don another uniform. They couldn't be that obtuse, could they? Well, on the eve of the close of those meetings, after much silence, there was a glimmer of light. Jon Heyman (he of the "Arson Judge appears headed to the Giants" fame), tweeted that the "Red Sox are in heavy discussions with" Bogaerts. Apparently "heavy discussions" were a six-year, $162M offer. Sure, that is $7M per season, and three seasons longer, than his current deal, but not nearly close enough.
Not 24 hours later, Xander signed a 11-year/$280M deal with the San Diego Padres. Now those were "heavy negotiations." Of course, that deal is stupid; of course, that deal won't pan out when Xander is a 40-year-old third baseman. But the Red Sox fiddled, and the team got burned. Six years and $162M probably would have gotten it done in March. It might have gotten it done in November before Trea Turner signed for $300M and Carlos Correa signed for more than $300M (twice, or maybe not at all). But once those deals were agreed upon, there was no world in which Scott Boras was going to let Bogaerts sign a deal without a "2" up front; and if it meant signing for 11 years to get it done, well, age is just a number (as is $280M).
And so, another star has fallen. The Red Sox now have a hole at shortstop that could be filled by moving Kiké Hernández there, which creates a hole in center field; or by moving Trevor Story there, which creates a hole at second base (assuming Story's arm is even strong enough to play short). And they are left with a massive hole in their clubhouse, where the guy who did everything but wear a "C" on his jersey will be missed immensely.
Rafael Devers
Rafael Devers — Bogaerts' "little brother," best friend, and protégé — will feel Xander's absence most acutely. During the writing of this article, Devers and the Red Sox agreed to a $17.5M deal for 2023 to avoid arbitration. And moments before this article was sent to the editors, Devers and the Red Sox agreed to a 11-year/$331M contract (subject, of course, to that pesky physical).
After the above-referenced losses, Devers was the Red Sox' top priority, and ownership came through. This was a rarity, as, at every turn over the past decade, with the exception of the disastrous Chris Sale deal, the team has taken a conservative approach to spending. Dave Dombrowski fleeced the farm system to win "now," and accomplished that in 2018. But ownership, knowing Dombrowski would want to spend real free agent money to keep the party going, let him go. (Dombrowski went to the Phillies, spent a truckload of John Middleton's money, and won another pennant.)
The Red Sox still care about winning; I truly believe that. Lately, however, pennants are secondary to profits. The organization has chosen to lose "smartly" rather than win imprudently. And that reputation seems to be preceding the club. Multiple free agents have foregone Red Sox' money and taken the same deal elsewhere. Why do you think that is? When Justin Verlander signed with the Mets, he was asked why. His response: "Steve." Now ask yourself if any free agent would sign with Boston and respond: "John" or, even worse, "because of Fenway Sports Group." All of that said, John Henry and Fenway Sports Group stepped up and paid Devers — words I never thought I would write.
As fans we ask: "Why own a team if you aren't going to do everything you can to win?" An owner may respond: "Why own a team and lose money?" However, in Boston — unlike, say Oakland – they don't have to make that Hobson's choice (the Red Sox are valued at $3.9 billion and Fenway Sports Group is valued at $9.8 billion). Any yet, the Red Sox owners consistently make it so. But with the Devers signing, maybe the tide is beginning to turn.
Which leads us back to the original question: Is it time to cut bait? Is this my Joe Posnanski moment? Is it time to call the Phil Castellini bluff? With Rafael Devers in the organization for eleven more years, with Kiké Hernandez signed for another year, with Tanner Houck in the rotation, and Marcelo Mayer soon manning short, I'm not sure I can. The Red Sox have tested my and millions of fans' mettle, and they have failed that test time and again. But on Wednesday they started the long road of earning back the fans' trust. It came not a moment too soon.
PLAY BALL!!