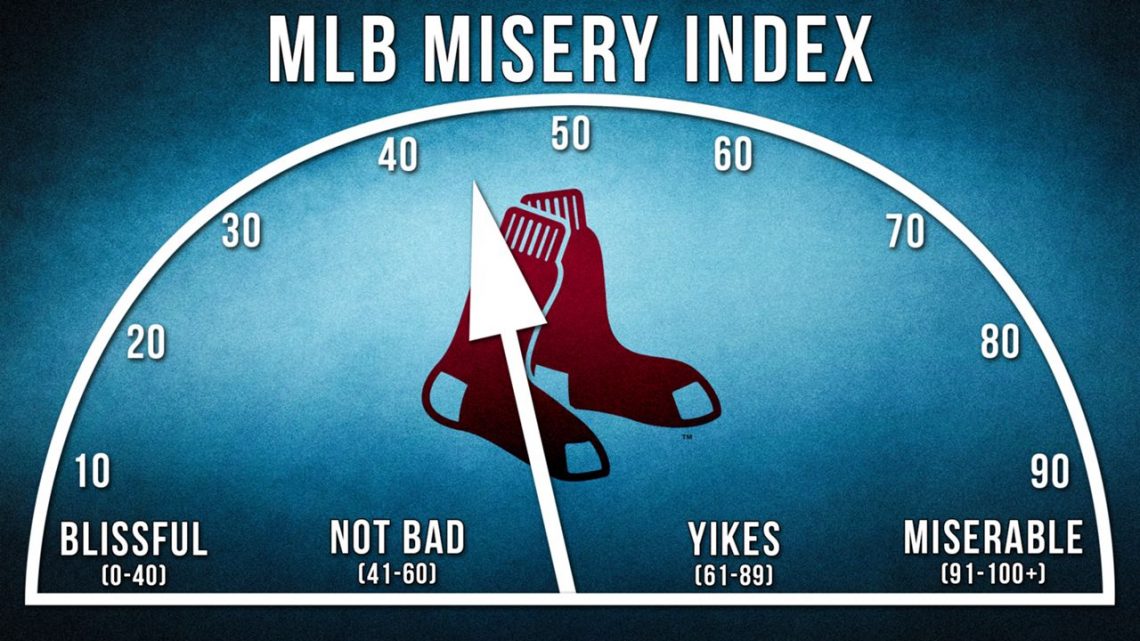 Waiting For the Other Sock to Drop
When I was in my last year of law school, I visited a head hunter because, after almost three years of schooling and nearly six figures of debt, I decided I didn't want to be a lawyer; and hell, "you can do anything with a law degree." The recruiter and I bandied about a bunch of ideas, but, surprisingly, one that did not come up was MLB general manager. It should have, as according to Alex Anthopoulos — the general manager of the Atlanta Braves — one of the main responsibilities of that job is to worry about what will happen next. And, as a lifelong Boston Red Sox fan, that is my metaphysical condition from April through October (if we are lucky). 2021 has been no different.
Going into spring, I was care and worry free. ESPN predicted the Red Sox would win 79 games; SI: 80; PECOTA: 85. As of this writing, the Red Sox have already won 88 games, with nine still to go. They have surpassed all expectations, and thus increased my anxiety level many-fold. And regardless of their over-performance (at least against preseason predictions), this team consistently seems to underperform. As such, they trigger my general manager tendencies, and cause me to worry.
The BoSox spent 85 days in first place, but fell out on July 30th. Five weeks later, on September 7th, they were 10 games back of the Rays. In those 38 days, the team went 16-20, which wasn't horrible, but neither was it great. And, truth be told, despite their record and their position in the standings, they are not very good. According to FanGraphs, their Pythagorean Record would have them at 84 wins, and their Base Runs record would have them at 81. All better than expected, but still not a team worthy of World Series aspirations.
As a team, the Red Sox are hitting .262; .269 with runners in scoring position, and .294 with the bases loaded. And yet, it feels like they never capitalize on those situations (including again last night). By comparison, the Rays are hitting .241 as a team; .250 with runners in scoring position, but .390 with the bases loaded. And that may be why the Rays have scored 17 more runs than the BoSox (811-794).
And if you have watched the Red Sox lately, you can't miss another glaring difference: defense. Here, as above, the stats don't even begin to tell the whole story. Boston leads the A.L. with 103 errors (by comparison, the Rays rank 8th with only 78). The Red Sox have given up 77 unearned runs, while the Rays have only given up 58. But it's not just the errors and the unearned runs, it's the plays that should be made, but are not. If you watched Tampa Bay's 11-10 come-from-behind win in Boston on Sept. 6, you will know exactly what I am talking about.
Yet, the season has but nine days to go, and the Red Sox are in pole position for the Wild Card. Assuming you can get past the unclutch hitting and the woeful defense, you then have to contend with a deadly virus. Kiké Hernandez went down with COVID-19 on Aug. 27th, and the team suffered no fewer than 12 player cases (plus two staffers), including ace Chris Sale (who, we have learned, is not vaccinated — see the great piece by Steve Buckley in The Athletic). 
It would have been considerably easier if they had tanked during that period, ending their season — and my worries — once and for all. But the team went 10-9 and kept themselves in contention, adding to my angst.
So now, after getting past their pandemic woes, we fans must steel ourselves for nine innings of high leverage baseball with this pitching staff. At this point, the best outcome is hosting the Wild Card game against (most likely) either the New York Yankees or the Toronto Blue Jays. And, at this point, the best outcome is the Red Sox are able to line up Sale to pitch that game. But, since coming back from Tommy John surgery on Aug. 14th, he has gone 5, 5, 5 1/3, 6, 3 2/3, 5, and 5 innings. 
Which means that even if Sale gets the ball to start the Wild Card game, the shaky bullpen will be there to try to finish it. Do you really trust Adam Ottavino and/or Matt Barnes and/or Hansel Robles to get through either the Bronx Bombing Beef Boys or the Canadian Clubbers of Springer, Semien, Vladito, Bichette, and Teoscar Hernández — even if it is only one time through the order? As a lifelong Boston fan, I most certainly do not.
Oh, and if Sale and the bullpen are able to walk between the raindrops and make it to the ALDS, they will have to face the Rays in a best of seven. In short, I won't be booking any flights to Boston for late October this year.
But my sincere hope is that it just doesn't end too badly. I have seen this movie too many times. I was just a hair too young to remember Bucky Dent, but I do remember 1986 (which, conveniently, was the main focus of ESPN's four-part documentary released last week). I will never forgive Grady Little or Aaron "Bleeping" Boone. None of us will ever forget 2011. There have been too many bad moments, too many bad months, too many bad streaks, too many bad hops and bad breaks to think anything other than bad news is on the horizon. When the end comes, just make it painless…
It is in these moments of heightened tension that I envy my son. Because, even with 2011, he has really only known Red Sox success. He has witnessed four World Series titles in his 18 short years. To him, the Red Sox are winners, not chokers; there is no curse or jinx or hex on his favorite team, just glory every three or four years.
That is why my son had no compunction about mocking the Yankees after they acquired Anthony Rizzo and Joey Gallo, saying, with absolute earnestness and confidence, that "it won't mean anything when the Yankees don't make the playoffs." At which point I told him to go outside, turn around three times, and spit. In my heart, I know he didn't stave off the wrath of the baseball gods. In fact, if history and thaumaturgy are any guide, it will be Rizzo and Gallo who hit the game-tying and game-winning home runs in the Wild Card game.
But, no matter. Whether it is the Yankees, the Jays, or the A's, I will not — and never will — feel one bit confident that the Red Sox — this, or any other version — will come through. It is part of being a Red Sox fan; it is in our DNA. We live our lives waiting for the other sock to drop.
PLAY BALL!!