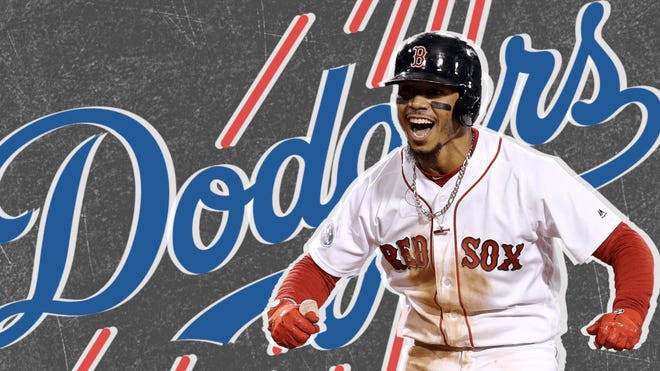 Enough Already About the Mookie Betts Trade
After stealing second, stealing third, and then diving around a sweeping tag to score in the 5th inning of Game 1 of the World Series, my son asked me: "Are you still mad that the Red Sox traded Mookie?"
My response, which has not changed since the rumors began last off-season: "I was never mad that they traded him. I thought it was the right thing to do." I went on to lament that I am sick of hearing Bill Simmons cry that they traded the best Red Sox player of his lifetime, or how the team will regret making the deal, or what a stupid decision it was, or how Boston fans must enjoy wearing their "payroll flexibility" jerseys around the North End. Enough already!
On the eve of the season I wrote the following about the trade:
But the fact of the matter is that Boston could never "force" Mookie to sign a deal – a concept that keeps getting lost in the haze of vitriol. The team offered him at least $300M and he didn't even counter – he was quite clear that he wanted to test free agency. Maybe he didn't want to finish his career on the east coast and wanted to go somewhere warmer; maybe the pandemic changed his point of view and he felt like it was a bad idea to go into the market after an abbreviated season; maybe he just so loved it in L.A. that he couldn't imagine playing anywhere else. We may never know why he chose to sign, but sign he did. And kudos should be given to Andrew Friedman and the Dodgers ownership, not criticism of their counterparts in the Back Bay.
And this week NBC Sports reported that the Red Sox actually offered Betts what he wanted, but he turned it down. That story has not been verified, but it jibes with Buster Olney's reporting over the winter and into Spring Training that Mookie wanted to test the free agent market, and that he was under tremendous pressure from the MLBPA to get the best/highest deal possible to lift all other boats. One thing we do know for sure: Boston offered Betts at least 10/$300M to finish his career with the club, and he didn't even respond. So, sure, go on with how the Red Sox could have resigned Betts if only they wanted to, if only they weren't too cheap.
Fast forward to the 2020 playoffs, and Mookie is doing EVERYTHING. He is hitting and robbing home runs, he is making shoestring catches and stealing bases. Hell, he is responsible for delivering tacos to an entire country. CC Sabathia and Joe Posnanski (he of the Top 100 Players of All-Time List) proclaimed that Betts is now the best player in the game; and Joe Buck and John Smoltz are taking turns delivering Mookie hosannas every other inning. And they are all deserved – Betts is that good.
In 2020, Mookie turned in a 3.4 bWAR season, which, when extrapolated over a full 162 games, would/could have been his third best season in his short career. But if he had done that next to the Pesky Pole this year, the Red Sox arguably would have still only won 27 or 28 games and still would have missed the playoffs. And once you account for Alex Verdugo's 1.9 bWAR as a steady if considerably less flashy or beloved replacement, the net loss was a total of 1½ wins. Instead of losing Betts to free agency and getting a supplemental draft pick, the Red Sox have Verdugo under team control for four more years, and have Jeter Downs and Connor Wong waiting in the minors.
"But wait," Red Sox critics will say, "Boston could have still held on to Betts." The haters point to the fact that Betts signed an 12/$365M extension with the Dodgers as ample evidence that the BoSox could have done the same. But that omits a few glaring details that no one – not writers, not radio callers, not broadcasters, not the "Boston Sports Guy" – ever seem to mention:
First, as stated above, Betts plan all along had been to hit the open market.
Second, the Dodgers organization is in a much better position – organizationally and financially – to compete now and into the future. Had Betts signed an extension with Boston on the same day that he signed his extension with the Dodgers, he would have known the following: (1) the team's best pitcher would be out for at least twelve months, and most likely longer; (2) their second best pitcher was out indefinitely (due to Covid); (3) their second best hitter had opt-outs in his contract at the end of each of the 2020 and 2021 seasons; (4) one of his best friends on the team was about to become a free agent with only a small chance of being retained; and (5) only five teams had a worse farm system than the team he just resigned with (according to MLB Pipeline 2020 rankings).
Third, and most importantly, after the trade we all collectively faced a global pandemic. Much has been written (

including by me

) about the financial hit that MLB teams took having a shortened season with no fans in attendance. It is well beyond the conventional wisdom that this year's free agent market is going to be a blood bath. Where Betts may have been thinking 10/$400-$420M, and thus looked at the Red Sox $300M offer as at least nine-figures too low, once the pandemic hit, everyone – including the (

second

) best player in the sport – had to downgrade their expectations.
Maybe the Red Sox – with their analytic gurus – could have anticipated Covid-19, and the long, hard CBA negotiations to get the players on the field, and the resulting 60-game schedule, and the lack of fans in the stands. And maybe they could have analyzed the massive impact that all of that would have on society at large and on baseball writ small, and been prescient about the upcoming off-season, and determined, with all of that information, how to discount Mookie's expectations by just the right amount. And then Mookie would had to have bought into such a flight of fancy – he would have to have believed that Chaim Bloom was a soothsayer and knew more than the President of the United States, the CDC, the WHO, and Anthony Fauci – and said to himself: If what you say about a once-in-century plague is true, it is probably safest for me just to stay here in Boston. That whole scenario is and was a fairy tale.
When the Red Sox traded Mookie in early February, they were staring down the barrel of: a 162-game schedule; improved Yankees and Rays clubs (which proved to be exactly right); a middling season with holes in their rotation, their bullpen, and the right side of their infield; a low-ranked farm system; and another season over the CBT.
If the NBC Sports story is correct, there was nothing more the Red Sox could have done to keep Betts. But, if we assume the story is wrong, we can only speculate how Mookie would have reacted to a "Godfather" offer. My guess is that he would have shopped it to see if the bottomless-resourced Dodgers, or the newly-ownered Mets, or the another World Series season-less Yankees, or the nearly-made-it Braves, or the rebuilding Giants, or the brand new-ballparked Rangers, or the have-to-win eventually Phillies, or the we must get Trout to the playoff Angels, would have been willing to match whatever the Red Sox put on the table. And my hunch is that one of those teams – probably the Dodgers – with more resources and better short and long term prospects would have done so.
And if that had happened – if the Red Sox played the season with a lame duck star – they would have won about 27 games, missed the playoffs, and have no right fielder for next season. They would have an additional draft pick after the fourth round in 2021; so they would have that going for them…which isn't so nice. Instead, they had a wasted season (which would have happened either way), found a potential new quasi-star in Verdugo, have an infield prospect who could make some noise in Spring Training next year, have a catching prospect that may make Christian Vasquez expendable in a year or two, and have reset their luxury tax.
So, again, go on with your howls about the Red Sox being cheap, or stupid, or short-sighted. Let's continue to hear about Babe Ruth and the potential of a second curse. Let's have another writer/broadcaster/guy at the bar (I know there is no such thing in 2020) tell us how we don't root for financial flexibility and what is the point of owning a team if you don't care about winning or having players like Mookie Betts.
The word "fan" is short for "fanatic." Merriam-Webster defines fanatic as: "marked by excessive enthusiasm and often intense uncritical devotion." The key word there is "uncritical." It is easy to get caught up in emotion – especially when Mookie Betts is making a game-saving catch every night, running all over the bases, hugging his teammates and his opponents, and leading his team back to the World Series. But if you step back, just for a moment, and stop being a fan, stop being uncritical, and use reason, logic, and sound judgement, you are left with no alternative other than the Red Sox absolutely made the right decision in making the trade.
And that is even before we talk about the extra benefit of dumping David Price and the $96M left on his deal.
Agree or disagree, it's time to…
PLAY BALL!!