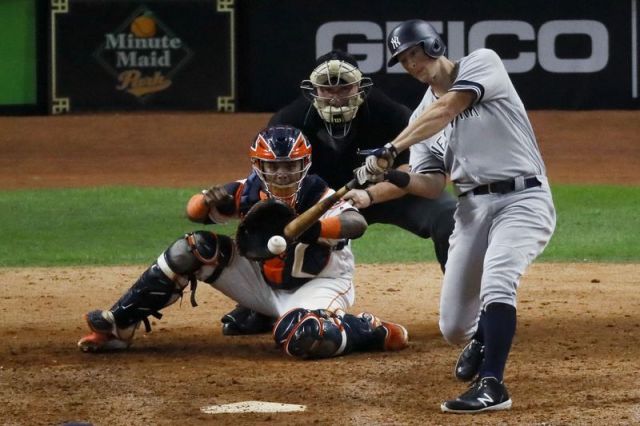 The Two-Strike Pitch (Redux)
Four years ago I wrote an article about what I love most about baseball. In case you have forgotten, or – more likely – in case you never read it, what I love most about baseball is the two-strike pitch.
And if that is my favorite aspect of the game, then boy-oh-boy did I get the motherlode on Saturday night. If, for some reason, you missed what happened in the top of the ninth inning of Game 6 of the ALCS, let me give you a brief recap:
With Astros leading 4-2, three outs away from the pennant, Gia Urshela lined the third pitch he saw from Roberto Osuna into left field, thus bringing the tying run to the plate. Brett Gardner followed and struck out on four pitches. But that turned the lineup over, and the Yankees' best hitter came to the plate. It is at this moment that I said the following: "I see a two-run homer in our future." (True story; I have witnesses.)
When I was in high school I had a coach who was studying to get his PhD in Psychology. He used his team, a bunch of tenth graders, as his guinea pigs, and tried all sorts of psychological tricks on us. I once asked him: "Bart, which would you want up in a clutch situation? The guy who is 0-4 or the guy who is 4-4?" True to form, he responded: "I would prefer the guy who has the most confidence." Yeah, thanks for nothing, Bart!
On Saturday night, we got to see Bart's concept put to the test. DJ LeMahieu hit .327 this year – his second best season ever – with a career-high 33 homeruns. He was hitting .320 in the ALCS when he stepped to the plate representing the tying run. But he was also 0-4 in Game 6. So, Bart, did we want this guy at the plate or not?
As a Yankee-hater, I certainly did not. He looked confident to me.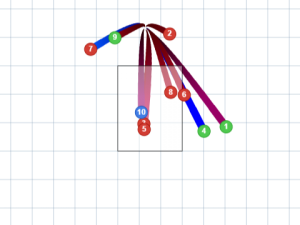 Osuna was able to get ahead of LeMahieu 1-2, setting up the pinnacle of baseball situations: the two-strike pitch. A slider away and the count was even. DJ then fouled back four straight pitches. But how about this: he fouled off two 97+ MPH fastballs, then an 85 MPH change-up, and then a 98.7 MPH fastball. How does one do that, on that stage, in that situation. Maybe Bart was right; maybe you want the guy with confidence. LeMahieu then took a 98+ MPH up and in to push the count full. For those of you counting at home (I sure was), that was six straight two-strike pitches. An embarrassment of riches.
And as Osuna checked the sign from Martín Maldonado, my thoughts went in a different direction. I said to a friend of mine: "This guy's parents are just a few years older than us, and they are sitting in that ballpark watching this. Imagine how they feel?!"
As we all know, DJ hit the tenth offering – the seventh two-strike pitch – into the bleachers in right field to tie the game. Unbelievable!
As we also all know, the homerun that could have gone down in history as an all-timer may soon be forgotten, as José Altuve hit a game-deciding, series-ending, pennant-clinching, walk-off two-run dinger with two outs in the bottom of the ninth inning. The only downside: he did it with one strike.
But we as baseball fans can never allow ourselves to forget the two-strike pitch, or the seven of them that DJ LeMahieu saw on Saturday night. If that at bat didn't get your heart pumping, nothing ever can, nothing ever will.
One last note: I called Altuve's homerun, but not like Gerrit Cole. From The Athletic:
"Man, if he throws anything down and in, it's going out," Cole said.

"It's going out to right," Miley replied.

Cole was having none of it.

"It's not going out to right. It's going out to left. And it's going deep," he said.
I called that homerun two years too early. With the Dodgers trailing 12-11 with two outs in the top of the ninth inning of Game 5 of the 2017 World Series, Austin Barnes was on second base representing the tying run. As I stood in the stands behind the Dodgers' on deck circle in Minute Maid Park, I turned to the Astros fans next to me and said that Chris Taylor was going to get a hit to tie the game just so Altuve could walk it off in the bottom of the ninth. Sure enough, Taylor got that hit. But…Altuve flew out to lead off the bottom of the ninth. My career as a prognosticator seemed to be over. I guess I am just ahead of my time!
The Fall Classic begins tomorrow. Scherzer v. Cole; Strasburg v. Verlander. Before we even get to Greinke v. Corbin, we will witness four potential Hall of Fame pitchers starting the first two games of the World Series. Those guys have a total of 8,729 career strike outs between them, including 1,120 this season. I feel pretty confident we will see plenty of two-strike pitches.
PLAY BALL!!