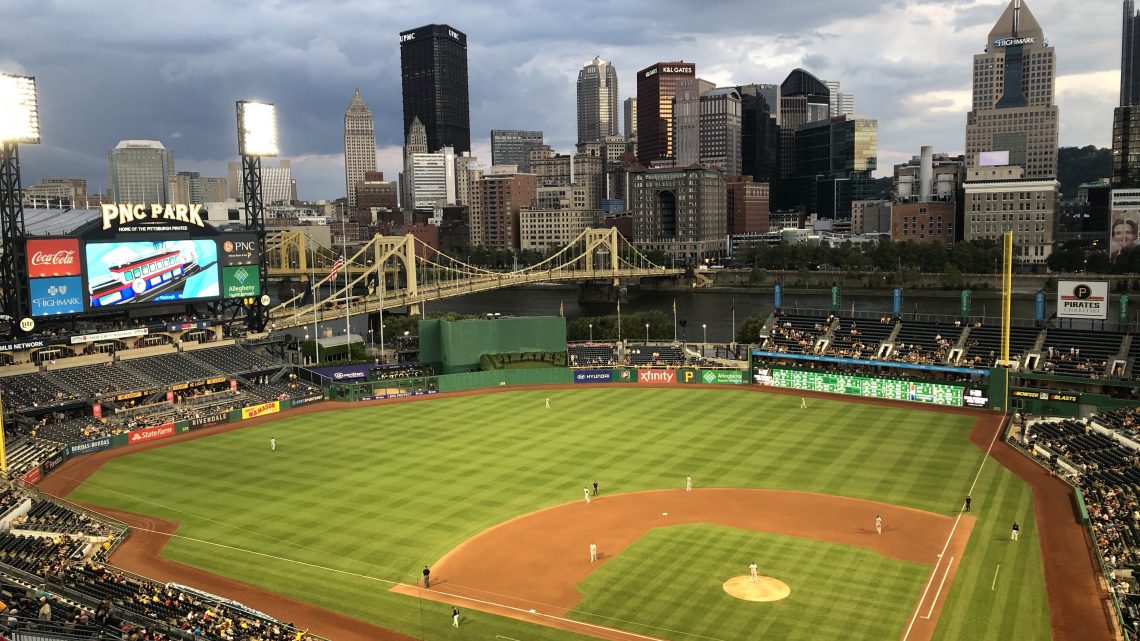 What We Do For Our Kids
When we decided to send our youngest to sleepaway camp in Wisconsin four years ago, I didn't appreciate that it would require me to make two trips to the Midwest each summer. Of course, there is always the possibility that she could fly alone, but insofar as she was seven years old her first time, we thought it best to actually drop her off at the bus.
And then the light bulb went off. It didn't take long for me to figure out that camp drop-off and pick-up in Chicago gave me ample opportunities to visit some beautiful stadiums and see some great games.
That first year, I just dipped my toe, going to Wrigley Field for a Saturday matinee.
The second year I realized that there are two ends to the summer, and baseball could be had on both. So, for drop-off, we took a trip to the Southside, and saw the White Sox play at Guaranteed Rate Field (by far the worst name in the sport). But for pick-up, we forwent Chicago and took the Milwaukee option. That gave me a chance to visit Miller Park. That place is splendid – many parks could learn A LOT from what they do and how they do it in Brew City (aka Cream City). If you have never been, I highly recommend The Selig Experience (which, ostensibly is an homage to Bud Selig, but is actually a multimedia presentation that tells the story of major league baseball in Milwaukee) and the frozen custard (which needs no explanation).
Year three brought all sorts of new adventures. The Cubs were in town when I dropped my daughter, but I didn't need another game in the Friendly Confines. Especially when Chicago is just a short flight from Minneapolis, where the Twins were taking on the Rays. So, after saying "goodbye," I raced to O'Hare to catch a flight to the land of a thousand lakes. I walked through the gate a few minutes before the National Anthem and enjoyed the hell out of Target Field. They have a vast array of beers on offer, fantastic food, and the Bat & Barrel – a restaurant-bar with indoor-outdoor seating – has walls and furniture full of relics from Twins' seasons and players past. It is the most casual team hall of fame I have ever seen.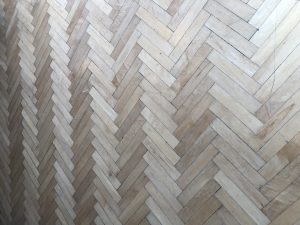 One unsung feature of the park: In the Town Ball Tavern in the left field corner, they have the original parquet floor from the Minneapolis Armory that George Mikan and the Lakers used to play on.
When it came time to pick up from camp, I decided to be ambitious. Did you know that if you take an 8am flight from LA, you can be in Dallas by 1pm, and in Globe Life Park by the second inning? Neither did I, until I did. Sure, a day game in North Texas in mid-August ain't a day at the beach (and is the primary reason they are about to unveil a domed stadium next year), but that is totally beside the point. The park will be closing soon, and this was my opportunity to visit. That park had a lot of cool features, including a right field porch that allows you to feel if not in the action, at least on top of it. Few ballparks still have this design (most notably, the former Tiger Stadium), and soon the Rangers won't either. Now, if you have been to Dallas once, it is my humble belief you can check that box and move on with your life. So move on I did.
I took leave of the Rangers and Mariners after eight innings, headed to the airport, and found myself in the BBQ capital of the world a short while later. I was in the parking lot of Kauffman Stadium when the last notes of the National Anthem rang out, and had a seat behind home plate and a beer in my hand before the end of the first inning. The Royals took the wood to the Cubbies that night (I could not escape the Cubs); I ate barbequed pork and ice cream (not together), and had myself a hell of a night. The crew at "The K" could not have been friendlier, the Royals Hall of Fame was terrific, and I see how their kids' area became the inspiration for many current stadium upgrades. The next morning I caught a quick flight to Chicago, and was there long before the camp bus pulled up.
This year I elected not to go to a game at drop-off. I took my other daughter with me, and we had lunch downtown and saw Hamilton in the old CIBC Theater. It was a great diversion; I was plenty "Satisfied" and was willing to "Wait for It."
But, since I skipped a game on the front side, I needed to spruce things up on the back. And this year, my son would be traveling with me. As you can tell, I have hit a lot of parks in and around the Chicago-land area. At this point, I need to get creative. And, remember, the timing of all of it – flights, distance from the airport, and most importantly, games being played – has to be precise. The planning of this is not for the faint of heart. When the MLB schedule came out last spring, I overlaid that against the camp schedule. I perused all day games within a couple hour flight of Chicago, and then start checking the airlines. It took some imagination and some willingness to miss a few pitches, but it was doable.
And that is how I found myself waking up Wednesday morning at 3:45, to catch a 5:45 flight to Detroit. The plane landed a few minutes before 1pm local time, and we were in the park by the top of the second inning. (Note: Showing up a little late makes buying a single ticket from a scalper extremely reasonable ($15).)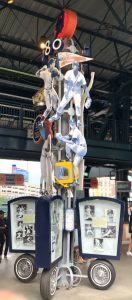 Comerica Park is terrific. The ushers were unbelievably helpful (they came down before every inning to see how we were doing and if we needed anything). The Tigers have an awesome row of statues in left center field that give you a taste of their history; and they have displays along the concourse celebrating each decade of their existence (I was preferable to the Trammel-Whitaker-Evans-Gibby '80s teams, but your mileage may vary).

And thanks to the MLB Foodfest that came through LA earlier this year, we knew to eat the chicken shawarma nachos. They didn't disappoint. Unfortunately, Miguel Cabrera (0-4), and the hometown team, did. The White Sox (what is it with these Chicago teams stalking me?) whacked them around. But if you ever find yourself in the Motor City, I highly recommend taking in a ballgame. Unfortunately, we had to leave after eight innings to make it to the airport for our 5:54pm flight to the Steel City, but we certainly got the flavor of the place.
The next plane landed right before the first pitch of the Pirates-Brewers game, and – despite some shaky Lyft driving – we were in the park by the second inning. Again, arriving late gives you incredible leverage with the few scalpers still hanging around (second row down the left field line, $20). PNC Park lives up to the hype. It truly does have the best press box view in the game (see above). It has a homey feel – like someone stretched a minor league stadium into major league size. The steel (fittingly) is exposed. The people are warm and convivial. The site lines are great. And the food is delicious (where else can you get a pulled pork and pierogi sandwich?). My one beef is that the game went by too quickly. I wanted a slugfest that lasted four-plus hours; I wanted a 15-inning marathon; I wanted an excuse to stay there longer. Alas, it was not meant to be. Continuing the theme of the day, the home team lost, but that at least afforded us a  full nine innings. While we didn't get to see Christian Yelich play, I did get to meet Travis Shaw and the Pirate Parrot under the stands. All in all, it was a phenomenal experience.
There are tons of hotels around PNC Park, but I intentionally chose one on the opposite side of the Clemente Bridge. When planning this out, I wanted to make sure we walked across that famous bridge, got a view of the park above the Alleghany, and had one last moment to take in the day. It was the perfect capstone.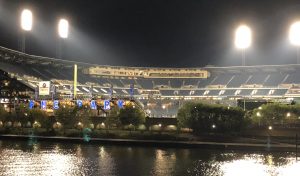 When we laid our heads on our pillows in Pittsburgh Wednesday night, we had traveled over 2,000 miles in the air and nearly 100 miles on the ground; we had been in three major cities, seen two baseball games, eaten way too much food; and we had memories for a lifetime.
The next morning we flew to Chicago to pick up my daughter from her camp bus. It was the least we could do. It really is amazing what we do for our kids!
PLAY BALL!!