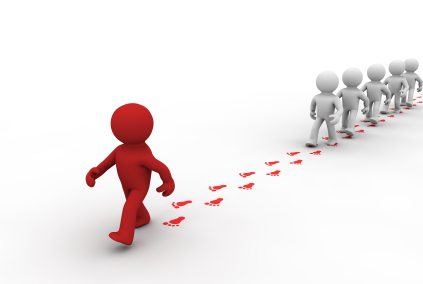 Role Models
Charles Barkley famously once told the world: "I am not a role model."
In that iconic Nike ad, Sir Charles went on to say that just because he dunks a basketball, he shouldn't raise our kids. Fair enough, but there has been enough blowback about that commercial and his misguided sentiment in the 25 years since it first aired, that there is no need to go any deeper into the inanity of the assertion here. Suffice it to say, athletes, whether they like it or not (and some, apparently do), are role models.
The term "role model" is a funny one; and we, as a society, unwittingly and unnecessarily and unconsciously, consistently attach the word "positive" before utilizing it. However, Merriam-Webster defines the term as "a person whose behavior in a particular role is imitated by others." Putting aside that Merriam-Webster used a word in the definition of a word it sought to define, nowhere in that definition to you see the word "positive." We just imply it.
I do agree with Mr. Barkley on the following concept: we are responsible for raising our children – that responsibility most certainly should not be left to professional athletes. But it would be wholly naïve to believe that our children are not influenced by what they see, they read, they hear. Watch a Little League baseball game, or a Pop Warner football game, or an AAU basketball game, and tell me you don't witness many of the same actions you see on your nightly edition of SportsCenter. Hell, I know I mimicked my favorite athletes growing up, and for part of that time, I only had George Michael's Sports Machine as a reference point.
As a parent, I always look for teaching moments. Allow the kids to screw up, sit them down, and teach them the way forward. Show them the error of their – or someone else's – way, and how to avoid that outcome in the future. And for that, athletes often prove to be an amazingly fertile resource. For that, athletes, and people around athletes, are incredible role models. Not a week can go by without us opening the newspaper (an antiquated concept, I confess) and read about an athlete giving us a perfect example of what not to do. And because their flameouts are often public and ignominious, these role models present us parents with wonderful teaching moments.
Over the past few weeks we have seen this happen time and again. In the first few instances, it was regarding social media.
In the span of just a few days around the All-Star break, three Major League baseball players learned the potential pratfalls of social media. First there was Josh Hader. A second-year pitcher having an incredible season. So much so that he was actually on the mound at the All-Star game in Washington, D.C. when his racist, homophobic, and generally despicable tweets from many years ago were first reported. Instead of a post-game celebration reveling in his achievement, he was forced to answer for his actions, and apologize to his friends, family, organization, teammates, and community. That is probably not how he wanted to remember his first All-Star game.
Then, a few days later, Sean Newcomb was throwing the best game of his life: one strike away from no-hitting the Los Angeles Dodgers in front of the home crowd in Atlanta. It was just about then that his racist, homophobic, and generally despicable tweets from many years ago were first reported. Again, the joy of the moment was lost in a haze of apologies and "stupid kid" justifications.
That same day, at roughly the same time, Trea Turner, the fantastic young shortstop for the Washington Nationals had his racist, homophobic, and generally despicable tweets from many years ago reported. Trea hadn't done anything special on the day his idiotic past came to light, so at least no celebration was interrupted when he was forced to issue the following statement:
"There are no excuses for my insensitive and offensive language on Twitter. I am sincerely sorry for those tweets and apologize wholeheartedly. I believe people who know me understand those regrettable actions do not reflect my values or who I am. But I understand the hurtful nature of such language and am sorry to have brought any negative light to the Nationals organization, myself or the game I love."
But if we thought the teaching moments were done, hang on to your hat. Unless you follow baseball closely, and/or you live in the greater Toronto area, you are fortunately unaware that a 23-year old flame-throwing closer named Roberto Osuna was suspended 75 games back in May under Major League Baseball's Joint Domestic Violence, Sexual Assault and Child Abuse policy. This is the second longest suspension under this policy ever issued. Osuna is set to return to action this week; and it is highly likely that you, the casual baseball observer, would never have heard of Osuna and his checkered past had the Blue Jays not traded him before the July 31st trade deadline. The Houston Astros acquired Osuna, for, in the words of Jeff Sullivan, "a prospect or two, and much of what remained of their organizational integrity."
Osuna was due in court last week, but only his attorney appeared. In an effort to make certain that fanbases in two countries equally despised his client, the attorney issued the following statement after the hearing:
"My client is not remorseful of being guilty of any criminal activity…he's obviously remorseful of the circumstances."
Sure, this is lawyer-speak, but sometimes lawyers (present company included) shouldn't speak.
Upon receiving a massive amount of criticism over their acquisition of the batterer (I could say "alleged," as he not yet been proven guilty of any crime, but he did accept MLB's suspension without appeal, so there is something to the charges), the world champion Astros issued the following anodyne statement:
"We are excited to welcome Roberto Osuna to our team. The due diligence by our front office was unprecedented. We are confident that Osuna is remorseful, has willfully complied with all consequences related to his past behavior, has proactively engaged in counseling, and will fully comply with our zero tolerance policy related to abuse of any kind. Roberto has some great examples of character in our existing clubhouse that we believe will help him as he and his family establish a fresh start and as he continues with the Houston Astros. We look forward to Osuna's contributions as we head into the back half of the season."
In short, "We, the Houston Astros, value winning above all else, and we will not hesitate to field players of questionable moral character if the end result is another World Series title." Reasonable minds can differ (can they?) on this approach to #winning, but the Astros left little doubt as to which side of that divide they land.
So what does all of this have to do with Charles Barkley? All of these examples, four athletes and a sports team, are, in fact, role models. They have given us great examples of what not to do.
We can tell our children to be careful on social media, knowing that what you tap on that little screen can come back to bite you nearly a decade later. And then we can point to Hader, Newcomb, and Turner and say: "See what I mean."
We can teach our children that hitting women is wrong – always. And that doing so can cost you your job (at least temporarily), and your income (nearly $2.5M in Osuna's case), and your standing in the community. And then we can point to how the baseball world has reacted to Osuna and say: "See what I mean."
We can explain to our children that winning isn't the only thing (despite what Red Sanders may believe). That seeking an advantage at the cost of your integrity can have long and lasting implications. That society won't look favorably upon people who put success above everything else. And then we can show our kids Jeff Luhnow juking and jiving to put a positive spin on his steaming pile of shit that was this deal and say: "See what I mean."
It seems that we wake up each morning and find ourselves living in a world with few consequences for outrageous behavior. It is enough to make us all borderline nihilists. But then a few dumb athletes and at least one ruthless deal-maker bring us back to Earth. Through their conduct we learn that there are, in fact, costs to bad deeds. And because these bad acts and bad actors are in the news and in our feeds, they present perfect teaching moments.
And just like we were able to teach our kids about the treachery of drinking and driving when Sir Charles was arrested for DUI; and just like we were able to teach our kids about the risks of gambling when Barkley admitted to losing at least $30M in Las Vegas over the years; so too can we teach our kids these life lessons. They are brought to us by athletes (and executives) who are, in fact, role models.
PLAY BALL!