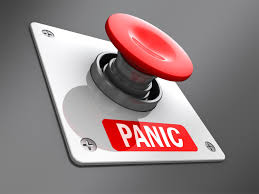 Too Soon…To Panic?
I worked on a movie that came out last week (note: you should see it, it is really funny). The premise of the film is that three parents venture out to stop their daughters from losing their virginity on prom night. As we confront this over-protectiveness, we are forced to grapple with the question: "How soon is too soon?"
For reasons that at this point need no explanation, this question got me thinking about baseball. And for me, this year, the answer was "about two hours and thirty minutes." That's how soon is too soon…to panic.
A little background: March 29th was Opening Day. Yes, I capitalized it because this year, Opening Day was akin to a national holiday, with all thirty teams scheduled to play on that Thursday – none of this ESPN Sunday Night Baseball; no mid-Spring Training-but-all-too-real games in Australia; no Reds getting the first crack at the new season. No, this was a genuine Opening Day for everyone (which, of course, was thwarted in Detroit and Cincinnati because it is often snows in late March).
Although I was invited to attend Opening Day, my plans were thwarted not by weather, but by travel. I essentially missed all of the bunting-filled, flyover-honored, banner-raised festivities. My only outlet was the MLB App.
As my family and I packed our bags and headed to the airport, I was treated to my beloved Red Sox getting a Chris Sale gem, an inside-the-park homerun, and a 4-0 lead going into the eighth inning. I am a Red Sox fan and a pessimist (is that redundant?), so I certainly didn't feel confident going into the last two frames, but I did allow for a glimmer of hope. What a fool!
After one last check of the hotel room for the wayward toothbrush or wet swimsuit, I was informed the BoSox were trailing 5-4 (they would eventually lose 6-4). Upon hearing the news that my team had blown a four run lead with five outs to go, in the very first game of the year – with 161 (and hopefully more) to go – I declared: "I'm done. I cannot watch this team this season. I cannot have my heart ripped out every night."
That declaration was approximately 150 minutes into a season that will last roughly seven months. How soon is too soon? Well, I think 150 minutes may qualify.
All the Red Sox did over the next week and a half was win eight straight, including a 5-run comeback in the eighth inning of this past Sunday's game – all with two outs. It was clearly "too soon."
My hometown team, the Dodgers, started the season 3-6, and were a duck-fart away from starting 2-7, with Clayton Kershaw 0-3, despite a 2.39 ERA*. With the winning run 90 feet away from another loss, it was looking pretty bleak for the Bums. I am certain that after losing the first two games of the season 1-0 (both on Joe Panik homeruns); after being swept by the Diamondbacks; after losing the first game of their series with the Giants; after the bullpen couldn't hold Kershaw's one-run lead in the eighth; after the winning stood on third base; after J.T. Chargois moped off the hill with a blown save; many a diehard Dodger fan was on the "too soon" bandwagon. (*To be clear, the Dodgers stranded that runner on third, scored in the tenth, won the game, and kept Kershaw's ERA at 1.89.)
And how about Yankee fans after the team started 5-5, with a bullpen ERA of 4.89, and Giancarlo Stanton registering not one, but two five-K games in the first ten (Sunday was a doozy: his last strikeout capped an 0-7 day with two outs in the bottom of the 12th and the tying and winning runs on base…ouch!). Too soon?
Or fans of Joey Votto, the guy who has led the league in OBP six of the last eight seasons and led the league in walks five of the last seven, has a total of two walks (and one run) in the Reds' first nine games. Too soon?
There is one "too soon" that is definitive. Towards the end of Spring Training, a hot takein the baseball world was that Shohei Ohtani was not ready for the Bigs, and that he might be better suited to start the year in Triple-A (or lower). Since that time, he has recorded a base hit in his first MLB at bat; hit three homeruns (including one in his first home at-bat, and one off Corey Kluber) in between two pitching appearances; won two games and took a perfect game into the seventh inning of his home pitching debut; has a 9/1 strikeout-to-walk ratio; and is batting .389 with a 1.310 OPS. So yes, naysayers, it was too soon!
Now, the Red Sox could get swept by the Yankees at Fenway Park this week; the Dodgers could lose three to the lowly A's; Votto could continue to swing at pitches outside the zone; Stanton could whiff in more than 40% of his plate appearances; and Ohtani could come crashing back to Earth. All of those things could happen just in the next few days. And guess what, even if they do, it still would be too soon.
PLAY BALL!!