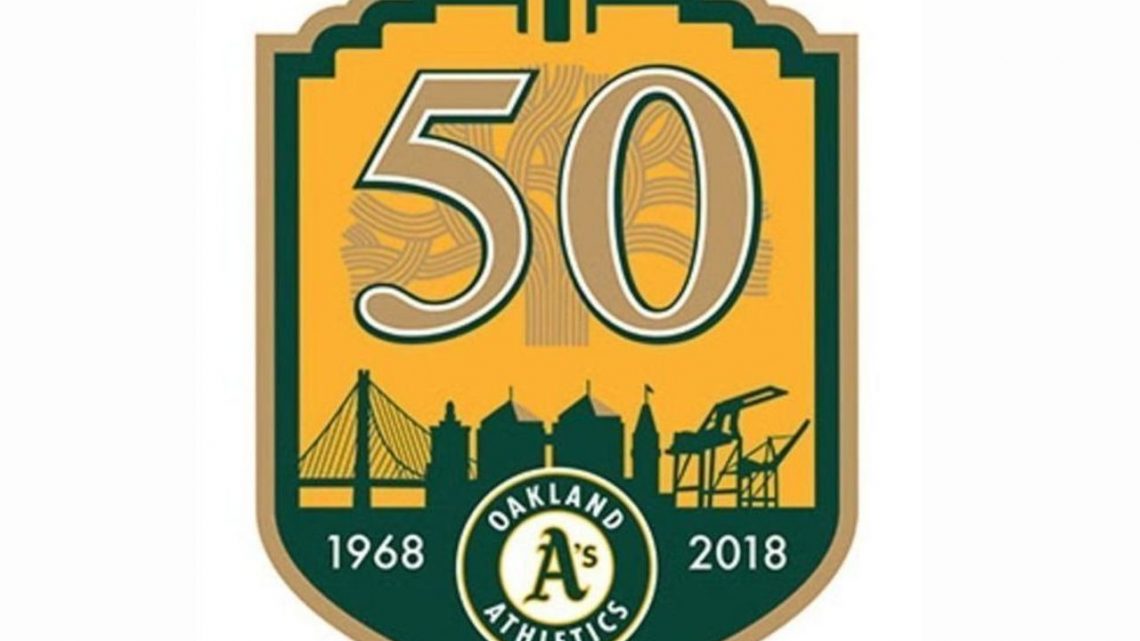 2018 Season Preview: Oakland Athletics
It's a beautiful Saturday night in April, and you can think of ten different places you would rather be. But propriety and parental obligation find you walking into your kid's school spring fundraiser.
You do a quick assessment of the bar to the left (they gave you two whole drink tickets for your $65 admission fee), the lukewarm buffet to the right, and an array of tables directly in front of you. As far as the eye can see are scores of "gifts" that the fundraising committee was able to procure for this special night.
If you like movies, there is a DVD set, Orville Redenbacher, and two pairs of 3-D glasses. If you are into trinkets, there is a jade necklace and matching ring from the family-owned jeweler down the street. You want a little "me time," there's a gift certificate to the local spa, including a mani/pedi and some relaxing bath salts. On and on it goes.
And when you are just about at your wits' end, with the picnic basket/wine bottle/cheese plate/corkscrew combo, you find the section set up for dads. A tastefully framed photograph of the local team's basketball star; an over-sized sneaker signed by a basketball legend; jerseys from the '90s. And there, at the end of the table, a pair of tickets (with parking pass) to a baseball game in your hometown ballpark.
The parent who made the latter donation looked up and down the schedule, determined the least exciting game he could imagine, and offered up the tickets as a show of goodwill for his kid's school. Some schmuck will overbid to sit in seats not otherwise available to the general public, for a game he either couldn't, or didn't want to, attend. In one fell swoop, he has one less set of tickets to worry about, and one nice write-off.
You, the schmuck, check your calendar and realize that (a) you are free that Tuesday night in July (as of now), (b) they really are good seats, (c) you planned on going to a few games this summer anyway, and now you can buy tickets, reduce your taxes, and help the school. You quickly jot down your name and your bid. For the next forty-five minutes you circle the table, checking back to see what other parent had the same idea, but was willing to be $25 more generous. As time winds down, as the PTA president announces the final moments of the silent auction, you find yourself hovering. Before you were interested in the tickets; now you need them. One last bid seals the deal, and you find yourself the proud owner of two tickets to the … A's game. Really, the A's!? They finished 26 games out of first place last year, and won barely a third of their games on the road. Is it too late to cross out your name/bid?
Yes; yes it is. But fear not; all is not lost. The group of players donning Kelly Green, Wedding Gown White, and Fort Knox Gold (those are the official colors) are a lot more fun and a heck of lot more interesting than you might imagine. Granted, in 2018 they will be little more than a 4-A squad, but the donation has already been made, the tickets are yours to keep.
Let's get this out of the way: Depending on what the Rangers do between now and Opening Day and/or the trade deadline, the Athletics are and will be either the fourth or fifth best team in the AL West. There are no post-season aspirations for 2018. But no matter. You can dig in to Billy Beane's thinking and hop on the bandwagon early. The players you see on that Tuesday night in July may very well be playing in October in the not so distant future. And with this handy guide and your in-person account, you will have the ability to say: "I knew them when…"
SCHOLAR ATHLETES: Since you bought the tickets at a school event, there is no better place to start than with these big-brained ballplayers:
If you are lucky to see a start by Kendall Graveman (#49, nickname "Digger"), know that he studied Mechanical Engineering at Mississippi St., is an avid supporter of STEM education, and regularly assists the team with "Science of the Game" demonstrations and clinics. He came to the A's from the Blue Jays in the Josh Donaldson trade, and went 6-4 with a 4.19 ERA last season. He throws a 93 MPH fastball approximately two-thirds of the time, and strikes out roughly two batters for every one he walks. He should keep the game close.
If Graveman isn't pitching, maybe Andrew Triggs (#60, "Triggonometry") will be. Triggs earned a degree in Political Science from USC before he finished his baseball eligibility, so he enrolled in the school's MBA program. In 2012, young Andrew was the Pac-12 Baseball Spring Scholar Athlete of the Year. Had he not signed with the Royals, who knows what company or country he would be running today. As it stands, last season he won six games with a 4.29 ERA, and had better than a three-to-one strikeout-to-walk ratio. Triggs literally throws nothing but hard stuff (99.5% of his pitches last year were fastballs, sliders, or cutters), so bring a glove to the game and be on the lookout for foul balls hit the other way.
One thing is certain: Absent an injury, Stephen Piscotty (#25, "Momo"), who has a degree in Atmosphere and Energy Engineering from Stanford, will be patrolling right field. More about him below.
HOMETOWN HEROES: The tickets you hold in your hot little hand were the product of you giving back to your community. For that reason, let's take a look at some local kids doing good:
 Marcus Semien (#10, "Mahkus") should be the A's everyday shortstop. Marcus attended St. Mary's High School in Berkeley, then went to Cal. He originally signed with the White Sox, but came back to the East Bay in 2014. He may not be sure-handed (an MLB-leading/Oakland-record-setting 35 errors in 2015; an additional 21 in 2016), but he can hit – 27 dingers in 2016 and ten more in just 85 games last season. And if you bring your kid to the game, be sure to have her keep a watchful eye on Marcus. In 2016, he won the team's Heart & Hustle Award, which honors the player who demonstrates a passion for, and best embodies the values, spirit, and traditions of, the game. He is a true role model.
Back-up outfielder Mark Canha (#20, no known nickname), grew up in San Jose and also attended Cal. He was drafted by the Marlins, but escaped to the Rockies, and found his way back home in 2014. Mark missed most of last season with a hip injury, but the A's have high hopes for the guy who led all rookies in RBI in 2015. And, for kicks, you can follow Mark's Instagram (@bigleaguefoodie) to get a taste of what and where this big league foodie likes to eat.
The aforementioned Stephen Piscotty learned to walk, run, hit, and throw in Pleasanton (29 miles southeast of Oakland), and as noted above, graduated from Stanford. Piscotty had been a rising star in the Cardinals' organization since 2015, and played 153 for the Red Birds in 2016. Stephen had an off year last season, as he dealt with his mother being diagnosed with amyotrophic lateral sclerosis, otherwise known as ALS or Lou Gehrig's Disease. The Cardinals, cementing their "class act" bona fides, agreed to trade Piscotty to the A's so he could be closer to home, and allow his mom to watch him play all summer. A special green and gold hat tip to Bill DeWitt and John Mozeliak for their humanity and kindness.
The Athletics have another hometown hero that you cannot root for on the field, but in the front office. The A's scouting coordinator is a 24-year old out the University of Virginia. And she may one day become baseball's first female general manager. Haley Alvarez was Virginia's team manager for four years, has worked for the Red Sox, the Reds, and the MLB central offices; and now she finds herself back home in Northern California (she grew up in San Francisco, a Giants fan), helping one of the most progressive teams in the sport to use scouting and analytics to build a team of and for the future. Make sure to tell your kids about her while watching the action on the field.
GOOD CITIZENS: We often view athletes only through the prism of their on-field accomplishments. However, this group of Athletics are more than just athletes. They each utilize their unique place in society to make the world a better place. Whether or not their activities make them philanthropists is open to debate, but each should be judged by more than OPS, DRS, and WAR:
There are many categories into which Jed Lowrie (#8, "Low") would fit (for instance, he played at Stanford), but for our purposes, let's take a look at the good deeds of one of the roster's elder statesmen. This season will be Low's fifth with the A's, which comes after stints with the Astros (both NL and AL), as well as his first four seasons in Boston. Jed played 153 games last year, batted .277 with 14 homeruns and was second in the AL with 49 doubles, so the man can hit. But it is off the field where Lowrie makes his greatest contribution. In 2015, he traveled to Colombia as a sports envoy in the MLB's "Diamond Diplomacy Program" in conjunction with the State Department. He and his wife, Milessa, founded the A's "Jedi Warriors" program, which provides tickets, batting practice visits, and some pocket cash to spend in the park for families of wounded veterans. Jed and Milessa first founded the Jedi Warriors when Lowrie was playing in Houston, and they brought the program to the bay. In 2014, Jed was the A's nominee for the prestigious Roberto Clemente Award, given to the player who "best exemplifies the game of baseball, sportsmanship, community involvement and the individual's contribution to his team."
On March 9th, the A's added a stabilizing force to their lineup and their pitching staff when they acquired free-agent Jonathan Lucroy (#21, "Luc"). Luc has had an interesting career: an offense-first catcher when first called up to the Brewers who turned himself into the best defensive catcher in the game (worth 20 runs saved in 2014), to one of the worst defensive catchers in the league last season (costing his teams nearly 20 runs). This will be Lucroy's fourth team in the last three seasons, as he was traded from Milwaukee to Texas in 2016 (after exercising his no-trade clause and scuttling a deal to Cleveland that would have given him a chance to play in the World Series), and traded from Texas to Colorado at the trade deadline last year.
But regardless of his output on the field, Lucroy may more value off the field. In each of the last two Novembers, Luc has participated in the Stars and Stripes Honor Flight, which allows veterans of World War II and the Korean War, as well as terminally-ill veterans, to go to Washington, D.C. to visit their respective memorials. In 2014, Jonathan contributed to the Open Arms Home, whose mission is to provide a loving residential environment that serves the emotional, physical, and developmental needs of orphaned, abandoned, and disadvantaged children in the Eastern Cape of South Africa. He also supports Fisher House Wisconsin, a facility for military veterans and their families receiving treatment at the Milwaukee Veterans Affairs Hospital. In seasons past, Lucroy provided military families with tickets to Brewers games. And in keeping with that theme, from 2011-13, Luc provided various $5,000 scholarships to military families. If that wasn't enough, Jonathan is active with the Make-A-Wish Foundation and has served as a spokesperson for the Muscular Dystrophy Association Team Muscle Walk. And lastly, Jonathan is a supporter of the Miracle League, which allows all children to play organized baseball regardless of their ability.
So whether or not Lucroy returns to his hitting and catching dominance, he is worthy of your cheering and your praise when you see him behind the plate.
If Lucroy isn't catching, you may see back-up catcher Josh Phlegley (#19, "PTBNL") behind the plate. In 2006 Josh was named Indiana's "Mr. Baseball," which seems like a backhanded compliment until you see some of the previous winners. Josh was drafted by the White Sox in 2009, but played only 48 games in 2010 due to a rare autoimmune disorder called Idiopathic Thrombocytopenic Purpura (ITP), which lowers a person's platelet count. The diagnosis resulted in Josh having his spleen removed. I don't recommend heckling him about his missing body part, as he now works with the Platelet Disorder Support Association to help kids with the condition and to raise awareness about the disease. Phlegley has a cannon, and threw out 37.8% of the runners who tried to steal on him in 2015 (third best in the AL). A knee injury in 2016 limited him to 26 games; and a concussion, a new baby, and an oblique injury limited him to 57 games last season. Purely from a humanitarian perspective, let's hope Josh can remain healthy in 2018.
Australian pitcher Liam Hendriks (#31, "Slydah") is an animal lover and a man of the world who does well by doing good. Slydah was the A's 2017 nominee for the Roberto Clemente Award, after his work with Athletes Brandand Food for the Hungry in an effort to end poverty in the Dominican Republic. And he can pitch, too. He was 4-2, with a 4.22 ERA, and a 3-1 strikeout-to-walk ratio in 70 games last season.
INTERESTING VETERANS: A team like the 2018 Oakland Athletics is going to be filled with youngsters making their way to "the show" and aging players on the downside of their careers. In the latter group, check out these guys:
This will be the eighth Big League season for Chris Hatcher(#44, "Hatch"). In 2006, the Marlins drafted Hatcher out of UNC Wilmington as a catcher (that's right, Hatcher the Catcher). In 2009, the Jacksonville Jumbo Shrimp put Hatcher on the mound, and he retired the only batter he faced. Building on that success, the next season the Jumbo Shrimp put him on the hill for a full inning, which he finished in 13 pitches (including his first professional strikeout). Three months later Hatcher found himself in the Big Leagues…as a catcher. He went 0-for-6 with 5 Ks. In 2011, he made his first MLB pitching appearance, becoming the first player in 75 years to debut as a catcher and come back the next season as a pitcher (Art Doll of the Boston Braves was the other, in case you were wondering). Look for Hatch to come out of the pen throwing heat – he has a 3-1 strikeout-to-walk ratio, with 236 Ks in 216 career innings.
2018 will mark Yusmeiro Petit's (#36, "Yus") eleventh MLB season. His career has been somewhat of a rollercoaster, but he has had a few memorable moments: In 2013, Yus came within one out of throwing baseball's 24th perfect game. Eric Chavez – the former Athletic – broke it up with a single to right. In 2014, Petit became just the third Giant pitcher to throw a nine-inning complete game with less than 90 pitches – he did it with 84. Petit is such a control freak that he once went 70 consecutive batters – over nearly a month – without going to a three-ball count. After starting his career in Miami, spending three seasons in Phoenix, and then four in San Francisco, Yusmeiro will now be on his fourth team in four years. The A's locked him up with a 2 year/$10 million contract, hoping he will continue to throw strikes out of the 'pen.
Matt Joyce (#23, "DJ SS") will be moving around the outfield and getting some ABs at DH. Joyce is one of only 107 players in the past 105 years to walk five times in a nine-inning game. DJ SS grew up in Tampa, and made his MLB debut with the Rays in July, 2010 (a Floridian hometown hero). In his first month in the Bigs, he hit two grand slams and a 3-run homer, all with two outs, and all game winners. He really had nowhere to go from there. In 2016, while playing with the Pirates, Joyce set a Major League record with 21 pinch walks (not a stat you see often). The A's signed Joyce to a 2 year/$11 million deal last season, and he promptly hit 25 dingers for the club.
Any preview of the Oakland Athletics would be remiss if it failed to discuss Bruce Maxwell (#12, "Baby Prince"). Maxwell made news last season as the only Major Leaguer to kneel during the national anthem (Hometown Hero Mark Canha stood next to him with his hand on his shoulder). In some circles, this act made Bruce a pariah; and in others, a hero. Bruce was born in Germany; his father was stationed at the U.S. Army base in Wiesbaden at the time. Maxwell, an African American, stated that his decision to kneel represented concern for racial injustice as well as freedom of speech and the exercise of peaceful protest. The Oakland organization – true to its activist roots – supported his decision.
That story would be relatively interesting if it ended there. It does not. During this past off-season, Maxwell had two incidents that portray him in a much different light. First, Maxwell is alleged to have made up a story of racial profiling in a restaurant in Huntsville, Alabama. He claimed this incident was in retaliation for his decision to kneel; however, the accused waiter claims he had no idea who Maxwell was, and didn't do anything wrong. As of this writing, the issue remains unresolved. Next, in November, Bruce was indicted on charges of aggravated assault with a deadly weapon for pointing a gun in the face of a female food delivery person. Maxwell has denied the allegations, but a grand jury disagreed.
By the time you see Maxwell play in July, all of this may have blown over, and Maxwell could be playing stellar defense and shepherding the pitching staff. Or, young Bruce might be serving 5-15 years in an Arizona prison, flushing his baseball career and a good chunk of his life down the drain because a waiter looked at him sideways and because his meat lovers pizza was ten minutes late.
One last point: Prior to Spring Training, Maxwell declared that he will no longer kneel for the anthem – so there is no need to get to the park early to witness his quiet protest.
THE FUTURE IS BRIGHT: To be compelled to buy a first-class seat on the bandwagon, you have to have hope in the future. These ballplayers lead you to think that Billy Beane has built something that will be blossoming just when Jose Altuve and Mike Trout become free agents, potentially opening the door for post-season baseball in the East Bay. And, let's face it, you come to the ballpark to see great players, not just witness interesting stories. With that in mind, buy low on these guys:
First baseman Matt Olson (#28, "Oly") hit 24 home runs in 189 at-bats last year. If he didn't hit one the night before, there is a good chance he will circle the bases when you see him play – he homers once every 7.9 at-bats. But even when the ball doesn't leave the park, it leaves a mark. Last season, only seven of 387 players who put at least 100 balls in play hit the ball harder. Oly averaged an exit velocity of 95 MPH. This guy should be fun to watch.
In 2016, Matt Chapman (#26, "Chappy") led the Oakland farm system in homeruns, RBI, runs, extra base hits, and total bases; and he was ranked the A's number three prospect by Baseball America. Those stats earned Chappy an invitation to the Big Leagues in 2017, where he hit fourteen homeruns in 84 games, with a .785 OPS. But it is Chapman's defense that is really off the charts. In those 84 games, he turned 34 double plays and had 19 Defensive Runs Saved. The only third baseman with better defensive stats was Chapman's high school teammate, Nolan Arenado. With Manny Machado moving back to his original position of shortstop this season, #26 is the early-season pick to win the AL Gold Glove at the hot corner.
The often-previously-mentioned Stephen Piscotty is one of baseball's young great sluggers. In 2016, when Piscotty played 153 games, he hit 22 home runs and knocked in 85 with an .800 OPS. He looks to be an exciting player in right field for Oakland for years to come.
There are two Major League players with the last name "Davis" and the first name "Chris." One plays in Baltimore, is overpaid and underperforms, and he spells his name "Chris." The other will DH and play left field for the A's, and he spells his name "Khris." Khris Davis(#2, "Khrush") hit 22 homers in 144 games in 2014; 27 homers in 121 games, including 21 dingers after the All-Star break, in 2015; Khris was tied for third in the AL with 42 home runs in 2016; and last season he hit another 43. He has also struck out 605 times over the last four seasons. So rest-assured, when you see Khrush, he will be swinging for the fences.
Late in the game, check the bullpen for Blake Treinen (#39, "B-Lockay"). Originally drafted by the A's in 2011, he was traded to the Nationals in 2013, and then came back home in 2017. In 2016, Treinen established himself as one of baseball's top relievers, appearing in 73 games, and was in the Top-15 in: ground ball percentage (3rd with 66.5%), ERA (8th, at 2.28), holds (12th with 22), and games (12th with 73). In those 73 appearances, he allowed only 51 hits. B-Lockay recorded a 2.13 ERA with the A's last season in the 35 games he pitched after coming over from the Nats. If the A's have the lead in the 9th, expect to see #39 take the mound.
Emilio Pagan (#15) pitched in 34 games for the Mariners last season, and was acquired by the A's shortly after the World Series. Last season he struck out seven batters to every one he walked, and had a 0.93 WHIP. Look for Pagan to come into the game in high leverage situations and put out the fire. If you are rooting for your hometown team, you may not want to see Pagan jogging in the from the 'pen with the game on the line.
Franklin Barreto (#1, "Kaki") made his MLB debut last season, and in 2016 was ranked the A's top prospect by Baseball America. Oakland is currently trying to figure out if he should play second, short, or in Nashville. He will need to hit – and not strikeout – to remain on the Big League roster, but expect him to be somewhere in Oakland's middle infield when the A's start to contend for an AL West title.
And lastly, an off-shoot of the interesting vet is the interesting rookie, whose future is bright. Herschel Mack Powell, IV (#3) is known as "Boog," but he is no relation to the former Oriole. As a kid he was called "Little Mack," but then his family starting referring to him as "Boog," and it stuck. Boog signed with the A's in 2012, but was traded to the Rays in 2015. He was came back to the Pacific Northwest at the end of 2015, when he was traded to the Mariners. If Boog was smart, he never would have unpacked his suitcase. The following is a list of his travelogue for 2017: MLB debut for the Mariners in Cleveland on April 29th; sent down to Tacoma May 5th (he actually flew to Las Vegas); recalled to play in Oakland on May 16th; sent down to Tacoma on June 11th; recalled to the big club in Anaheim on July 2nd; sent down to Tacoma on July 18th (he flew to Albuquerque); traded to the A's on August 6th and was sent to Nashville (one can only hope he was able to fly from Kansas City, rather than routing through Oakland); called up to Oakland on August 11th where he finished the season. Powell will share time in centerfield this season, and looks to have a great future – if he ever gets to unpack his bags.
So there it is – a comprehensive list of reasons to be thrilled you scored those tickets to the A's game in July. As is Billy Beane's want, a handful of these players – and others not mentioned – could be traded at the July 31st deadline. But you should be able to see the squad before players start being sent hither and yon.
There is nothing like a night at the ballpark – be it Little League, Minor League, or the Majors. The lights have a certain way of belying the actual time of day; the grass, without the sun's reflection, is the perfect shade of green; the beer, not needing to fight the daytime heat, goes down with just the right bite; and the hot dogs, serving as dinner rather than lunch, feel all the more decadent and taste all the more delicious. And a late game ice cream, at a time when you normally would be putting your kids to bed, is totally self-indulgent. Sure, traffic is insane, and you get home late and wake up tired, but no matter. Life's short, enjoy yourself; and embrace the 4-A Oakland A's – they should make for an entertaining night at the yard.
Cut out this handy chart, fold it up, and keep it in your wallet for that wonderful night in July when you get to see, in person, one of the most interesting teams in baseball:
| | | | |
| --- | --- | --- | --- |
| PLAYER | UNI # | NICKNAME | FUN FACT |
| Franklin Barreto | 1 | Kaki | Smooth in the middle infield; will hopefully be in the Big Leagues by July |
| Khris Davis | 2 | Khrush | Will either homer or strikeout |
| Boog Powell | 3 | Boog | Traveling man should be in centerfield for years to come |
| Jed Lowrie | 8 | Low | Seasoned vet who helps the Vets, and usually ends up at/on second base |
| Marcus Semien | 10 | Mahkus | Local boy who may boot one (or three) at short; but will always be hustling |
| Bruce Maxwell | 13 | Baby Prince | No longer kneels; may be in jail |
| Emilio Pagan | 15 | N/A | 7-1 K/BB ratio |
| Josh Phlegley | 19 | PTBNL | Mr. Indiana can hit even without a spleen |
| Mark Canha | 20 | N/A | Local boy who loves to eat (@bigleaguefoodie) |
| Matt Joyce | 23 | DJ SS | Will walk or homer |
| Stephen Piscotty | 25 | Momo | Local boy comes home to rake in front of mom |
| Matt Chapman | 26 | Chappy | Dazzling on defense and can hit bombs |
| Matt Olson | 28 | Oly | 1 homerun every 8 at bats |
| Liam Hendriks | 31 | Slydah | What's Australian for strikeout? |
| Yusmeiro Petit | 36 | Yus | Throws nothing but strikes |
| Blake Treinen | 39 | B-Lockay | Ace closer |
| Chris Hatcher | 44 | Hatch | Catcher-cum-pitcher |
| Kendall Graveman | 49 | Digger | Engineer who puts on a clinic every 5th day |
| Andrew Triggs | 60 | Triggonometry | Scholar who is calculating on the mound |
PLAY BALL!!