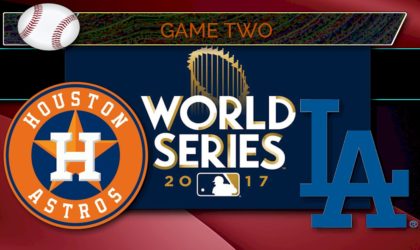 Glass House of Emotion
When I coached my son's baseball team, the kids would often have "big league" moments – trying to do it like the pros. Whenever I saw it, I would tell the player: "Just show me your professional contract, and you can do that. Until then, you have to do it my way". The inference, of course, was to play fundamentally, be a good sport, and never show up the other side.
Due to what many view as overly stringent celebration rules, the NFL has derisively become known as the "No Fun League". The same hasn't been said of Major League Baseball, where pitchers police such behavior with a 5-ounce sphere hurled at 90+ miles per hour.
But there are times when fun and emotion should enter the sacred space between the lines. And the World Series is one of those times. And, if that is the case, there was no better time than Game 2 of this year's Fall Classic, which some are calling the greatest non-clinching World Series game of all time. It's hard to quibble with that assessment.
The beauty of Game 2, besides the lead changes, the ties, and the wacky bounces (the bill of a centerfielder's cap, the groin of an umpire), was found in the many moments that, if they happened in our kid's Little League game, would cause an uproar in the stands and a stern talking-to on the drive home. But, under the bright lights of the game's largest stage, each was transcendent in their own right.
As great as Game 2 was, I believe it all started with the last out of Game 1. With the Dodgers clinging to a 3-1 lead, Kenley Jansen induced the dangerous Jose Altuve to fly out to right to end the game. One would think – for younger players we would demand – that securing the last out of a World Series game should be a by-the-book two hand reception, making certain nothing goes awry. If you were expecting that, you haven't seen Yasiel Puig play. Puig caught the ball around his left hip with his tongue out (but he at least he used two hands). Puig was just warming up.
Verlander vs. Hill provided us with a handful of emotional, triumphant, and in light of the stakes, glorious moments that wouldn't be acceptable if the bases were only 60 feet apart, but were spectacular because they are 90. A random sampling:
Corey Seager's Primal Scream.
It's one thing for a guy to make contact, and by the time he leaves the batter's box to know he got it all. It is quite another for a hitter to let it all out immediately after contact. If any of our kids had done that, they wouldn't have made to it to first base before being properly reprimanded. But when you take Justin Verlander deep to give your team the lead in the World Series, primal screams are the order of the day.
Carlos Correa's Bat Flip.
I (and everyone else) previously wrote about the all-time bat flip in the 2015 ALDS. And there is no question that Jose Bautista still retains his position on the Mt. Rushmore of post-homerun-bat releases. But Carlos Correa joined the pantheon in the 10th inning of Game 2. And man did he earn it.
Yasiel Puig's Glove Slam.
Alex Bregman led off the top of the 8th with a line drive to the rightfield corner. Puig went all out (or did he?), and with his run and dive, covered approximately 64.5 feet. Unfortunately, according to Stat Cast, he needed 65 feet to make the play. The ball flicked off the end of Puig's glove and into the stands for a double. Yasiel leaped to his feet and slammed his glove down with such force that I half thought the grounds crew would need to be called to level off the warning track. Watching the game live, I thought Puig had nothing to be angry about – it would have been an amazing catch. However, in the world we now live in, we can determine things at the most granular level. According to Mike Petriello of MLB.com, during the season, Puig's average "Sprint Speed" this season was 28 feet per second. In the 8th inning of Game 2 of the World Series, Puig's "Sprint Speed" was 27 feet per second. Puig was running for approximately two seconds (probably a touch more). Had he been running at his average speed, he would have covered at least an additional two feet, and most likely made the catch. So maybe he had good reason to be angry. Either way, if your child or mine slammed his glove like that, ooh boy! (As an aside, maybe there is something about playing the outfield in the playoffs at Dodger Stadium the impels a glove slam.)
Charlie Culberson's Rambunctious Trot.
We may never know what was going through young Charlie's mind as he rounded the bases with two outs in the bottom of the 11th inning. Maybe he forgot that George Springer had hit a two-run homer, so he thought he had tied the game with his blast. Maybe he forgot all about George Springer and thought that he had won the game. Or maybe, after being inserted into Cody Bellinger's spot in the lineup as part of an 11th inning double-switch, and after only getting two hits the entire season, and after only being on the post-season roster because of Corey Seager's balky back, he was overcome with emotion hitting a homerun with two outs in the bottom of the 11th inning of a World Series game. Had a 12-year-old done that, his coach would have said two things: "We haven't won anything yet" and "Act like you've been here before". For Culberson, while the former was accurate, there was simply no way for him to fake the latter.
Rich Hill's Reaction.
This picture doesn't tell even half the story, but I think the Dodgers have scrubbed the internet of the images that the Fox cameras caught when Dave Roberts told Hill he was done after four innings and 60 pitches. Suffice it to say, Hill was none-too-pleased. I can certainly understand why. Twelve outs recorded, seven via the strike out, only one run allowed. I am sure Hill felt like he had many more bullets in the gun and, as a career journeyman who just started getting good at age 36, I can appreciate that he didn't want this moment to pass without leaving it all on the field. However, this is how the Dodgers ran their staff all season. The top of the lineup – a heavily right handed lineup – was due to face Hill for the third time. And, truth be told, he was really one New Era bill away from being down 3-0 after 2½ innings. Roberts made the right call; but that doesn't make Hill's reaction any less human. We just wouldn't tolerate the same from our kids.
We are just getting started in what stands to be an epic battle. I am predicting the Dodgers in seven; but it could easily go the other way. One thing is for sure: it will be a wild ride. So let's continue to give these "kids" (by normal societal standards) the latitude they deserve to play with as much heart, excitement, and yes, emotion, as they can muster. Ask Cal Ripken – they may never be here again.
PLAY BALL!!