HAPPY BIRTHDAY
HAPPY BIRTHDAY
On the day after my 16th birthday, as my street was filling with cars and my house was filling with teenagers (my parents were quite accommodating by leaving the continent shortly after I passed my driver's test), Kirk Gibson gave us the greatest moment in Los Angeles sports history.  (Relax, Lakers fan.  This is not my opinion – it is based on many surveys on the topic.)  But, this happened on October 15th, so technically, not a birthday gift.
But on my 43rd birthday, the Rangers and the Blue Jays – two teams I really don't care too much about – gave me a birthday gift of an entirely different sort.  They gave me the 7th inning (why is it always the 7th inning?) of Game 5.  A lot has been said and a lot has been written about that 7th inning, so I figured, why not . . .
If you have ever watched – or heaven forbid – coached a Little League game and seen the wheels come off the wagon, cued the circus music, and/or pulled your hair out in exasperation, you're in good company.  Because Rangers fans and Jeff Banister (the Rangers' manager) witnessed it all over a 53-minute period yesterday afternoon north of the border.
And the Rangers and Blue Jays gave us all a huge gift – one that I am sure Elvis Andrus wishes he could take back – by providing context to the difficulty of baseball.  Yesterday's 7th inning gave us all a new appreciation for how hard the game of baseball is, why we cannot be shocked when our kids make errors, and new meaning to the phrase "that just can't happen".
A few angles, some of which have been covered, and some of which have not.
FAULTY THROW/HEAD'S UP PLAY
Russell Martin goes through the motion of doing something he has done probably hundreds of thousands of times – throwing the ball back to the pitcher.  No one would have expected the ball to careen off Sin-Soo Choo's hand.  And yet, it did.  This happens in Little League, and we yell at our kid to be more careful.
But what got lost on that play, and I have only heard Jeff Banister reference it, is that Rougned Odor had his head up, saw the play unfold, and took off for the plate.  How often do we see Little Leaguers, and Big Leaguers alike, go back to the bag with their heads down, not paying attention to something as innocuous as a throw back to the pitcher?
If Odor had not sprinted down the line and crossed the plate before Josh Donaldson even picked up the ball, the play could have gone another way (e.g., the umpires could have ruled that their call of timeout did not affect the play because the runner didn't attempt to score).  Odor was more than halfway down the line before home plate umpire Dale Scott called the play dead; and Odor finished his sprint and crossed the plate.  So, when Scott conferred with his colleagues and figured out that he spoke too soon, the guys in the replay booth confirmed that regardless of the time out call, Donaldson never had a chance to stop Odor, and thus the run was allowed.  We always teach that the one thing on a baseball field you can control is hustle.  For a few moments yesterday afternoon, it looked like hustle would be the difference between winning and moving on, and losing and going home.
THREE (ARGUABLY FOUR) TIME'S A CHARM
#1:  Watch enough baseball games and see enough six hoppers up the middle, and you begin to wonder why batters even bother running up the line.  Shortstops from the age of 10 or 11 make that play sliding to their left and throwing in line with their body so often, and so easily, that it has become the definition of "routine".  Add to the equation the true hops one gets on a synthetic surface, and I would not be surprised if the official scorekeeper had already jotted down "6-3" before the ball even got to Andrus.  But, the reason they put erasers on the back of pencils is that sometimes people make mistakes.  It is just that when Andrus booted an easy groundball to start the bottom of the 7th, if felt like more than an innocent error.  There was a certain foreboding.  If the game had a soundtrack, that is when the scary music would have started.
#2:  But when Kevin Pillar hit an innocent groundball to Mitch Moreland, it looked – for a moment – like Andrus' error would be wiped out with a 3-6-3 twin killing.  And remember (this is for Red Sox fans from the mid-'80s) that Moreland has played first base all season because he is a considerably better defender than Prince Fielder.  But Moreland never got a good grip on the ball, threw a tricky, across-the-body and across-the-runner short-hop to Andrus, and the ball bounced away.  Could Andrus have made the play?  Sure, but it would have been a heck of a play; it might even had made SportCenter's Top 10.  Bottom line, he didn't.  Two batters, two errors, tying run in scoring position, lead run on base, no one out.
#3:  Ryan Goins then laid down a horrible bunt.  That will be lost in all this – in fact, I have not really heard anyone speaking about how bad that bunt was.  You lay down a 40 foot one-hopper to arguably the best defensive third baseman in the history of the game (easy, Orioles fans; I said "arguably").  Beltre makes an perfect toss to Andrus, who drops the ball.  What have we been telling our kids since Wee Ball?  If the ball is above your waist, glove down; below your waist, glove up.  Andrus apparently missed that lesson.  Three batters, three errors, tying and lead runs in scoring position, still no one out.  (By the way, prior to yesterday, no team had ever made three errors in one inning in a deciding game.)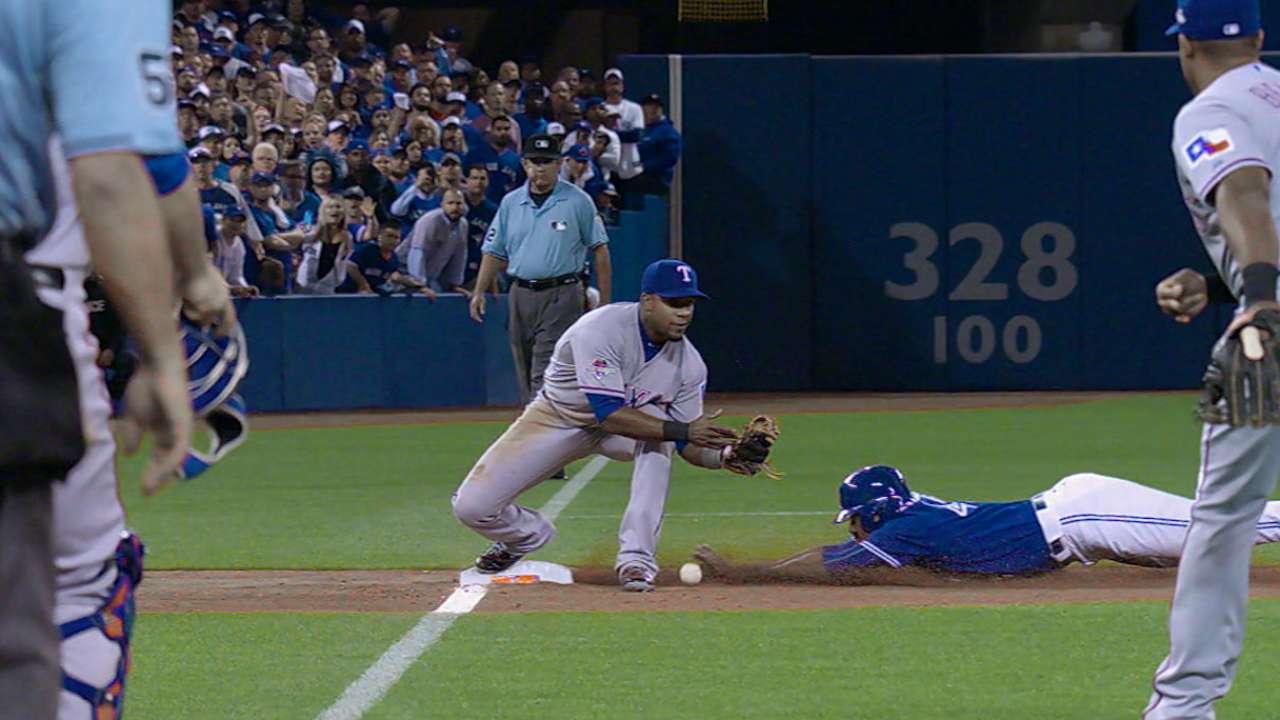 Ben Revere hits a hard shot to first.  For a moment, this looked truly to be the pitcher's best friend: 3-2-3 and there would have been 2 out with 2 runners on.  But Dalton Pompey (on as a pinch runner) slides hard into the plate and takes out Chris Gimenez.  Legal play?  Dirty play?  Appropriate play?  Because so much happened in that inning, there has not been much talk of that.  The umpires did review it and decided it was legal (file that, Chase).  The game resumes; bases still loaded, but now – amazingly – a groundball could get the Rangers out of this.
#4:  Josh Donaldson hits a little looper behind second.  Infield fly?  The umpires ruled – instantly – it was not.  Catchable ball?  Odor determined – after a few backpedals – it was not.  Should Odor have done as he was taught – by coaches, not Robinson Cano – turned his shoulders and run back for the ball?  I think the outcome of the play inures to yes.
If Odor makes the routine catch, the bases remain loaded with two outs, and the Rangers still leading 3-2.  Would that have made any difference in Bautista's at bat?  We will never know.
Better question: if the ball had been subject to the infield fly rule, would Pillar have taken off from third base after the ball landed in short right?  I have not heard that question asked of Blue Jays third base coach Luis Rivera, but my guess is he would not have run.
JOEY BATS (FLIP)
Depending on where you live on the baseball continuum, Jose Bautista's bat flip was the greatest or worst thing you have ever seen.  Did Bautista disrespect Sam Dyson and the game of baseball?  Or did he do what we have been begging of baseball for a generation – provide some life, emotion, and excitement?  The answer to this question is really easy:
From April to August, Bautista is a showboat who should be drilled in his next at bat.  There is no place for that in that type of game.
In September and especially in October; and especially in the 7th inning of a deciding game; and especially in the 7th inning of a deciding game with the score tied; and especially in the 7th inning of a deciding game with the score tied that has already been fraught with emotions (both on and off the field); and especially in the 7th inning of a deciding game with the score tied, with emotions running high, when a batter hits a ball roughly 700 feet, then he damn well has the right to (a) admire the majesty of his shot and (b) toss his bat away with as much grandeur as he can muster in the moment.  Case closed.
And Ranger fan, shut the hell up.  This isn't on Bautista, Encarnacion (who was actually trying to be helpful), or Tulowitzki who did nothing (for the entire series, it would seem).
Thank you, Rangers and Jays.  You gave a baseball fan the best kind of birthday gift: an amazing inning that spawned another chance to writeabout the game I (we all) love.
Your turn, Dodgers and Mets.  Orel Hershisher (who will throw out the first pitch tonight), the Cy Young winning right-hander won the last deciding game played at Dodger Stadium, beating the Mets in Game 7 of the 1988 NLCS (is this starting to sound familiar?).
The next game was played at Dodgers Stadium three days later, 27 years ago today.  We all know how that turned out.
PLAY BALL!!