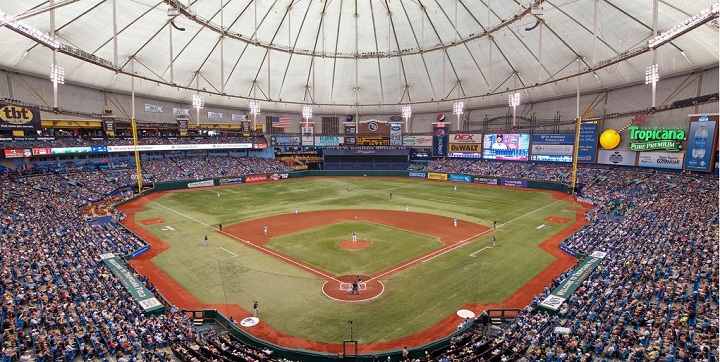 Tropican't
We all create bucket lists; things we want to do or see before we leave this mortal coil. For me, I have run with the bulls and climbed Machu Picchu. I have run a marathon and climbed the Eiffel Tower. But still on my to do list is visit every major league park. Having crisscrossed the country in an effort to check every batter's box, I began to think I would fall one short: Tropicana Field. I just wasn't too keen on visiting that odd park on the opposite side of Tampa Bay.
But, last week, I relented. I had to see – in person – if the ballpark was as bad in person as it appears on television. Now, for years I have railed against Dodger Stadium – I find it to be one of the most fan unfriendly parks in America. But, I have also said that if I could be teleported to my seat, never needing to leave to eat or use the bathroom, and then be teleported back to my sofa, there may not be a more beautiful place to watch a game. Well, after a brief sojourn to western Florida, I now believe that Tropicana Field is the photo negative of Chavez Ravine.
Unlike Dodger Stadium, it is relatively easy to get in and out of The Trop – if you can avoid the mid-day downpours, never knowing when they might arrive. And once you are inside the park (?), it is a fan-friendly experience. The Rays have done a terrific job of highlighting their 25 years of existence with various exhibitions in the lower bowl. They have Silver Slugger and Gold Gloves on display. They have re-created lockers of their all-time greats. They have mementos of their opening season. Not to mention pictures and retired numbers (those took me a minute to figure out).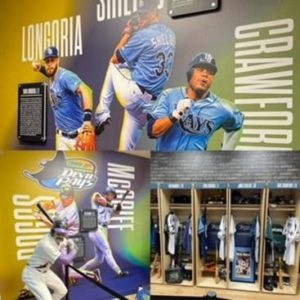 Further, they have a great area for kids and parents. There are batting cages and throwing games, as well as concessions and a small picnic-type area (decidedly underground, natch!) for the little ones. There is a quiet area for parents to chill out, and where I saw a mom breastfeeding a next generation fan. And they have actual, living, swimming Cownose Stingrays in a tank in the outfield that kids (and adults) can touch. Now, to be fair, Dodger Stadium did recently install some kid-friendly games in the outfield pavilion, so there is that.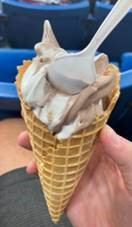 And then there are the eats. Simply put, there is an abundance. The Trop is no Petco Park or Oracle Park. It certainly doesn't hold a candle to T-Mobile Park as far as dining is concerned. But it holds its own. You walk around the stadium and you can get local fair (shrimp tacos) and ballpark standards (Nathan's hot dogs for all of the New York transplants); there are various sandwich offerings, sausages, wraps, poke, pizza, and French fries. And, to top it off, and again with a nod to New York, Mister Softee is available at three locations (and yes, I did indulge).
So, yeah, the Dodgers could learn a thing or two from the Rays' fan experience.
But for many, the fan experience is secondary to watching the game, and rightly so. For nearly two decades, the Rays have put a quality product on the field, winning the division four times since 2008, and winning the pennant in both 2008 and 2020. Tampa Bay's front office has always been cutting edge; they were the first team to introduce the "opener" (your mileage may vary on whether that was a good or bad advancement) and began utilizing the shift long before other teams caught on (again, your mileage may vary). So, with compelling players such as Wade Boggs, Carl Crawford, Evan Longoria, James Shields, Blake Snell, and now Wander Franco, you would think the organization would want to allow them to play on a better canvas. Alas, it is not meant to be…yet. There are ongoing negotiations for a new park and/or a shared-custody arrangement with Montréal.
Coming across the bay on I-275, you see The Trop in the distance. Your/my first observation is that it is crooked. The stadium was built with a slanted roof to reduce interior volume, reduce cooling costs, and for better hurricane protection. All seem like laudable goals, but it sure is weird to look at. And, it is even weirder once you are inside, as everything is or appears slanted. There are concentric rings of catwalks (I am sure you have seen balls hit off of them) below the roof that follow the same contours. As such, you constantly find yourself tilting and un-tilting your head to make sure you are looking straight.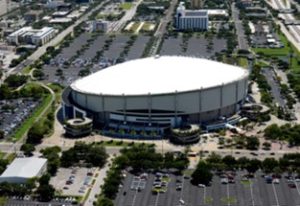 And because the roof is lop-sided, there is no symmetry with the upper level of the stands, which remain unpopulated, as the team's attendance has not averaged more than 16,000/game since 2014.
The sightlines are odd, either because of the netting posts or the strange configuration of the seating, which includes picnic areas along the left and right field lines, alongside the on-field bullpens. And, when you do have a clear view, there are so many ads and so much ad hoc signage, that your eyes are often drawn away from the action. Now, I certainly understand the proliferation of ballpark advertising over the past 10-20 years, but some parks do it better than others. Some – Dodger Stadium, for instance – have a level of uniformity that makes the billboards value-add, not distracting. Some – like Chase Field – have a hodge-podge approach to their in-stadium publicity, making one think they are trying to bleed every possible dollar out of every possible square inch of wall space. Tropicana Field falls on the Chase Field end of the spectrum. And, to make matters worse, not even lost amongst the advertising are decent scoreboards or video displays. It took me two innings to find an MPH reading on Gerrit Cole's fastball; and I never did find an exit velocity on Aaron Judge's line out to left. The out of town scoreboard is heavy on logos, but light on actual scores.
Once I got the hang of everything, and tried to take in the game, I noticed that two of the scoreboards that actually provide useful in-game information about the pitcher and the batter are obstructed by fans in the standing area in right field. When I ventured to a higher level later in the game, the obstruction was lessened. But, come on…who was the Mensa behind that display placement decision?
The plan wasn't to visit The Trop when the Yankees were in town – it just worked out that way. But, as could be expected, it was more like Yankee Stadium south, with the vast majority of the 16,504 in attendance wearing pinstripes and rooting on the Bombers. So, when Manuel Margot crashed into the wall in the top of the ninth inning and remained on the ground while the lead run scored, there were considerably more cheers than "aahs," which was unfortunate (Margot was diagnosed with a patellar tendon strain and is on the 60-day IL). And when the final out landed in Aaron Hicks' glove, and the Rays finally lost 4-2, the place erupted. It is hard to know if other teams travel as well to Tampa-St. Pete, and I am pretty sure I won't be finding out.
I checked box #28 of active ballparks, and, in hindsight, I am glad I did. I got out of Tampa at 7am the next morning, and I am glad I did. The Rays have a lot to offer in their bizarre and hopefully impermanent stadium, concepts and ideas they can take across the bay or up to Canada. But from a game-viewing perspective, they have a lot of learn and a long way to go. However, rest-assured, when they finally do land in a new park, I will be there to watch…and critique.
PLAY BALL!