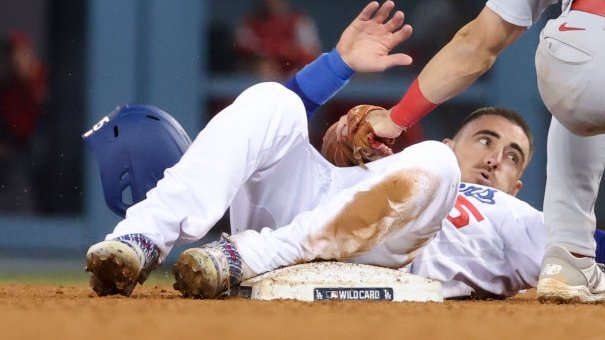 The Man Before "The Man" – The Walk Before the Trot
Lost in the hullabaloo of huge walk-off home runs are the little things immediately preceding that make them possible. Watching the Dodgers-Cardinals game last week, I had an incredible flashback that I don't believe was discussed on the broadcast.
Ranked the No. 1 sports moment in the history of Los Angeles sports, Kirk Gibson's walk-off two-run home run against the Oakland A's in the opener of the 1988 World Series was truly something to behold. And when reliving the event with the nearly ten minute clip on YouTube (as I have done countless times), we almost forget the five-pitch walk Mike Davis earned before Gibby hobbled his way out of the dugout.
Mike Davis is a footnote in baseball lore. He played 10 seasons in the big leagues, eight with his opponent that night, the A's. In 1988 with the Dodgers, he walked only 25 times in 310 plate appearances. As such, he certainly wasn't the ideal choice when needing a baserunner in the bottom of the ninth. In fact, it bears asking if he was actually a better option than Alfredo Griffin (for whom he pinch hit), with his .199 batting average and .259 on-base percentage.
Davis has a pretty brutal '88 season, and the Dodgers limited him to 103 plate appearances in the second half. At season's end, he sported a .196 batting average, and a .260 OBP with just nine walks after May. But manager Tommy Lasorda called his number in the ninth inning of Game 1 of the World Series, with the directive to find a way on base so someone, anyone, could try to drive him in. Davis worked a five-pitch walk off Dennis Eckersley, a pitcher who issued a mere 11 walks in 72 2/3 innings that season.
But Davis wasn't done. With the crowd going wild and Gibson fouling off pitches like the battered horse that he was, Davis swiped second base. This was important for a multitude of reasons, not the least of which was that now any Texas Leaguer, duck fart, or blooper over short would have at least tied the game (note, in Gibson's condition, any ground ball in the infield – and maybe a shallow grounder to the outfield – would have resulted in an out at first to end the game). Also, in the years before multiple sets of signs, and quarterback-type wristbands, and back-pocket information cards, and center-field cameras relayed to dugout monitors, it was still to the batter's advantage to have a runner on second base.
Of course, it is well-documented that the Dodgers had a pre-series scouting report that Eck would go to the backdoor slider on a 3-2 count, so it is unknown how helpful Davis' positioning at second base may have been. Regardless, Davis was inexplicably on base representing the tying run when there was "a fly ball to right field…"
Which brings me to last Wednesday night, in that same ballpark. Mike Davis was never the caliber of player that Cody Bellinger is. Cody has won Rookie of the Year and MVP awards. He is a two-time All-Star who has hit 47 dingers in a single season. But 2021 has been, in a word, a disaster for Cody. He played in 95 games, struck out three times as often as he walked, and had a .240 OBP. If not for the injury to Max Muncy on the last day of the year, it is highly likely that Bellinger wouldn't have even been in the lineup in the Wild Card Game against the Cardinals. And yet, there he was.
So with the stage set for Albert Pujols to hit a pinch-hit, walk-off homer against his former club, he merely lined out to center. When Steven Souza Jr. did the same, it was up to Bellinger to keep this contest from going to extra innings. In August of this year, Bellinger had two walks in 93 plate appearances. He improved that a bit in September and October, with five in 59. But he hadn't walked twice in a game since June 24, and seeing how he had already received a free pass in the third inning, another one didn't seem likely.
Shockingly, after swinging through a 2-1 sinker, Bellinger took two sinkers just off the plate to earn the walk. There wasn't a Dodgers fan in attendance, nor one watching on television, who wasn't certain that Belly would swing through at least one of those pitches — but he didn't.
Like Mike Davis, Bellinger found a way to get on. And then, like Davis, he stole second base.
Bellinger had previously swiped two bags in a game three times in his career: once in 2017, once in 2018, and then last September. But here he stole his second base of the night, and he did it with two outs in the bottom of the ninth inning of a win-or-go-home game in October. And in doing so, like Davis, he put himself in scoring position (this time for a chance to win, rather than just tie).
We will all remember Chris Taylor's line shot into the left-field pavilion to propel the Dodgers to the next round of the playoffs. It wasn't Gibby. But it may have scooted in front of Muncy and Justin Turner in the annals of celebrated Dodger moments. CT3 walked off the Cardinals and gave the Dodgers the Wild Card Game victory. But lest we forget, as so many have since 1988, it was the little noted two-out walk, and the subsequent stolen base, that truly set the stage. A tip of the cap to Davis and Bellinger, whose keen eyes and fleet feet paved the way for legends to be born.
PLAY BALL!!