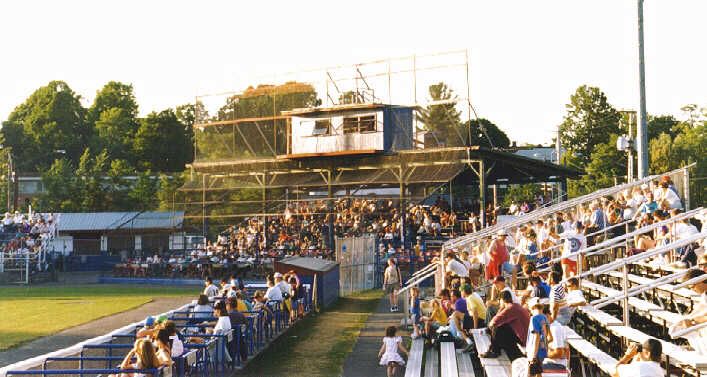 THE JOY OF OWNERSHIP
So you want to own a baseball team?  Who doesn't?  We sit in the stands, we sit on the couch, we think we have all the answers.
More cogent player personnel decisions, check.
A more efficient parking system at the stadium, check.
Cheaper beer, of course.
A better variety of food, done.
Fire that damn manager already, check, check, and check!
How hard can it be? Anyone who knows baseball could do it, right?  Maybe? It certainly would be fun to find out.
Well, a small-business owner in the leafy hamlet of Oneonta, New York got the opportunity and jumped at it. Four years ago, the Oneonta Outlaws went up for sale, and Gary Laing, a life-long resident of the City of the Hills, didn't miss his chance. After a brief conversation with his wife, Karen, he plunked down the purchase price (amount, undisclosed) and along with a silent partner – a dear friend who Gary first met playing at Oneonta Little League – became the proud owner of an amateur baseball team.
But we are getting ahead of ourselves, as this story needs to have history in order to have context.
Oneonta, New York has been the home to some form of organized baseball going back nearly 100 years. The Utica Utes (of the NY-Penn League) first came in 1924, changed their name to the Indians, and folded after one season. The team came back in 1940, and won championships in 1941 and 1942. The League was shuttered for three years due to that pesky World War; but when play resumed, the renamed Oneonta Red Sox won championships in 1948 and 1951 (take that, Harry Frazee). And then the League folded (okay, maybe curses are real).
In 1966, the Red Sox came back to Oneonta for a single season. In 1967, Sam Nader bought the team and renamed them the Oneonta Yankees. And that, my friends, is where the legend truly begins.
The O-Yanks would be an institution in town for three decades, winning 11 titles (apples and trees?). Don Mattingly, Bernie Williams, Andy Pettite, and Jorge Posada took their hacks at Damaschke Field; and future Hall of Famer John Elway roamed the outfield in Oneonta before scrambling on the gridiron in Denver.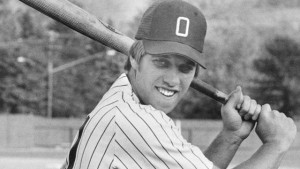 The Boss was known to set up shop in a box down the first base line, carefully observing his future Bronx Bombers. Hell, back in 1920, the Sultan of Swat – playing with the Babe Ruth All-Stars – smacked a homerun over the right field fence at Neahwa Park (now known as Damaschke Field, the home of the Outlaws).  [Ed. Note: In the 5th inning of that game, the Babe broke a bone in his wrist sliding into first base.]
Man, if those baselines could talk . . .
But all good things must come to an end, and in 1999, the O-Yanks moved to Staten Island. The Tigers quickly moved to town. The O-Tigers played in Oneonta until 2009, and then left for Connecticut. Alas, Oneonta was not without baseball for long.
In 2010, Keith Rogers and Dan Scaring brought the Saratoga Phillies to Oneonta, renamed them the Outlaws, and set sail. After installing local legend Joe Hughes as the manager, the team won a championship in 2011.
Prior to the 2013 season, Gary Laing heard a rumor, made a few calls, and soon thereafter, a life-long dream came true. Growing up poor in Oneonta in the '60s, often without enough food to eat, Gary would shag foul balls for Sam Nader's O-Yanks at Damaschke, bringing them back in return for free hot dogs. Never did Gary think that one day he would be the one giving out hot dogs to little kids who shagged balls at that same park, hit by players on his team.
Gary was born and raised in town, graduated from Oneonta High School (one year ahead of Joe Hughes), and never left. He started a local business 1991, built it into something very successful, and then decided to buy a baseball team.
Granted, it's not a Major League team, and his day-to-day decisions are vastly different than those required by Hal Steinbrenner or Peter Angelos; but he deals with real baseball issues every day, real baseball economics, and real baseball fans.
A few weeks ago, I was fortunate enough to spend some time with Gary and Karen. The term "Salt of the Earth" was invented for these two. They, along with their young sons Chris and Josh, run the team – from concessions to ad sales to being a host family for the team's manager.
The Outlaws are members of the Perfect Game Collegiate Baseball League, where college players from around the country come for a summer of fun, fans, and a whole lot of baseball. The PGCBL is made up of 13 teams in Upstate New York – from Jamestown to Glen Falls, from the Adirondacks to Saugerties.  (If you have never spent the summer in Upstate New York, get thee to the airport – it is spectacular.)
To get around the state, players are ferried in chartered buses. To save money on accommodations, teams typically do not stay overnight in any city/town/village/hamlet. Rather, when the game ends, players take a shower, get a small meal (provided by the home team directly from the concession stand), and back on the bus they go.
"Host" families take in a player or two for the summer in return for a small stipend and season tickets to the team's roughly 25 home dates. And yet, there is never a shortage of families willing to open up their home, set an extra seat at their table, and add another stop to their carpool. The term "host" is often quickly dropped from the description, and each spring families travel around the country to see "their boys" play college ball.
But while the players and their families are having an experience they will never forget, the owner is trying to figure out how to pay the bills. Sure, when compared to the Cubs, a PGCBL team has considerably fewer expenses (both in quantity and in cost), but also considerably fewer revenue sources.
Want to own a team? Let's take a look:
First, you have to buy the team. Out of deference to Gary, the community, and the league, this amount has not been disclosed.  But it does cost something.
A teams needs a place to play. Ideally, the team owns the stadium. More likely, they rent it from the local municipality or college. Either way, this is the single biggest annual expenditure.
In order to draw the most fans, games need to be played at night. Lights and electricity are not free, adding another line item to the budget.
Players need equipment. Granted, most of the kids bring their own gear; but very few of them have a collection of wood bats that are used in the PGCBL, so the team must provide. Add helmets, catcher's gear, and a whole lot of baseballs, and the costs add up.
These games need umpires as well. The thirteen teams pool their money to ensure three umpires per game.
If you are new to a league, you must pay an admission fee. That amount varies from league to league and year to year.
In order to get to the games against the twelve other teams, the aforementioned buses must be procured. Drivers and gas cost real money.
As I stated above, the team provides each host family with a stipend (which cannot possibly cover the actual cost). Some teams provide apartments for the players – a choice that is fraught with danger if one thinks about the demographic being left unsupervised for long stretches of time. And some teams work out deals with local colleges to provide dorm rooms. Any way you shake it, it costs the team money to house their players.
If you have ever raised a teenager, or even been in contact with a 20-year old young man, you know that they can figuratively eat you out of house and home. The teams cannot possibly keep an accurate count of the number of PB&J sandwiches they provide each season, but the number is well into four figures. Add to that food for the visiting team (see above), and in most cases, a post-game meal of burgers/dogs/fries for your team, and a club's grocery bill gets big, quick.
At the yard, teams pay an official scorekeeper, a public address announcer, potentially a radio play-by-play guy/gal, and concessionaires. The Outlaws enlist a pitcher not scheduled to throw to serve as the official ticket-taker.
Lest we forget, you need a manager and at least two (and sometimes 3 or 4) coaches to keep this band of roving youth in line and learning. Those gents get paid real (albeit small) salaries.
All teams have a General Manager who handles player procurement, travel, league business, and the like.  He (or she) gets paid for that work (a far cry, of course, from Andrew Friedman or Theo Epstein money, but it's a paycheck nonetheless).
Some teams employee ad sales executives to get the most out of their billboards, fencing, signage, programs, etc.  Yet even more salaries.
And there are, of course, a myriad of other small, incidental expenses that are incurred in running any business.
In short, it takes a field of green to field a team.
So how does an owner balance the books? How are revenues generated?
Ticket sales. While the largest stadium in the league holds 8,000, the average yard holds about 3,000, which is more than a team can expect on any given night. Approximately 2,000 patrons come through the proverbial turnstiles each game, at ticket prices ranging from $2-$8 (average: $4-$5). Teams do sell season tickets to their most faithful, which is great way to ensure a certain level of income.
If a team controls the facility (either through ownership or a long-term lease), they can augment revenue by selling signage and sponsorships, as well as renting the facility for various events (e.g., rodeos, concerts, birthday parties, clinics, camps, weddings, high schools and other leagues – all of these are real-life examples).
Community members (think local companies) occasionally rent the entire stadium for a single game to invite their special guests. Season ticket holders can, of course, still attend.
And the most surefire way to try to stay in the black is what all of the teams do: charge the players to play. Oh, you thought that pay-to-play ended with Little League? Guess again. Players have to pony up anywhere from $500 to $2,000 to have the right to play for a PGCBL club. The price depends on a number of factors, with other revenue sources being the number one determinant. A team in a larger community with more third party revenue can afford to charge less; with the inverse being true as well. And, fortunately or unfortunately, the amount of the player fee is often the number one consideration of which team a recruited player selects. In this way, the PGCBL is no different than MLB: large market teams have a competitive advantage over small market teams.
Most teams run either right at break even, or at a slight deficit. This is not a money-making proposition – this is a labor of love.
So there it is. There are 41 summer collegiate baseball leagues all across this great country, accounting for approximately 376 teams (it changes season-by-season).
Find one for sale. Buy it. And soon you, too, will be putting your baseball knowledge, your business acumen, and your marriage to the test. Gary Laing will tell you that there is nothing he would rather do and no place he would rather do it. Ownership has its privileges, including incredible heartbreak and immense joy.
One last thing: If you find such a team and are looking for a partner, give me a call.
PLAY BALL!!