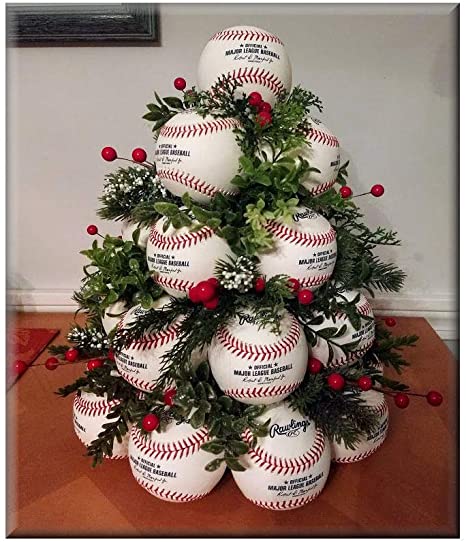 All I Want for Christmas
It's that time of the year when champions are crowned and parades are held; when Christmas tree lots spring up seemingly out of nowhere; and stoves get hot. And sure, the stoves may stay tepid this off-season with impending expiration of the current CBA and the expected lockout in December, but that doesn't mean we, as baseball fans, can't speculate and create our wish lists.
I, like most of you, am a fanatic baseball fan. And I, like you, follow the sport all year round. But, possibly even more than being a fan of baseball, I am a fan of nostalgia, and origin stories, and people coming home and old friends getting together once again. And this year, with so many free agents with so many compelling possibilities and so many teams with obvious needs, it would be nice if they were all paired with happy endings. So, when I head to my local mall and climb up onto Santa's lap (does this still happen in a post-Covid world?), here is what I will be wishing for.
Max Scherzer and Justin Verlander are reunited in Detroit. The poor Motor City deserves something to smile about (non-Miguel Cabrera division). After the Malice at the Palace and Darko Miličić, after settling for Jared Goff, after the hollowing out of the rust belt, it would be great if Tigers fans had something great to root for, again. None of Aníbal Sánchez, Doug Fister, or Rick Porcello are available, but no matter. The Tigers have a young crop of power arms (which now includes Eduardo Rodriguez) who could learn at the hip of these aging (but not yet aged) veterans both of whom still have plenty in the tank.
Kris Bryant heads to the City of Brotherly Love to join his fellow Las Vegan, Bryce Harper. According to FanGraphs Roster Resource Depth Chart, the Phillies plan to have Adam Haseley (.190/.190/.238) in left field and Alex Bohm (.247/.305/.342) at third base. Tell me that Bryant isn't a better option at either position. And with Andrew McCutchen gone, and Nate Fassnacht seemingly ready to get a cup of coffee at either third or in left, Bryant provides a great deal of flexibility.
Javy Báez stays in New York, keeping the Lindor-Báez double-play combo intact. These two are old friends, playing with and against each other on the fields of Puerto Rico, and on the Puerto Rican national team in the World Baseball Classic. Keeping them together will allow them to get past the thumbs down kerfuffle, and could create the most exciting up the middle duo since Omar Vizquel and Roberto Alomar (Cleveland, 1999-2001). Of course, the Mets will need someone in the front office to actually sign Báez, so this may take a while.
The Seager Brothers – Corey and Kyle – head to the Bronx. Sure, the Yankees may be fitted at third base with DJ LeMahieu, but he could easily slide over to first base, splitting time with Luke Voit, while the Brothers Seager handle the left side of the infield. Corey is perfectly suited for Yankee Stadium and its short porch in right, and the Yankees desperately need more left-handed hitting. Both Kyle and Corey grew up Yankee fans idolizing Derek Jeter. Is there a better coda for the Seager boys than taking over the position Jeter played and the position to which he should have moved later in his career?
Oakland needs to resign Marcus Semien. Has there ever been a more perfect Oakland A? Semien grew up in the Bay Area, turned down a draft offer to go to Cal Berkeley, where both of his parents went. He was nothing less than solid for the green and gold from 2015 through 2020. Unfortunately, his breakout 2021 season may have priced him out of Oakland's market. But if anyone would be willing to take a literal hometown discount, it would seem Semien is the ideal candidate.
Speaking of hometown discounts, if the Braves do anything this winter other than finding the perfect place to display their World Series trophy, it is to resign Freddie Freeman. It is not truly a "hometown" insofar as Freddie is from Southern California, but has anyone since Chipper Jones more/better represented the city of Atlanta and this team? Could you imagine Freddie in any other uniform? He could probably play for another ten years; but even if he can't, there will be value in having him around the team, at Spring Training, in the press box, well into his 40's. It might require that the team to break the bank, it might require some additional year ingenuity, and it might require Freddie backing off what he could get from, say, the Rangers, to be in Atlanta on opening day to collect his World Series ring, and to never have to buy a drink in that town again. But there are enough smart people in this equation to figure it all out.
Speaking of players never to be seen in another uniform, and as I have previously written, the Dodgers MUST resign Clayton Kershaw. I don't care how many years it takes – remember co-owner Magic Johnson once signed a 25-year player/personal services agreement with the Lakers – but something needs to be worked out. My thoughts about this are written in more detail here.
Like Semien, I want Kyle Schwarber to go home again and play for the Guardians. The Middletown, Ohio native, who played his college ball in Indiana and his formative baseball seasons in Chicago, needs to keep his midwest roots and, like Chrissie Hynde, he needs to go back to Ohio. Franmil Reyes probably has the DH slot filled, but Schwarber showed this year that he could be serviceable at either first base or in left field. And with an off-season to work on his infield skills, he even could become average. What is not average is his bat. This season he had a 148 OPS+, with a career OPS+ of 119. He is an on base machine, and makes every clubhouse a better, happier place. In the 2016 World Series, Schwarber went 7-16 at Progressive Field; and for his career, he has a .364/.417/.788 slash line with 4 home runs while playing the "The Jake."
With Báez in New York, Bryant in Philly, and Schwarber in Cleveland, Anthony Rizzo needs to go back to the Cubs. He belongs there. He is an institution there. Enough with the Yankee pinstripes and the #48. He and Jed Hoyer have been together from the Red Sox to the Padres to the Cubs. And while there will no more "Bryzzo" t-shirts for sale on Waveland Avenue, they will sell plenty of #44 jerseys. His easy smile, smooth glove, and ferocious bat play well on the North Side. And Rizzo doesn't have any of the service-time manipulation baggage that Bryant carries. The Cubs deserve Rizzo, but more importantly, the Cubs' fans deserve Rizzo.
And speaking of teams and communities deserving of a player, let's end this with Chris Taylor going back to Seattle.The Mariners fans never got a chance to witness CT3 in full, with 86 total games and only 68 hits in his 2+ seasons there. But they have witnessed him – from afar – grow up, and they have seen the player that he has become, on the biggest of stages. With the Dodgers, Taylor has shown his versatility, playing above-average all over the diamond. With Kyle Seager gone, Taylor could become an everyday third baseman. Or he may be an even better option at second base than Dylan Moore. Or he could play a different position every day. It doesn't matter, insofar as Taylor has shown over the past four seasons that any team is better when he is on the field.
That's it, Santa. That is all I want for Christmas. That, and for the owners and players to come to a quick resolution so we don't have a protracted labor battle; and that spring training and the season start on time. That's not too much to ask, is it?
PLAY BALL!!