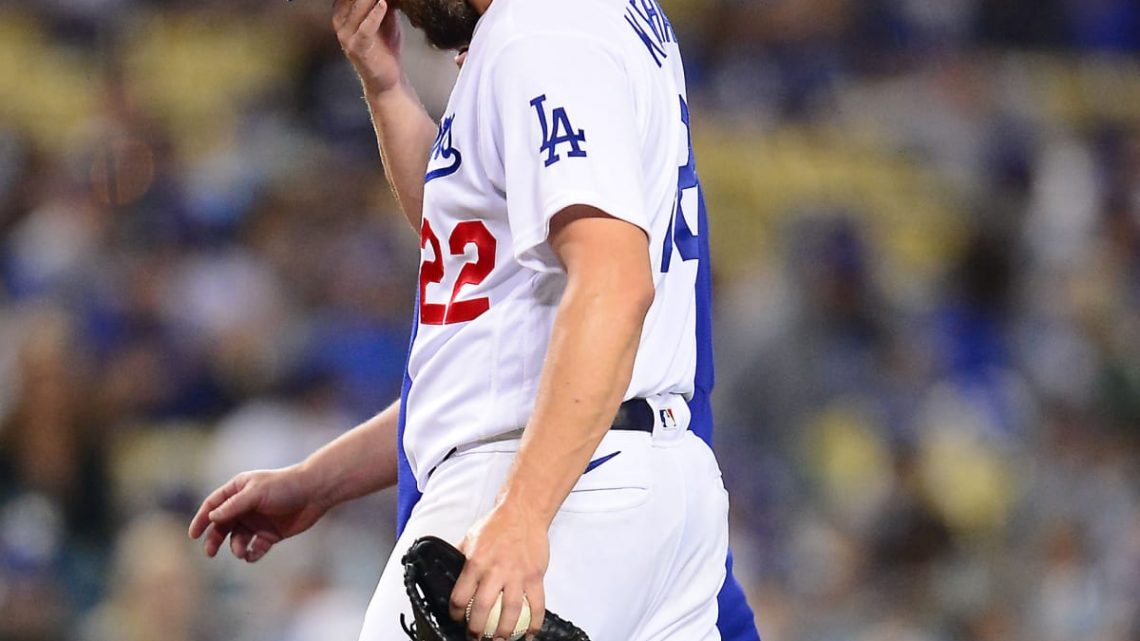 It Can't End Like This
As you may know, I have a great deal of affection for Clayton Kershaw. In recent years, I, like many Dodger fans, hold my breath when he takes the mound in the playoffs. We feel, at almost a cellular level, the pain of his many post-season losses. We know, with absolute certainty, that his managers and his teams have done him dirty too many times to count – keeping him in one inning (or one batter) too long, not providing sufficient run support, allowing inherited runners to score, etc. And yet, the big Texan never complains, never makes excuses, always owns the defeats.
Last year, Kershaw flipped the monkey off his back, finally winning the World Series. According to Andy McCullough of The Athletic, Kershaw was still playing "We Are the Champions" on his home stereo well into the off-season. And good for him. But, even with that title, even with all the victories, even with the first-ballot Hall of Fame induction waiting for him five years after he hangs 'em up, it just can't end like this.
Clayton Kershaw deserves a better send-off. His career cannot end with a ruined elbow – whether it requires Tommy John surgery or is just never the same. Clayton Kershaw deserves to walk off the mound in the seventh inning of a meaningful game in September or October, tipping his cap to the crowd while they chant his name. It can end with a "Public Enemy #1" at 72MPH making a batter look foolish. It can end with a loss after Kershaw, gassed, gives up yet another late-inning hit. It can end in any number of ways. It just can't end like this.
This was always going to be an interesting off-season as far as Kershaw was concerned, insofar as he becomes a free agent after the last out is recorded. He made – in effect, due to a signing bonus – $31M in salary this year. He has averaged 25 starts-per-year over the past five full seasons, down from nearly 32-per in the previous five. Since 2018, he has made six trips to the IL; most of these have been related to his balky back, but now he is having trouble with his elbow and his forearm. You don't need to be a FanGraphs member or have a subscription to MLB.tv to have a vague sense what that means…and that it isn't good. Kershaw already ruled himself out for the remainder of the season. So what happens next?
Even if healthy(ish), the Dodgers had a decision to make with their franchise pitcher. He certainly isn't/wasn't going to get (ahem) Trevor Bauer money, nor Gerrit Cole money. He was probably set up for 2/$50M on a "thank you" contract. Would he have accepted that? Will the Rangers, with money to spend, try to lure Kershaw home to North Texas by offering 3/$75M or 2/$60M? Will Kersh take more to be closer to his wife and kids? We know that Kershaw doesn't play the game for money; and we know his family is the most important thing in his life, followed a close second by charity. Will loyalty or the desire to keep wearing Dodger Blue for the entirety of his career win the day? No one knows.
With this current injury potentially ending his 2022 season, the situation becomes even more complicated. The Dodgers have the prospect of paying the aforementioned Bauer $40M this year for half a season's work, and will probably have to pay him something before they cut him next year (here's to hoping that (a) he gets suspended and (b) the Dodgers finally do the right thing, admit their mistake, and bid Bauer adieu). Can they/will they pay $20M+ to another pitcher who cannot/will not take the hill next year? We know they can. So the question becomes: do they have the will? There is a reasonably good chance that Clayton Kershaw will not throw another pitch until after his 35th birthday. The history of pitchers faring well in their mid-30's is quite ominous. Kershaw has already changed his game from power to crafty. What will he look like two years from now? What is that worth?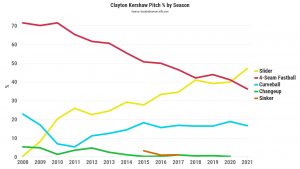 All of that conjecture aside, Kershaw is the final arbiter, and he may make it very easy for the club. He may elect to retire. He has nothing left to prove on a baseball field. He has his youth, his family, his foundation, and his millions. There is no reason – other than sheer desire to be great and to keep competing at the highest level – to play another game. But we know Kershaw has an unending desire to be great, that he loves nothing more than competing at the highest level. We know he bleeds for the game, and plays through pain for his teammates, and works harder than most, just for the honor of taking the bump every fifth day (or out of the bullpen).
So, from my selfish perspective, here is a logical solution for both the club and the player: 3/$66M, with the understanding that the team is paying $22M for a rehab year in 2022; $22M as a show of goodwill (to cleanse their souls for that other pitcher they signed last off-season); $22M as a "thank you" for all of the memories, all of the great moments, all of the mentoring and long-toss sessions, all of the charity ping pong tournaments, all of the jerseys sold, and all of the times he refused to throw anyone under a bus; $22M for #22. They pay $22M next year on the hope that they can pay $44M over the next two for a middle-of-the-road number three or four starter who will take the ball, take the heat, and never – not once – ever take it for granted. That is what I want. But I will take any variation on the theme…
It just can't end like this.
PLAY BALL!!