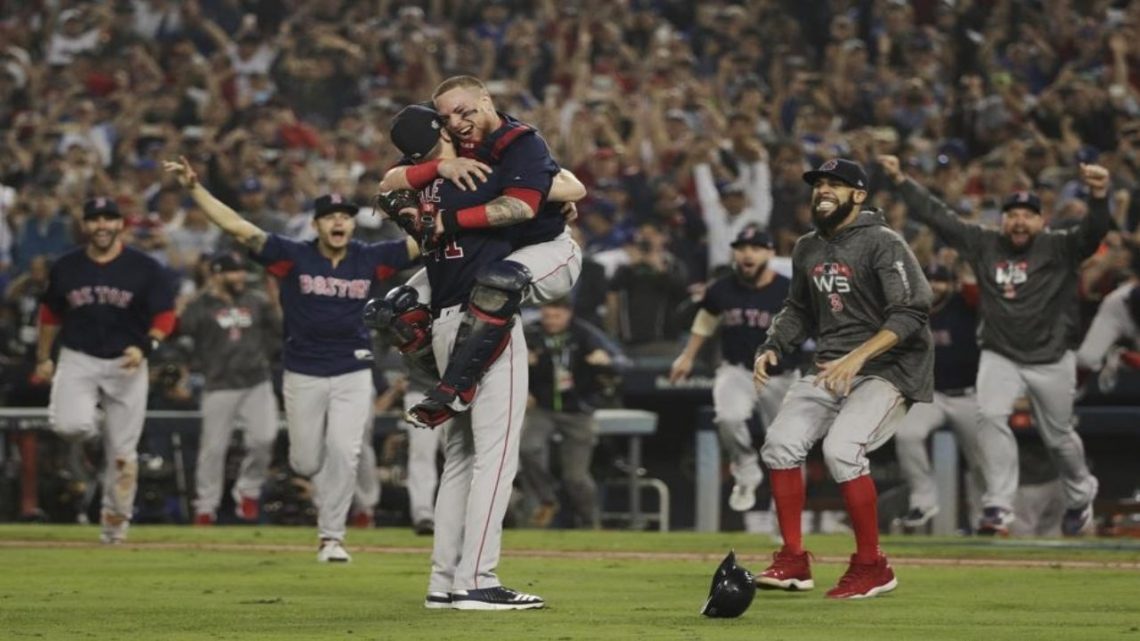 I Lied
There is a lyric in the most popular (but not the best) Blues Traveler song that goes as follows:
"I've tried – well, no, in fact, I lied."
That one line sums up the emotions I have had to deal with since the Dodgers won the NL pennant. Last week I explained how I was Torn Between Two Lovers and simply hoping for an entertaining and exciting seven game World Series. And then, channeling the Mike Tyson principle, the first pitch happened. Maybe not the first pitch, but definitely the first game. I now can truly understand what people mean when they say "the heart wants what the heart wants."
Once balls were hit, pop-ups missed, cut-offs overthrown, and guys started circling the bases, I found myself rooting for the Red Sox. Maybe it is just Pavlovian. Maybe it is a reflex. Maybe it is so ingrained that no desire to see my hometown team win their first title in thirty years can outpace my love of the BoSox. It started early, and it has stuck – for more than 40 years. It is out my control…I cannot be blamed…don't judge me.
But, like John Popper said, "I tried." I went to Dodger Stadium on Friday night wearing a Dodger hat (so what if I was wearing a Red Sox shirt). I sat there for 7 hours and 20 minutes, braving nearly nine additional innings and more than four additional hours of no food or drink (not by choice, and more about that in another column at another time), knowing in my soul that the game would end with a Dodgers walk-off. And when it happened, I was excited for Max Muncy. If you love baseball, if you love the journeyman, if you love redemption stories, what is there not to love about Max Muncy going from his high school batting cage to only the second World Series walk-off homerun in franchise history?
I was there last season, during Game 2 of the NLCS, when Justin Turner walked the Dodgers off with a monstrous three-run dinger against the Cubs. I went berserk; I could not have been more excited. But when I didn't have that same reaction in the bottom of the 18th inning on Friday night (actually Saturday morning), I knew I was a fraud. I knew, in that moment, "well, no, in fact, I lied." I wasn't rooting for the Dodgers at all. I didn't want the series to go a thrilling seven games. I wanted the Red Sox to win…every game…and take home the title for the fourth time in fifteen years. And when that wasn't happening, I was bummed.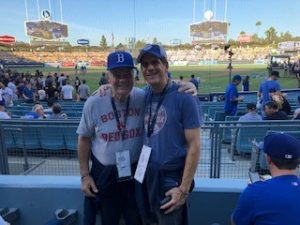 To be perfectly candid, I left Friday's game with a smile on my face because (a) it was finally over, but more importantly, (b) I got to take my father to his first World Series game ever. And he got to see the team of his childhood battle the team of his last 60 years. And he essentially got two games for the price of one. That is an experience that I (nor he) will ever forget.
We witnessed history. We endured the longest (by time and by innings) World Series game in 114 Fall Classics, dating back to 1903. We saw a mini-Buckner and a mini-Gibby, which book-ended a relief pitching performance for the ages. As Ben Lindbergh astutely pointed out, this was a classic game that will never be shown on ESPN Classics. But we survived; we stayed until the end; I can tell my grandkids – and my dad actually told his grandkids – "I was there!"
But walking into the ballpark Sunday afternoon, knowing we were one away from winning it all; walking in amongst a sea of red jerseys and navy blue hats; walking in with scads of visiting and transplanted Massholes, I felt a connection. We all wanted the same thing.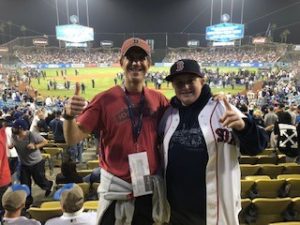 And then there is this: I wanted to be there with my son to watch the Red Sox win the World Series. How many times in my life will I get that opportunity? How many times will I get to share that type of special moment? And it was essentially happening in my backyard.
So when Manny Machado corkscrewed himself into the batter's box on a nasty Chris Sale slider, and the "Red Sahx have won the world championship" (h/t Joe Castiglione), we high-fived, we rejoiced, we yelled, and we screamed. And whereas last year we couldn't get out Dodger Stadium fast enough – not wanting or caring to see the Astros celebrate their title – this year we lingered. We watched the league officials set up the stage and deliver the Commissioner's Trophy to John Henry; we listened to Steve Pearce as he accepted his MVP award and his shiny red truck; and then we experienced the players and their families soaking in the thrill of victory all across the field.
I wanted to want the Dodgers to win three games and push this battle to seven. But once I saw Craig Kimbrel try to high-wire his way through the playoffs, including a shaky 1-1/3 innings in Game 3 and an even shakier inning in Game 4, I knew in my heart of hearts that my heart of heart could not bear to watch his sweaty right wing try to retire the final batters on a cold Halloween night in Boston. No, despite my original protestations to the contrary, I wanted and needed the Red Sox to win this series and win it fast. Fortunately for me, my cardiologist, and the health and well-being of an entire region, they did just that.
We have 108 days until we say…
PLAY BALL!!