GAME 5
GAME 5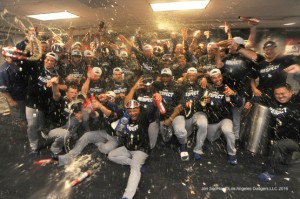 There is truly no reason to add to the multiple canons that have been or will be written about last night's Dodgers-Nationals game. That said, and while it is still quite early, after reading and listening to a ton of commentary, I have yet to hear anything about the following three points, which may mean they are only interesting to me. However, on the off-chance that others will find them notable, allow me to throw my hat into the ring:
I.
Two years on, I guess Mike Jirschele is officially exonerated. Who is that, you ask? Mike Jirschele was the Royals' third base coach in Game 7 of the 2014 World Series who held Alex Gordon. As you may recall, there was great consternation about whether or not Jirschele should have sent Gordon with a chance to tie the game. All metrics showed he made the right call, but some people were still dubious.
Well, after Bob Henley decided to send Jayson Werth to the plate in the bottom of sixth inning last night, and after Werth got thrown out by anywhere from 15–30 feet (depending on the calculation), any and all dubiosity about Jirschele's decision should go by the wayside. Now we can know, with pretty good certainty, how the 2014 World Series would have ended had Jirschele waved Gordon around. Pop-outs to third notwithstanding, that would have been a tough way to lose.
II.
A lot of ink was spilled — by this writer as well — about the Dodgers' pre-deadline move to send A.J. Ellis to Philadelphia in return for Carlos Ruiz. Well, I guess Andrew Friedman and company knew something a bunch of us didn't. It is impossible, of course to know whether or not Ellis would have come through in the same way, but we do know that Ruiz went 2–4, with three RBI in the series, including the tie-breaking single in the decisive seventh inning last night. Oh, and he blocked the hell out of that filthy "Public Enemy #1" to end the game.
As I wrote back in August, Friedman makes $7 million/year to make difficult decisions. There is a reason he is paid like one of the best executives in the sport — because he is. No, he didn't have a crystal ball, but he certainly knew the Dodgers needed better production from their back-up catcher, and that they got. (Ironically enough, after the trade, Ellis and Ruiz had virtually identical numbers with their respective new teams (Ellis: .313/.371/.500; Ruiz: .278/.350./.683)). But, if you are a Dodger fan, ask yourself who you would have rather had at bat with the game tied and a runner in scoring position in a deciding game. Ruiz felt — to me — like the safer choice.
I am sure there are a lot of people out there who will claim that Ellis would have been better for Kershaw in Game 1 (where he grinded through five innings) or Game 4 (when he just couldn't get the third out in the seventh) or even last night as he worked against Daniel Murphy. Maybe. All we know is what happened, and Ruiz got the hit and made the block and the Dodgers won.
III.
In all the ballyhoo about Dave Roberts' managing (every compliment well-deserved), Dusty Baker's 0–9 record in win-or-go-home games, Kenley Jansen's miraculous 51-pitch effort, and Clayton Kershaw's incredible save, I have yet to hear or read this comparison: This was pretty damn close to a Kirk Gibson moment.
Calm down, let me explain. By all accounts, and on nearly every list, Gibby's dinger was the greatest moment in Los Angeles sports history. Vin Scully's call of that moment has been played ad nauseum the last few weeks. But hear me out.
Did we have an injured player? Check. Kershaw was on the 60-day DL. When was the last time a player — let alone a pitcher — was on the 60-day DL and then came back to have a meaningful impact on the playoffs?
Did we witness a gutty prior performance? Check. We often forget about the 1988 NLCS against the Mets, but Gibson fought through that, including a home run off Sid Fernandez in the fifth inning of Game 5 at Shea Stadium. Putting aside the final box score, Kershaw was remarkable in Game 4 of this series. He should have been done after six innings, giving up only two runs. He should have been done after seven innings, giving up only two runs. Umpires, shortstops, and relievers are the only reason he was charged with five. Nonetheless, he was awesome (considerably better than Gibson was prior to the ninth inning of Game 1 of the '88 World Series).
Did we have a player unlikely to appear? Check. When directly asked about Kershaw pitching to even one batter in Game 5, Dave Roberts replied: "Absolutely not". Hell, Kershaw didn't even have his cleats on for the first seven innings of Game 5. When Kershaw told Roberts he was okay to go, Roberts first had to check with the trainer to get permission.
We can all hear Vinny saying: "Look who's sitting in the dugout". Now imagine that same voice, that same cadence, saying: "Look who's heading to the bullpen". It wasn't just improbable, it was impossible. Clayton Kershaw, the man with the closet filled to the brim with October demons, the man who missed ten weeks with a herniated disk, the man who had thrown 110 pitches just 48 hours earlier in a stadium clear across the country, would not only come in to the game, but would come in to face the hottest post-season hitter on the planet; a batter who took Kershaw deep not once, but twice, in the playoffs last year; a batter who represented the winning run. No, this just couldn't happen.
Think back. Had Gibby flailed at a few sliders against the best closer in the game and walked back to the dugout with the Dodgers down 0–1 in the World Series, no one would have said "boo". He did his best just to get to the plate. What a gamer. Ultimate team player.
But had Kershaw come in and served up a gofer ball to Murphy, it may have been the final nail in Kershaw's playoff coffin. Could any player ever come back from that much heartbreak, that much back luck, that much failure? When Kershaw asked into the game, and jogged to the mound, as Bill Simmons tweeted: "The legacy of his legacy's legacy is gonna be at stake". Simply put, a LOT was riding on that Texan's broad shoulders. Seven pitches; a weak pop-out and a nasty K, a massive monkey off a weakened back.
When Clayton threw his hands in the air and hugged Carlos Ruiz, the Dodgers had felled the Nationals, those demons were exorcised, and Los Angeles had its second Gibby Moment. The only shame: Vin Scully was at home, watching, just like the rest of us.
Championship Series, here we come.
PLAY BALL!!