DUDGER STADIUM
DUDGER STADIUM
Hot Take: The Dodgers hate their fans?  More than three million people have flowed through the gates at Chavez Ravine in 18 of the past 20 seasons, so the fans obviously don't hate the Dodgers, but the feeling certainly doesn't seem mutual.  The only explanation I can come up with is that with so many fans coming each year, they must believe "if it ain't broke, don't fix it."
Every Dodger game you watch on television starts with an aerial view of the park, with palm trees to the north and downtown to the south, and then Vin Scully or Dan Shulman or Bob Costas regaling us with the majestic beauty and unparalleled views and the perfect day/night for baseball.  Unfortunately, 70% of Angelenos cannot see that aerial view on a regular basis (thanks, Time Warner and the Dodgers for not stepping in to try to resolve that issue); and for those who can, it is significantly better to watch the games from the comfort of your living room.  Because, once you pull through Elysian Park or off the 110 or through the Sunset Gate, the fan experience comes to a screeching halt.
Dodger Stadium is the third oldest ballpark in baseball.  But that statistic is a bit deceptive.  Fenway Park is 104 years old; Wrigley Field is 102 years old.  Dodger Stadium is, by comparison, a mere pup at 54.  And, like many things in L.A., it looks considerably better from afar.  Get too close, and you may not like what you see, what you hear, or how you feel.
When real estate magnate Frank McCourt bought (leveraged?) the team in 2004, he immediately raised the price of parking.  Despite new ownership, that hasn't changed.  You do get a deal if you buy online in advance – a deal that matches the drive-up price at Anaheim Stadium just 32 miles down the road.  Speaking of the Angels, do you know Arte Moreno's first official act as the team's new owner?  He lowered beer prices.  The Angels don't hate their fans!
The Dodgers also went about rejiggering the parking lot, seemingly for easier ingress and egress.  Unfortunately, this plan requires drivers to leave from the gate they entered, even if they are heading somewhere different from whence they came.  And getting a parking space in Dodger Stadium means braving a ridiculous bottleneck (16 lanes down to 3-4), and rude flag-wavers who are drunk with power and direct you to a spot roughly half a mile from the actual gate.  In fairness, this problem is not unique to the Dodgers.
Once you cross the threshold, the Dodgers have done a nice job of making the ballpark more inviting.  They have beer gardens in the outfield and two new concession stands: a BBQ joint and an Italian restaurant (?) (more about those below).  But, the bread and butter (pun intended) of Dodger Stadium is, was, and always will be the Dodger Dog.  So, guess what, that is essentially all you can get as you circle the ballpark.
Sure, you can get a Super Dodger Dog if you are so inclined.  You can get a piece of Stouffer's that is hailed as "Brooklyn Pizza" (if I were the Borough president, lawsuits would be filed over that misrepresentation).  In a city of nearly five million Hispanics, there is a single Mexican stand (a total of three is you count the "Express" versions with less fare).  I guess that is about right, insofar as this is a city with the second highest Jewish population in the U.S., and there is a single deli – that serves a beef dip and a pastrami sandwich.  And those are the choicest options in the best sections of the park (where tickets start at $40 and go up above $175).
Head upstairs to where the proletariat sit, and the options get lesser and lesser; until you are at the Top Deck wherein you have your choice of the aforementioned two types of Dodger Dogs, French fries, and soft serve ice cream in a helmet.  Enjoy!
The Dodgers thought they were classing the place up a few years ago when they opened the Think Blue BBQ and Tommy Lasorda's Trattoria.  Each has roughly five items on their respective menus.  Compare that with the full BBQ pit at Anaheim Stadium, and tell me that the Dodgers tried their best.  Compare that with the North Beach stand at AT&T Park and tell me Tommy is really proud of what they have done.
I could do this all day; I could compare each concession at Dodger Stadium to any other ballpark (save, maybe, Fenway Park and Wrigley Field) and "other" would win every time.
This past weekend I was in DC at Nationals Park.  I walked around the field level three times trying to decide which delicious food item I wanted to eat.  My options seemed unlimited; I am hard-pressed to think of something that wasn't on offer.  To take that to its illogical conclusion, the Nats have a stand called "Taste of the Majors", which has food from various major league parks.  Suffice it to say, the Dodgers were not represented (settle down Dodger Dog lovers; they are not nearly as good as you think they are).  I went with a grilled chicken sandwich; it was delicious.  Imagine trying to get a grilled chicken sandwich at Dodger Stadium . . . I'll wait 'til you stop laughing.
Later that night I was at Citizens Bank Park in Philadelphia.  I ended up making the same three rotations before I landed.  I was torn between Bull's BBQ (owned and overseen by the great Greg Luzinski)
and Tony Luke's (considered by many locals to be the best cheesesteak in town).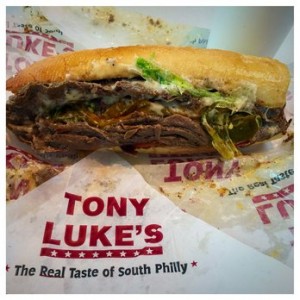 I also weighed standing in line for Chickie & Pete's Crab Fries – another local legend available at the yard.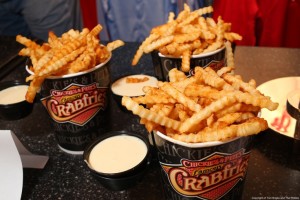 Remind me what local legends are on offer at Chavez Ravine?  Is it too much to ask to get a Felipe's window?  Would anyone object to an El Cholo stand?  Randy's Donuts wouldn't be right at home behind homeplate?  No one would eat a Canter's corned beef or a Langer's pastrami sandwich?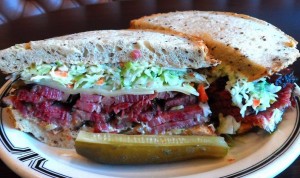 What makes this so infuriating is that Los Angeles is going through a massive food renaissance.  Wolfgang Puck got his start here; Thomas Keller has a restaurant here; Tom Colicchio has a restaurant here; David Chang is about to open a restaurant here; two of the ten best new restaurants in the state are located essentially within walking distance of the park (Broken Spanish and B.S. Taqueria).  And yet, the powers-that-be cannot bring themselves to offer more than soggy dogs/stale buns or a single concession selling a Wagyu burger.  Thanks, but no thanks.
And let's not even get started on the lines.  The stadium has gotten better about this on the Field Level over the past few seasons, but go upstairs – even one level – and try to get a bite or a beer in less than an inning.  There have been games where I, and friends, have missed multiple innings trying to get some ice cream.  No fair adding an extra concessionaire or opening another window or maybe incentivizing your workers to have a touch more urgency than a DMV clerk on siesta.  This is a problem that is easily solved, not prevalent at most other parks, and frustrating as hell.
But enough about the eats.  As I so often do in these columns, I ask the question: What about the kids?
Remind me again what is fun for kids at Dodger Stadium.  There is, of course, a tiny playground on the roof level.  Anyone have any interest in bringing their kids up there?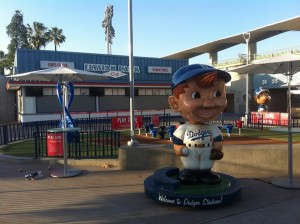 As an aside, coincidentally and anecdotally, the last two times I was near the playground, I witnessed the following: (1) A gang-banger (or what I believed to be based on dress, tattoos, and speech) dropping F-Bombs while waiting in line for beer at the stand shown above.  Unfortunately, that beer line snaked right into said playground; and (2) A man being led around the playground in handcuffs, as he was escorted out of the park.  Family-friendly indeed.
Again, I could go chapter and verse about the kid-friendly activities available at nearly every other park in America.  And, are you telling me that the Dodgers don't have the space to create a kids' area?  How about between the aforementioned BBQ and Tommy restaurants?  Do you think a little batting cage; radar gun; mini-diamond couldn't fit somewhere on the 352 acres that make up the entire complex?  For the love of Vin, they talked about building a football stadium on the site; but they cannot figure out how or where to put a jungle gym/slide/bounce house/pop-a-shot?
No mascot.  No in-game traditions (and no, I don't count the "under which hat is the ball located" game a tradition).  No more Nancy B.  I will give them that they have improved the replays on DiamondVision (a little throwback phrase), but those still pale in comparison to other parks.  The new scoreboard is definitely an upgrade over the one they had in place since the '60s, but it doesn't compare to what is out there.
And while this may be picking a nit, this is Hollywood – the entertainment capital of the world – shouldn't the Dodgers be held to a higher standard?  Shouldn't the Dodgers want to set the standard?
At this point I know a lot of Dodger faithful are muttering to themselves one of two things: (1) you are wrong and/or (2) then just don't go.  On the former, I am not.  On the latter, I am considering that (even though I know it is an idle threat and one I will never go through with).
But when I hear the Rams' new stadium will have for their fans, when I see what is available at the Big-A, when I visit Staples Center and get a full immersive experience, I simply feel cheated by the Bums.
One of my favorite things to do is visit different ballparks.  Each trip I have planned from March through August of this year involves visiting at least one new/different ballpark.  I love going to a game, taking in the atmosphere, having a beer and a brat.  But I need more.  And even if I don't need more, other people need more.  For the prices we are paying, we all deserve more.
I am left to believe that the vast majority of the three million people who roll into Dodger Stadium each season simply haven't had the good fortune of visiting other parks.  They have not tasted the crab cakes at Camden Yards; they haven't watched the Phillie Phanatic do his thing at Citizens Bank Park; they haven't enjoyed the carnival atmosphere on Yawkey Way; they haven't eaten the garlic fries at AT&T; they haven't watched the train circle Minute Maid Park; they haven't heard a local celebrity belt "Take Me Out of the Ballgame" at Wrigley Field; they haven't been to the Shake Shack at CitiField; they haven't played on the diamond at Petco; or ridden the merry-go-round at The K; or watched Bernie the Brewer slide into a beer mug after a dinger at Miller Park; or had a Ted Drewes at Busch Stadium; or rooted in the President's Race at Nats Park.  Again, this list could go on and on . . .
Sure, you do get a five-minute fireworks show on Friday nights.  Sure, the Dodgers have done more in the community lately and added two movies nights and sleepovers in the outfield.  But, for a place that wants to be a fan and family destination 81 times over a six-month period, the Dodgers simply aren't up to snuff.
When one of your owners is the man who coined the phrase "Showtime", you expect – and you should demand – more.
Memo to the Dodgers: Three million fans notwithstanding, it's broke, fix it!
PLAY BALL!!