FOR THE LOVE OF . . .
FOR THE LOVE OF . . .
What do we want from our athletes?  What is – or should be – their driving force?  They play for the love of . . . what, exactly?
From a young age we are taught – we are told – it is "all about the rings".  I remember playing intramurals in college, where it was "all about the cotton" (championship t-shirts, that is).  But is that what it's all about?
Should athletes play for rings?  Or should they play "for the love of the game"?  Or, knowing that they have very short shelf-lives, should they try to make as much money as possible, and let everything else be a secondary consideration?
These questions popped into my mind during some crazy Hot Stove action before the New Year.  As part of the Dee Gordon trade, the Dodgers sent Dan Haren to the Marlins.  Haren had previously told the Dodgers, who in turn informed the Marlins, that he would rather retire than be paid $10M to spend another 8 months away from his family.  Noble or knuckleheaded?  Too rich or too rude?  (As a side note, the Dodgers included the entire $10M salary as part of the deal, which the Marlins get to keep, gratis, if Haren retires.)
In 2011 – after an 86-win season in which they finished 10 games out of first place – Jered Weaver signed a discounted deal with the Angels to stay in his hometown.  Here is what he said at the time (it should be noted that he signed this deal over the objection of Scott Boras):
"If $85 (million) is not enough to take care of my family and other generations of families then I'm pretty stupid, but how much money do you really need in life?  I've never played this game for the money.  I played it for the love and the competitive part of it.  It just so happens that baseball's going to be taking care of me for the rest of my life."
Do we think less of him as an athlete because of this?  Or do we applaud his choice?
Albert Pujols could have retired the second greatest Cardinal of all time – a living legend in St. Louis.  Instead, he turned his back on the only professional organization he had ever played for and went for Arte Moreno's riches (in actuality, he left St. Louis for a mere $20M more).  Good guy or bad?
My personal bee-in-the-bonnet: Johnny Damon, the leader of the Idiots who brought Boston its first World Series title in 86 years, the guy who would never have had to pay for another meal in Boston, took an additional $12M over 4 years to play for the hated Yankees (the Red Sox offered 4/$40M, the Yankees 4/$52M).  I never understood why he would do this.  But maybe he loved the City of New York and always wanted to live there; maybe his wife was a Broadway aficionado who cajoled him into moving; maybe he was sick of the Back Bay and lobstah rolls; and maybe money was the only factor.  (Side note: Damon was represented by Scott Boras, so you do the literal math).  I don't think we will ever know.  But we can still speculate . . . and stew.

Back in 2003, Karl Malone (one of the two mainstays of the entire Jazz franchise) left Utah after 18 seasons to chase a ring with the Lakers.  A true professional? Or a disloyal backstabber?
We can all recount – from memory – the greats of the games who have never tasted the championship champagne.  Quick, off the top of your head, name five (mine below).  We always discuss these players in solemn tones, as if their careers ultimately lack something.  But do they?  Are their careers any less because they have never stood on the podium or visited the White House?  Maybe they were perfectly content playing for the love of the game and all of the riches (even if not maximized) that came with it.
How do we feel about these guys?  What is it that we want?  Play for rings, riches, region?
It's easy to stand on mount pious and say what we would do.  But we don't live in their world.  Bud Fox once asked Gordon Gekko "How many yachts can you jet ski behind?  How much is enough?" (Editor's note: this line has always bothered me as, from my pauper's viewpoint, I don't believe you can actually jet ski behind a yacht.  See  1:46 mark below.)
But we, as normal people, cannot fathom how people calculate untold riches.  $74M may mean the same to us as $129M – at some point you cannot keep track.  But for Carmelo Anthony, based solely on dollars, that was the decision he had to make last summer when he re-signed with the Knicks.  He would have given up $55M to sign with the Bulls.  Add to that the fact that his wife loves living in New York and he has an 8-year old son who ostensibly goes to school and has friends.  And yet, Anthony was crushed by the basketball cognoscenti for putting money ahead of championships.  Is that fair?  Does anyone, with the exception of other athletes, have standing to opine on this topic?
Last Spring, Jon Lester – much to the chagrin of his agents, I am sure – told the Red Sox he would take a hometown discount to stay in Boston (despite the fact that he is from Atlanta).  The Red Sox tried to take advantage of this loyalty and low-balled him – offering him approximately 2/3 of what he eventually got (original Red Sox offer: 4/$70M; final deal with Cubs: 6/$155M).  With the Red Sox he had a chance to play for rings; he would have been able to stay home (in Newton); he would have shown loyalty.  But does anyone blame him for taking Theo Epstein's money?
One last thought/question: What will we make of the eventual contract Max Scherzer signs?  The Tigers offered him 6/$144M last Spring and he turned it down.  Although he is not "from" Detroit (he is from the St. Louis area), he has lived and pitched in Detroit for 5 years.  He has no kids; just a wife who is active in the Detroit community.  The Tigers are a perennial contender.  How much more would another team have to offer, and who would that team have to be, to entice Scherzer make a move?  Depending on which team's hat Max dons next month, we may know a whole lot more about him: is he playing for rings, riches, or region?  We already know – unlike that other Tigers' pitcher – it isn't just for love of the game.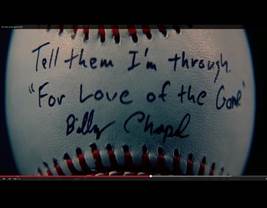 I truly don't know the answer, as I am not even sure I can comprehend the question.  But, now that I have spent a minute contemplating the issue, I know I will think twice before I castigate another athlete for making a decision mere mortals cannot possibly grasp.
Last Note: The first pitchers and catchers report 6 weeks from tomorrow.
PLAY BALL!!
MY UN-TITLED ATHLETE ANSWERS:
Ted Williams
Ernie Banks
Dan Marino
Charles Barkley
Karl Malone