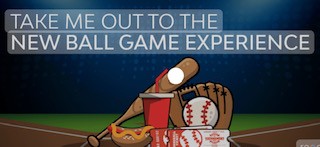 Stadium Dilemma: For Having A Ball or Watching Great Ball?
Many years ago, I was watching an NFL game from Dallas. Al Michaels had the call, and he was raving about the beauty and grandeur of AT&T Stadium, Jerry Jones' then-new gift to the world and the world of football. Al could not stop talking about the sight lines and the massive video screen that stretches more than 50 years on each side of the field. In short, Al was smitten.
A few years later I found myself at Jerry's World, and while I was impressed with the size and the scope of the stadium, I could not have been less impressed with the fan and the viewing experience. The security queue felt endless; the bathroom lines ran into the beer lines; the sections/aisles were not well marked; and the video screen was more distracting than anything else. And don't even get me started about the quality or the cost of the food.
I was reminded of this journey to North Texas a few weeks back when Buster Olney was discussing his favorite baseball parks. He stated that Tropicana Field is way up his list as it has the shortest distance from the press box to the clubhouse, which makes his life easier. You see, Buster, like Al, is at the stadium to do a job, not to enjoy a game. Rather than paying good money to be entertained, these media members are looking for ease of use to ply their craft.
I have no doubt that the press box at AT&T Stadium has all of the amenities an announcer needs, including a bathroom close enough in proximity to go to and fro during a typical TV timeout. I am sure Al's car dropped him under the stadium right next to an elevator that propelled him straight to an area where all of his needs were met. The same goes for Buster, who is used to the bowels of a ballpark, so when the rest of the place looks the same, it does not much matter.
Unfortunately for most of us, we rely on these announcers to give us a feel for the parks and the stadiums where they do their work. Most of us don't get to visit each Major League city and do our own analysis. So, when we hear trusted voices like Al Michaels and Buster Olney tell us how great something is, or how they like this one more than that, we are inclined to believe them — even if their reasoning is flawed, or at least subjective.
Because I love baseball and because I subscribe to the "trust but verify" school of thought, I have been traveling the country to visit every ballpark. I have one active stadium left, and will need to leave the country to get there, with Rogers Centre in Toronto the last box to check. As such, I consider myself a pretty good judge of what each stadium has to offer. And, just as I wholeheartedly disagree with Al's view of AT&T, so too do I with Buster's feelings about The Trop (as written here).
One of the reasons I have not yet ventured to Canada to see the Blue Jays is that I read that there is a two-phase set of renovations planned to start after this season. Phase One will modernize the fan experience. Now they are speaking my language. 
One would assume, in 2022, with so many pulls on the entertainment dollar, and with ticket, parking, and concession prices consistently outpacing even the most robust inflationary period in four decades, teams would be doing everything in their power to insure that a visit to their yard is fun for the whole family — and not just the diehards. In too many cases, that assumption is incorrect. And, unfortunately, I know why. Fans don't seem to care.
According to ESPN's Jeff Passan, MLB estimates that about 40 percent of revenues come from tickets, concessions, and other gate-related income. As we saw during the 2020 season, when faced with the prospect of no or few fans in the seats, owners VERY quickly leaned into the need to increase attendance to supplement their bottom line.
So how can they do that? By putting a better team on the field? By making the fan experience better? A mixture of the two? Unfortunately, the answer just isn't clear.
Oakland-Alameda Coliseum (using its most well-known name) is a dump. Since 2006, the A's have had attendance in the bottom third of all American League teams every year but one, despite four first-place finishes and four second-place finishes. The action on the field may have been good, but the ballpark experience is not, so people didn't come.
Let's look at the Mariners, who provide arguably the best fan experience in the game. Since 2006, they have not ranked higher than sixth in overall attendance. Is that because in those 17 years, the team has mostly been mediocre (at best) and not once made the playoffs?
Or Pittsburgh, with its beautiful skyline and delicious pierogis. Since 2006, its high-water mark is ninth in the National League (both in 2014 and 2015), which were the two seasons they made the playoffs. They are in the bottom third in attendance nearly every other year.
The Brewers have an incredible fan experience. Their attendance has been above 2 million since 2004 (excluding 2020, of course), even though they finished sixth in the NL Central that season, and have chalked up five fourth-place finishes and five third places in that time.
Since moving into Petco Park in 2004, the Padres have had at least 2 million in attendance in every year but one. And during that time, they have finished in fifth place five times, and fourth place four. Yet, fans still come to the park because it is a hell of a good time.
What about the crown jewel of the new-old ballparks: Camden Yards? Since 2006, the Orioles have been in the bottom third of AL attendance every season except for four. They topped out in sixth place the year they won the AL East (2014). Camden was "the" place to be when it opened, holding first or second place in attendance for the first eight years of its existence. But after Baltimore finished in fourth place four out of five seasons, attendance plummeted. Without a winning team, not even the most charming place in Charm City could draw fans, as the O's found themselves in the bottom third for eleven out of sixteen seasons (2020 excluded).
For my money (and, often, it is my money), the Dodgers have one of the worst fan experiences in the entire sport. And yet, they get TONS of fans. They have drawn at least 2.8 million every year since 1996 (not counting 2020), and this includes 3.85 million and 3.56 million in seasons in which they finished fourth.
So what is the moral of the story? People don't come to the park just for the fan experience. And they don't just come for the winning. With that knowledge, one wonders why the Dodgers undertook a $100 million renovation to improve the fan experience if doing so wouldn't have any impact on their attendance figures? Why would the Blue Jays spend nearly $300 million over two years to make life better for their fans? There must be some reason.
My hope is that this is a harbinger of great things to come. It would be incredible if, in an effort to create the next generation of baseball fans, teams dedicated themselves to upgrading their facilities to make the local baseball stadium a destination, a place where kids — and their parents — want to go; a place where people of any age can be entertained, regardless of the action on the field. And, if while they're at it, they could find it in their heart to reduce the price of a beer, that would be great too!
PLAY BALL!!