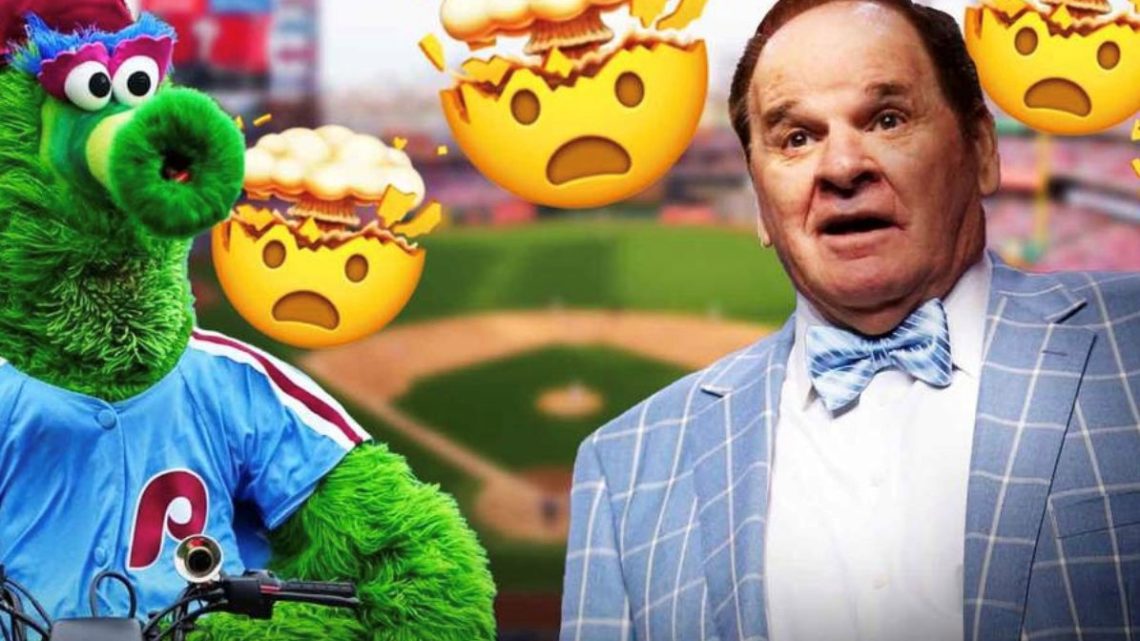 The Legend, The Myth, The Man
Maya Angelou said it best: "When someone shows you who they are, believe them." Never has this been truer than in Philadelphia a few weekends ago. On Aug. 7, the Phillies held a 42-year celebration of their 1980 World Series championship. The team invited Pete Rose to attend. Rose showed everyone who he is (again). So, hopefully, that will be the last we see or hear from the 81-year old former batting champ.
Rose holds a special place in the mind, if not the heart, of many baseball fans. But, in order to truly appreciate the adage, "the man, the myth, the legend," it is important to review the concept in reverse. When you do this for the all-time hits leader, the results are below replacement level.
Growing up in the late '70s and '80s, Rose was a god. With hits in 44 straight games in 1978, he is the closest anyone has come to matching Joe DiMaggio's 56-game streak. And when he broke Ty Cobb's hit record on Sept. 11, 1985, it was (unfortunately) just the first time the world stopped on 9/11.
Pete Rose's legend was built on his resume. Over 24 years, 4,256 hits, the 1963 National League Rookie of the Year award, the 1973 NL MVP, three World Series titles, and a World Series MVP in arguably the greatest fall classic ever played (1975), Rose is one of the all-time greats.
The myth around Rose was personified in his nickname: "Charlie Hustle." This is a guy who sprinted to first base after every walk. He famously decked (and effectively ended the career of) Ray Fosse in the 1970 All-Star Game. But, in later years, that "Charlie Hustle" moniker took on new meaning when we learned that Rose was an inveterate gambler who bet on baseball games, including those that he was managing for the Reds. When MLB discovered such transgressions in 1989, Rose was banned from the sport for life.
Which leads us to the man. As part of Rose's lifetime ban, he was given the right to apply for reinstatement. Then-commissioner A. Bartlett Giamatti gave Rose a roadmap: "The burden is entirely on Mr. Rose to reconfigure his life in a way he deems appropriate." So what did Mr. Rose do? He didn't reconfigure a damn thing.
He set up card-signing tables in Cooperstown each Hall of Fame induction weekend; he bad-mouthed Giamatti, who died a week after instituting Rose's ban; and he denied he bet on baseball for nearly 15 years. Then, in 2003, while on a publicity tour for his forthcoming autobiography, he spilled his guts. And when asked what took so long, Rose blamed his delay in coming clean on MLB, explaining to ABC News that he "never had the opportunity to tell anybody that was going to help me … I couldn't get a response from baseball for 12 years."
It seems that the only place to seek absolution is at MLB's Manhattan offices, or in a news studio when you are trying to hawk books. It seems that the only reason to tell the truth and take responsibility for your misdeeds is if someone is willing to help you — in this case, help you get reinstated so you can (potentially) be inducted into the Hall of Fame.
That should tell us all we need to know about Pete Rose, the man. But then, in 1990, Rose pleaded guilty to two counts of filing false income tax returns. He spent five months in jail, paid a $50,000 fine, and ultimately paid $350,000 in back taxes.
The final straw has to have been in 2017, when a report surfaced that Rose had a sexual relationship with at least one (if not more) underage girl during his playing days. Per the Philadelphia Inquirer: "Rose admitted in court filings that he had sex with the woman in question, but believed that she was 16 at the time their relationship began 'sometime in 1975,' when Rose was 34 years old and married with two children." (For the record, Rose was not charged with any crimes because the statute of limitations had expired.)
Despite all of this information, despite the ever-changing landscape wherein gambling is still verboten for players (even if it is actively encouraged among the fans), despite the fact that women now have larger and more significant positions within the game, despite the idea that sensitivity training is at the forefront of all organizations, despite MLB's best efforts to rid the sport of its old boys' network, despite the Phillies becoming a feel-good story in the second half, Rose's invitation somehow didn't get lost in the mail. On the eve of the celebration, the team released the following statement:
"In planning the 1980 reunion, we consulted with Pete's teammates about his inclusion. Everyone wants Pete to be part of the festivities since there would be no trophy in 1980 without him. In addition, the club received permission from the Commissioner's Office to invite Pete as a member of the championship team."
In the face of the protests of many Phillies fans (especially women), Rose walked onto the field with Larry Bowa, Bob Boone, and Greg Luzinski. I guess there was no (real) harm in that. Unfortunately, the Phillies didn't send media training with the invite.
Prior to the game, Alex Coffey, a female reporter for the Philadelphia Inquirer, asked Rose what he would say to the people who say his presence at the game sends a negative message to women. His response (which, come on, who couldn't see this coming a double into the gap away):
"No, I'm not here to talk about that. Sorry about that. It was 55 years ago, babe."
Yes, that is what he said. And when the AP questioned Rose about that response, he retorted (while attending a celebration for a championship that happened 42 years ago):
"And who cares what happened 50 years ago."
But wait, there is more. After showing such great sensitivity prior to the ceremony, NBC Sports Philadelphia decided it was a good idea to bring Rose into the booth during the game. Rose began regaling the broadcasters and the viewers (and the FCC, I am sure) with war stories from years past. 
After (affectionately) referring to Bob Boone as a "son of a bitch," and after saying he had to watch out for "horseshit" on the field, he recalled a story wherein Hall of Famer Tony Perez told radio broadcaster Joe Nuxhall that he hit a "cock-high fastball." He then tossed out one more "no shit" before the announcers did their level best to change the topic, describing a Nelson Cruz single to right, and telling Pete that there was no seven-second delay. Rose just laughed it all off.
I have previously written that Rose should be in the Hall of Fame. The Hall is a museum, and it tells baseball's story. It should tell Rose's story, warts and all. And those warts should be emblazoned on his plaque. But there is no reason to give a man like Rose a platform, an invitation to attend award ceremonies or team reunions, an audience with journalists while wearing a team's uniform, or a microphone during a live broadcast. That is just common sense.
It is always great to hear from former players — they provide color and context and texture to the game. They have tales to tell and yarns to weave. And teams should celebrate the anniversary of great moments (although, I am not sure the Phillies needed to commemorate their Jasper anniversary) and have heroes on hand for the fans to applaud once more. 
But the teams and the league need to be circumspect about those decisions, and take a cautious approach. Players get older and more crotchety and less politically correct; they don't necessarily know what words and behavior are no longer acceptable. As such, it is incumbent upon the organization to make sure that the players don't embarrass the team or themselves.
But with Rose, it didn't take much thought. Everyone from the Phillies to the Inquirer to NBC Sports had to know that Rose would bring scorn upon the team and the former players, make himself the focal point of the weekend, and ruin it for everyone. Of course he would. That is the story of Pete Rose, the legend, the myth, and the man.
PLAY BALL!!