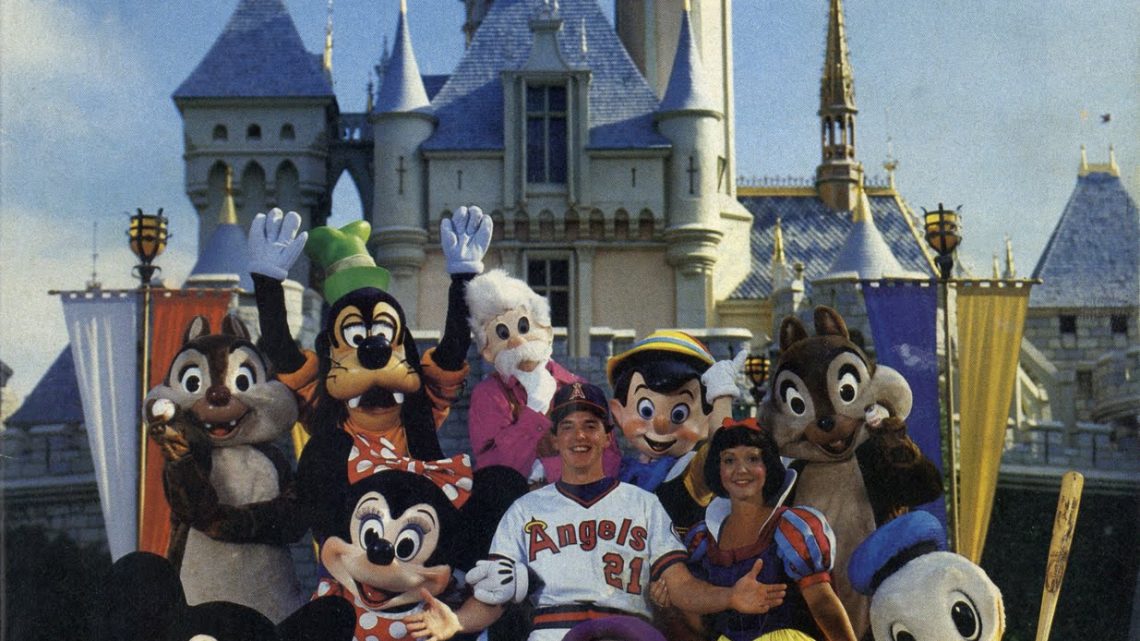 Wally's World
People really seem to be nostalgic these days. As I previously wrote, it could be The Last Dance or it could be being cooped up at home and finally going through those old family photos, or it simply could be that because we have no "present" sports, we need to look to the past. Whatever the reason, it is our current state of mind.
One of my daughters turned fourteen this week, which got me thinking about when I turned fourteen (there is that nostalgia again). The year was 1986, and baseball was great. Now, this article will make no reference to October of that year, nor will it mention a defunct stadium near La Guardia Airport, nor will you read the first name of the Dodgers' (in theory, anyway) new right fielder. No, this piece will hearken back to the beginning of the season, and a player who captured everyone's attention – seemingly out of the blue.
After having a break-out winter in Puerto Rico, the California Angels chose Wally Joyner, the fresh-faced kid from BYU, as their starting first baseman over team stalwarts Juan Beniquez, Daryl Sconiers, and "Hall of Famer Rod Carew." And the rookie did not disappoint.
Many of us can still remember Wally Joyner's first month in the big leagues. He was – in a word – incredible. Joyner went hitless in his first three Major League at bats before doubling for the first of his 2,060 career hits. And that double got him going. He hit in 20 of his first 25 games, collecting 35 hits, with a slash line of .337/.386/.615 and a 1.001 OPS, to go along with eight homeruns. It is hard to say if that is the best first four weeks of a MLB career, but it is up there.
Joyner's hot start got him a feature article in the May 26th edition of Sports Illustrated, back when that meant something. By the end of May, Wally had played 48 games, hit 16 dingers, was batting .305, and had an OPS of .928. By the time we reached the All-Star break (where Wally was voted the starter over Don Mattingly and Eddie Murray), he was hitting .313 , with 20 homeruns, 72 RBI, and a .904 OPS. The kid was flying high.
And then the second half of the season happened. Wally hit .257 with only two more round-trippers and a .664 OPS. What was once a lock Rookie of Year season was passed on the outside by Jose Canseco (not the only time steroid use affected a year-end award).
By the end of the season, Canseco had the same slugging percentage as Joyner (.457) and a worse OPS (.775 vs. .805), but he hit 11 more homeruns and drove in 17 more runs. Canseco's second half fell off as much as Joyner's, but back in 1986, voters looked at counting stats, and Wally didn't match up to Jose. Had Wally hit five or six more dingers, or drove in 10 or 15 more runs, there is great chance he walks away with the hardware. But the baseline for his career was set. It would be 14 years before Wally had a season with an OPS+ of less than 101, averaging a 120 OPS+ in that span (i.e., on average, Joyner was 20% better than the typical Major Leaguer for those 14 years).
We all remember that rookie season, and maybe we can still picture him in those Royals or Padres uniforms later on, but I don't think we accurately recall what a totally consistent player he was for a decade and a half.
Wally finished his career with 11 seasons in which he hit .280 or better; 12 seasons with an OBP above .350; 12 seasons slugging at least .400; and 12 seasons with an OPS of .750 or higher (including eight with an OPS in the .800s). And yet, we remember Canseco's career more fondly. We think he was the better player because he was a Bash Brother, won a World Series, and went 40/40.
A little thought experiment:
Player A (career): .266/.353/.515/.867; 42.4 bWAR
Player B (career): .289/.362/.440/.802; 35.8 bWAR
One additional fact, Player A played one more season than Player B, which may account for some of that bWAR discrepancy.
You are all smart readers, so by looking at that third column, you know that Canseco is Player A. But Joyner's career is pretty comparable – on paper. He never dated Madonna or wrote a tell-all book or had a ball bounce off his head for a homerun in Cleveland. His name is Wally for heaven's sake; he is easy to forget.
But Wally Joyner went about his business each and every day and put up solid Major League numbers. He was a joy to watch. He played the game the right way. He was slick defensively, and had a beautiful lefty stroke. I just wish more people remembered him, his game, and his career. Had he kept up the pace he started with, we would be talking about "Hall of Famer Wally Joyner." But he wasn't meant to be a superstar, just a super player. My guess is, at the end of the day, he is perfectly okay with that.
PLAY BALL!!