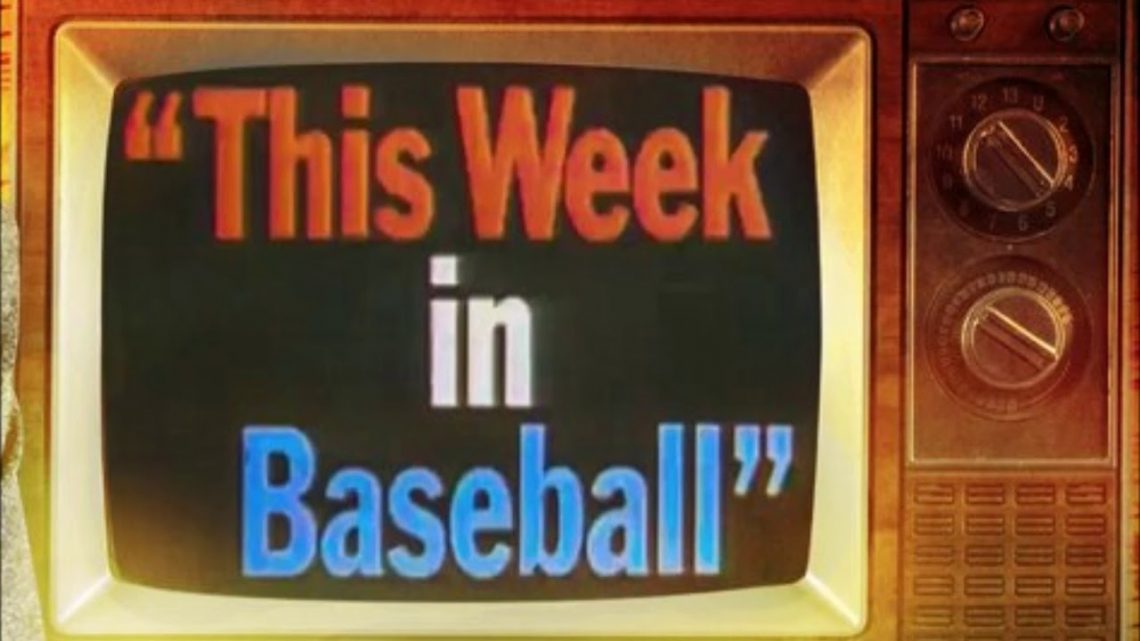 1982: What a Glorious Year
Sure, "The Last Dance" is on everyone's lips as it taps our mental keg for nostalgia in this time of nothingness – sports-wise, at least. I watched those two hours last Sunday night, just like six million other people. And I will do the same for the next five weekends.
But what has really tickled my fancy, what has really brought me back to my youth, to the days of boat shoes and non-ironic trucker hats, has been a little gift from FS1. In our time of need – when there is no baseball and no baseball on the immediate horizon – FS1 has filled my Saturday mornings with…
Well, let's just say: "Hello there everybody, this is Mel Allen." If you cannot hear those words as you read them, if you cannot hear that theme song behind those words that you hear as you read them, if you do not get a tingle up your spine when you hear that theme song behind those words that you hear as you read them, then to quote Mrs. Landingham, "then, G-d, Jed, I don't even want to know you."
In an effort to find a silver lining in this cloud of corona virus, I have discovered watching my childhood unfold on the MLB Network every night and on FS1 every weekend. I am still amazed at what a thrill these are to watch, and how many players I still remember (Lenn Sakata, anyone?). And the beauty of TWIB is that FS1 has neither rhyme nor reason in their airing schedule – they are random shows from random years in the early '80s. Last weekend we were treated to an episode from September of 1982. The Brew Crew and the Cards were surging, but so too were the Orioles and the Braves. After the first commercial break – before we got to bloopers and great plays – Mel took us around the league to visit the best rookies of 1982. Oh my! I had long since forgotten – if I ever even knew – the murderers row of players who got their start in the second year of the Reagan Administration.
In case your memory is as foggy as mine, here is a list of the Top 20 from 1982 (ordered by career bWar; with an (*) denoting Rookie of the Year winner):
1. Cal Ripken, Jr.*
2. Wade Boggs
3. Tony Gwynn
4. Ryne Sandberg
5. Brett Butler
6. Frank Viola
7. Gary Gaetti
8. Jesse Barfield
9. Kent Hrbek
10. Chili Davis
11. Willie McGee
12. Von Hayes
13. Mike Moore
14. Dave Henderson
15. Dave Stewart
16. Steve Sax*
17. Johnny Ray (anyone remember JR?)
18. Howard Johnson
19. Tom Brunansky
20. Bud Black
That is a ridiculous group of players, with four Hall of Famers and 94 career All-Star appearances. By way of comparison, here are the three seasons on either side of 1982:
1979: Rickey Henderson (HOF); 41 All-Star appearances
1980: Harold Baines (HOF)?!; 40 All-Star appearances
1981: Tim Raines, Lee Smith (HOF); 51 All-Star appearances
1982: Ripken, Gwynn, Boggs, Sandberg (HOF); 94 All-Star appearances
1983: No HOF; 35 All-Star appearances
1984: Kirby Puckett (in fairness, Roger Clemens was in this class as well); 77 All-Star appearances
1985: No HOF; 26 All-Star appearances
And, oh, by the way, here is a short list of players whom you may remember from 1982 that didn't make the bWar Top 20:
• Wally Backman (he could have been on the manager list below, but he got fired by the Diamondbacks three days after he was hired due to his failure to disclose a bunch of personal issues (legal, financial, domestic))
• Bob Dernier (only included him on this list because I loved watching him on WGN when I got home from school)
• Jack Perconte (only included him here because I love the "what if" between him and Steve Sax)
• Onix Concepcion (only included because what list isn't better with Onix Concepcion?)
• Rusty Kuntz (because, why not?)
• Eric Show (only included because he sat down on the rubber after giving up hit #4,192 to Pete Rose)
And here is a list of players who debuted in 1982 who have gone to manage in the big leagues:
• Bud Black (#20 above)
• Bob Brenly
• Terry Francona
• Ron Gardenhire
• Brad Mills
• Ron Roenicke
• Ron Washington
There is really no point of this other then to look back with fondness at Harvey's Wallbangers and appreciate the greatness that was Darrell Porter, Tommy Herr, and Ken Oberkfell. There will be more This Week in Baseball on FS1 this weekend. It is strong recommendation that you tune in and flash back.
PLAY BALL!!