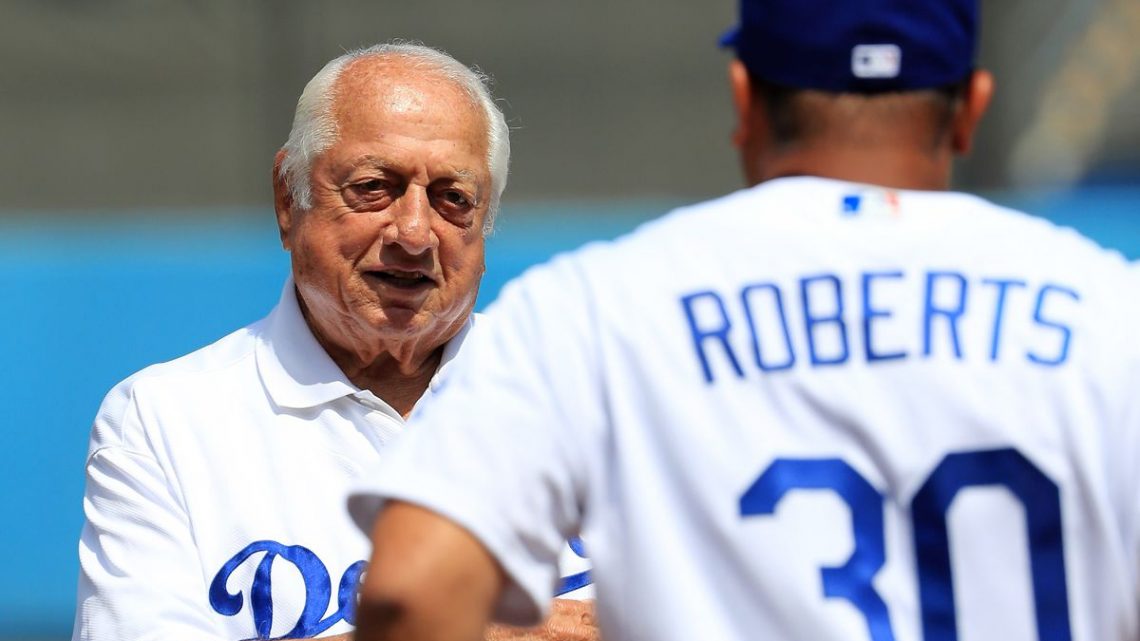 Is Dave Roberts That Bad?
My dad is in good company. Although he LOVES Dave Roberts for that certain stolen base in Game 4 of the 2004 ALCS, he DESPISES Dave Roberts as the manager of the Los Angeles Dodgers. He is at times exasperated by moves that Roberts makes, or – just as often – moves he doesn't make. He quibbles with Roberts' lineup construction, his bullpen usage, and the positioning of the defense. My father vacillates between thinking that Roberts makes all of these bad decisions on his own, and the idea that he is merely a pawn for the "propeller heads" in the front office (my dad is fond of phrases that could easily appear in Halt and Catch Fire and were certainly said at Comdex in the mid-80s). Regardless, my dad no like Dave Roberts.
Contra to the Roberts-haters, Tommy Lasorda is universally beloved in Los Angeles. Maybe it is his jovial manner; maybe it is his raspy voice; maybe it is expletive-fueled tirades; maybe it is his beating the hell out of the Phillie Phanatic; maybe it is how he reacted with Gibby hit his dinger in '88. Or maybe it is just that time heals all wounds, and now we view Tommy as an institution; carefully positioned in his dugout level seat behind the Dodgers' on-deck circle, waiting for the camera to catch him so the crowd can whoop and holler, and then he can make his way under the stadium and back home again. Regardless, everyone loves Tommy.
On a recent Effectively Wild podcast, I was reminded of such hagiography. Sam Miller was recounting some amazingly bad managerial decisions from World Series past. And there were some doozies. Sam walked through Game 3 of the 1981 World Series in some detail, which I will expand upon here. After reading, ask yourself how you would feel about Tommy if you knew then what you know now about pitch counts, platoon advantages, times through the order penalties, and just plain ol' common sense. Here goes:
The Yankees pulled into Dodger Stadium with a two games to none lead in the 1981 World Series. They won the opener 5-3, and had a 3-0 shutout the next night. The Dodgers were thus left in a must-win situation.
Jerry Reuss was 10-4 with a 2.30 ERA in 1981, so he was the logical choice to start Game 1. He gave up four earned runs in less than three innings. Burt Hooten, with a 11-6 record and 2.71 ERA was a perfect starter for Game 2. And he did not disappoint – going six innings, allowing three hits, and no earned runs. But Steve Howe brought his gas can to the mound in the 8th, facing three batters and giving up two runs to contribute to the loss.
Which brings us to the make-or-break Game 3. On the hill for the Bums was rookie sensation Fernando Valenzuela. It made perfect sense for Lasorda to wait for a home game to pitch Valenzuela. Fernando was 7-2 with a 1.57 ERA in 12 home starts during the regular season when Fernando Mania swept through the Southland. The Mexican sensation tossed eight shutouts, completed eleven games, and struck out 180 batters in 192 innings. Freddie won the Rookie of the Year and the Cy Young Award.
So the Dodgers must have felt [insert Larry David voice] pretty, pretty, pretty good going into Game 3 against Dave Righetti.
1st INNING
Fernando started the game by walking Willie Randolph; and with one out, walked Dave Winfield. But a pitcher's best friend courtesy of Lou Piniella got him out of trouble. And when the Dodgers scored three times with two outs in the bottom half, Valenzuela was staked to a nice lead.
2nd INNING
So much for that lead. A homerun, a double, and a single made the score 3-2 after one and a half.
3rd INNING
Two singles, an intentional walk, and a homerun gave the Yankees a one-run lead. So, after three innings, Valenzuela had given up 4 runs on 6 hits, with 4 walks and 2 strikeouts, on 72 pitches. Not what Tommy or the hometown faithful were hoping for.
4th INNING
Fernando settled down in the fourth, and got out of there throwing only 12 pitches (which included another walk).
5th INNING
The fifth inning included yet another walk, but also a strikeout. By the end of the frame, Freddie was up to 101 pitches.
The Dodgers took the lead in the bottom of the 5th on a Pedro Guerrero double and a Mike Scioscia double play. Valenzuela, allowed to hit with two outs and Guerrero on third, grounded out to short. First moment of indecision: If Scioscia merely flies out so there are runners on first and second with one out, does Valenzuela still hit for himself? My guess is yes, as Tommy most likely would have had him bunt the runners into scoring position for Davey Lopes. But, with 101 pitches under his ample belt, and an important insurance run 90 feet away, would it have made sense to hit for Fernando in that moment? That wouldn't have been a crazy idea. Alas, the fun was just beginning.
6th INNING
Fernando started the top of the 6th by walking Randolph again. 107 pitches, the tying run on via the walk, the 2-3-4 hitters coming up. Time for the hook? Nah. Randolph got caught stealing, and Valenzuela got out of the inning throwing only 14 pitches.
7th INNING
The 7th was a cakewalk, with Fernando getting Piniella, Bob Watson, and Rick Cerone on 10 pitches. At the stretch, #34 was up to 125 pitches.
This is a good time to point out that while the Dodgers bullpen had been a little shaky, they did have arms available. Tom Niedenfuer threw 24 pitches over three innings in Game 1, but did not pitch in Game 2. Dave Goltz threw two whole pitches in Game 1. Terry Forster threw six pitches in one inning of work in Game 2. But with Howe's meltdown in Game 2, maybe Tommy was hoping to get at least eight out of his workhorse.
8th INNING
Tommy's best laid plans seemed to go awry when the Yankees led off the top half with two straight singles, with a pinch hitter for the pitcher due up. Should Fernando have been pulled after the lead-off single and 126 pitches? Should he have been pulled after 132 pitches and the potential tying and lead runners on base? Apparently not. The Yankees, doing their level best not to win, had Bobby Murcer pinch hit, and he promptly bunted into a double play. Five pitches later Willie Randolph grounded to third and Fernando wiggled out of yet another jam.
Mike Scoscia led off the bottom of the 8th with a single. Pinch hit Fernando here, hoping to get the insurance run? How about just having him sacrifice Scioscia into scoring position? Both were too logical. Tommy let Fernando swing away; and he grounded into a force out. Now the abdominous pitcher had to run the bases. Sure, the Dodgers had a few players who were better suited to score from first on a gapper (Derrel Thomas, Jay Johnstone), but Tommy chose to stick with his guy – through thick and not so thin. Davey Lopes struck out and Bill Russell popped out, and Fernando had a short walk from first base back to the mound.
9th INNING
Fernando had walked seven, struck out five, given up nine hits and four runs as he toed the rubber for the final frame. He had thrown 134 pitches. He was about to face the 2-3-4 hitters – all right handed. I guess there was no need to call to the pen.
And such is the brilliance of Tommy Lasorda. A groundball to second, a flyout to right, and strikeout for the exclamation point brought the crowd to its feet. It took 15 more pitches to finish the job, but finish it he did.
If the Internet was functioning in 1981, if Twitter was alive in 1981, both may have broken as the innings and the pitches and the pressure kept ratcheting up. But Fernando Mania was a real thing, and Tommy knew best. But getting the right result with bad process doesn't make you a genius – it just makes you lucky. That said, with one of only two World Series titles over the last forty years, I imagine Dodger fans would rather be lucky than good.
But it still begs the question: Was Tommy Lasorda a better manager than Dave Roberts?
PLAY BALL!!