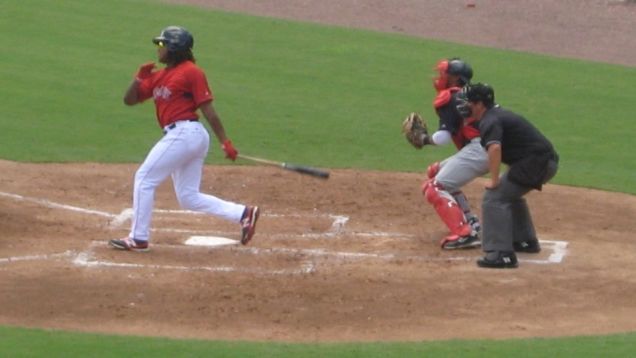 Baseball is Hard
Baseball is hard. There remains nothing more difficult to do in sports than hit a round ball with a round bat.
Case in point, one Mr. Shaq Thompson. That name may sound familiar to you, as he has played five seasons as a linebacker for the Carolina Panthers. But before Thompson was collecting 356 combined tackles in the NFL, he was a three-sport star in high school – football, track, and baseball.
Shaq was good enough in spikes that the Red Sox drafted him in the 18th round of the 2012 draft. So before heading to Seattle to play football for the University of Washington, Mr. Thompson headed to the Sox' rookie-level team in the Gulf Coast League. He played in 13 games and had 39 official at bats. He struck out 37 times. You read that correctly. An athlete who was a first-team All-American according to Rivals.com, Parade, and the USA Today, and who was a second-team All-American according to MaxPreps.com and Sports Illustrated; an athlete who was able to run 100 meters in less than 11 seconds and 200 meters in less than 22; an athlete so highly thought of that a storied professional baseball organization drafted him before Alex Bregman (out of high school), Josh Hader, Dansby Swanson (out of high school), Mike Yastrzemski, and Andrew Triggs. And yet, this athlete didn't put a ball in play until his ninth game; and this against the lowest level of professional competition.
All was not lost: Shaq Thompson did draw eight walks in those 39 games. So when, in his final game, he made solid contact, but was retired on a line drive to right, Thompson ended his professional baseball career. He walked off the diamond and onto the gridiron where he would find a lot of success…and a lot of money (he recently signed a 4/$54M contract extension).
I love the Shaq Thompson story because it says so much about how difficult this game is to play. A 6 foot, 225 pound specimen of an athlete jogs on to the baseball field on top of the world, and walks off humbled, if not defeated. Who can't relate?
There are many of these stories – athletes who went on to become stars in other sports but could not do so in baseball. Danny Ainge, Tracy McGrady, Tim Tebow, Russell Wilson, and, of course, Michael Jordan. So the next time you catch an old game on the MLB Network and see a player you hadn't thought about in a long time (like this lineup: Jim Clancy (P), Alan Ashby (C), Jim Presley (1B), Mark Lemke (2B), Ernie Riles (3B), Iván DeJesús (SS), Kal Daniels (LF), Stan Javier (CF), Iván Calderón (RF), Steve Balboni (DH)), know that regardless of your individual recollection, he was an incredible baseball player. For a time, he was one of the best of the best. So even if our memory needs to be jogged from time to time, these guys deserve our reverence. Because, man, baseball is hard.
PLAY BALL!!