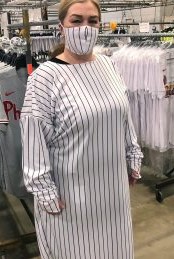 Opening Nay
As we all know, today was supposed to be Opening Day. Yes, I capitalized it because for those of us who love baseball more than any other pastime, Opening Day is every bit as sacred – and considerably less profane – than the Super Bowl. No one ever bitches about the "S"uper "B"owl.
All over the airwaves today we were peppered with baseball from years past. MLB did a heck of a job trying to lift our spirits with unforgettable games on the MLB Network, FS1, two of MLB's YouTube channels, two Facebook feeds, and three different Twitter accounts. You had your choice of Giants v. Dodgers, four different Home Run Derby competitions, classic World Series games, no-hitters, perfectos, and even the A's 20th straight win. It was all there, and it was nothing more than a cupcake for the kid whose birthday party was otherwise ruined.
In 1998, Bart Giamatti first read "The Green Fields of the Mind." It, like the man himself, is a national treasure. The poem starts with the line: "It breaks your heart. It is designed to break your heart." And with everything going on in the world today – like right now, today, tonight – baseball in many ways should be the furthest thing from our collective minds. But it is not. It is not because today is supposed to be Opening Day – a day of renewal, a day of hope. So, it not being here today – today of all days, when the U.S. death toll from this nasty pandemic nears 1,200 – like Bart said, breaks your heart. Under the current circumstances, what could be better to take our minds off the news, allow us to literally and figuratively change the channel to something less grim, than baseball.
The next line of the poem reads: "The game begins in the spring, when everything else begins again…"
But, this year, we cannot be certain there is any truth to that statement. Many writers, from Ken Rosenthal to Jayson Stark to Jeff Passan have written extensively on when this season may begin, but Stark owned it with a simple "we have no idea." So Giamatti may end up being wrong this year, it may not begin in spring – hell, it may not begin at all.
Next up is "You count on it, rely on it to buffer the passage of time…"
Man do we need something to buffer the passage of time right now. We live in a moment where days roll into each other, with kids and partners home – locked in our homes – with no legal form of escape. No mental or theoretical escape from the body count and lack of testing and the lies – so many lies – and the worry when you wake at 3am with a dry throat wondering "is it my turn?". The old adage is you don't know what you've got until it's gone. But we all knew. We love baseball, we revere it. We treat it with respect; we have bought the hats and the jerseys and the tickets. More than that, we have bought in. We have bought in to the myth; we have bought in to the idea that the game could change our day, our week, and sometimes even our year (looking at you, 2004 and 2016).
And now it is gone. And who the hell knows for how long.
For those of us living in Los Angeles, we were looking forward to the redeveloped Dodger Stadium and the All-Star Game. Now only one of those is assured.
For those of you in New York, you had a chance (not a great one, especially after Thor went down) for a Subway Series. The Yankees – if healthy – look unbeatable this year. And now you just have sickness, and death, and fear. But there is another saying that I have been repeating to my kids a lot these past few weeks: "This too shall pass."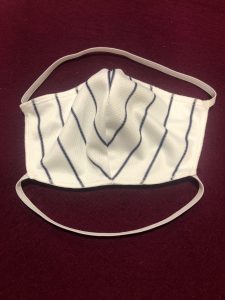 So maybe, if the baseball (and other) gods are willing to smile down upon all of us, we will soon have pinstripes on the field and not just on face masks.
I woke up today and wanted to find joy. I truly did. But as I sat in my home office and Zoomed with my colleagues, I couldn't do it. I avoided all manner of old baseball except this.
There was no joy in Mudville today. Damn Casey never got to bat.
I hope you all are safe, a safe distance from others, and trying to find some pleasure in being with your families for dinner every night. And, who knows, maybe we will build enough family-time equity to enjoy a few extra ballgames this summer without feeling an ounce of guilt. Read as one man's search for any potential silver lining.
Here's to hoping that someday soon we will hear the words:
PLAY BALL!!