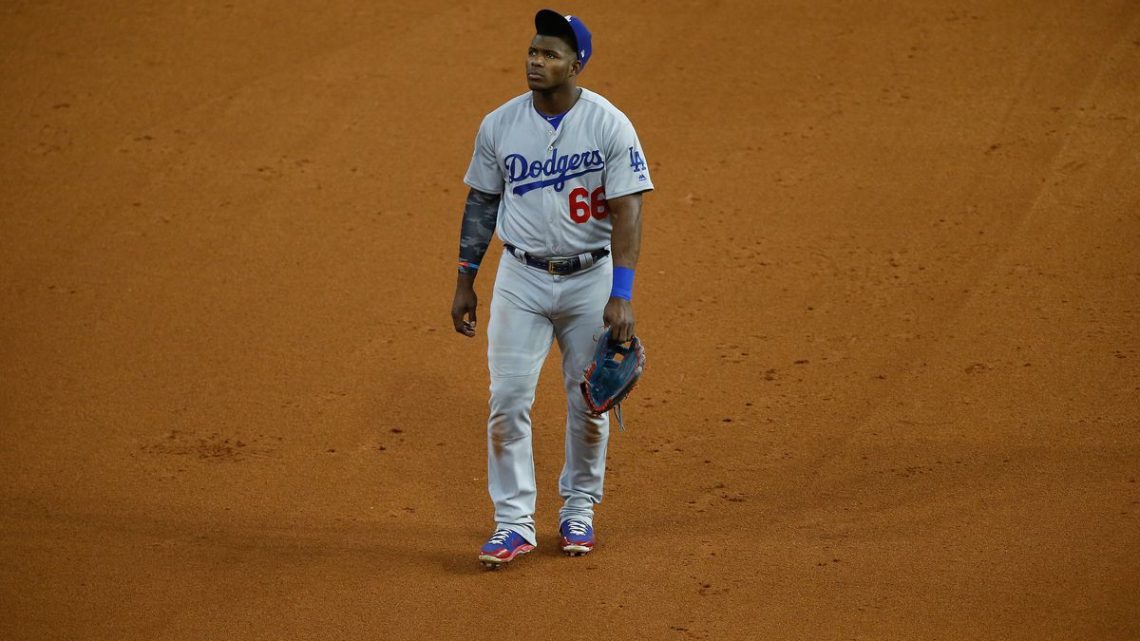 Three Plays – Two Losses – One Player
If the World Series was going according to plan, it would be tied at one game apiece, and we would staring down the barrel of a five-game series starting Friday afternoon in Los Angeles. As it stands – as you all know – the Dodgers find themselves in an 0-2 hole trying to get fat on some home cooking.
With two losses in two nights, there have been a lot of negative pieces written about the Dodgers:
Kershaw again having a rough outing in the playoffs.
The Dodgers' bullpen once again letting Kershaw down and allowing inherited runners to score.
Roberts pulling Baez only to have Wood give up a three-run homer.
The Dodgers electing to keep a collective regular season total of 110 homeruns on the bench because there was a lefty on the hill.
But there is one player who seems to be getting off scot-free.
Before the series, Buster Olney did a breakdown of the key match-ups in the series. Number 1 on that list was "The Dodgers Outfielders vs. The Weirdness of Fenway Park." Olney opined that insofar as none of the Dodgers outfielders (Matt Kemp excluded – is he still an outfielder?) had ever played at Fenway Park, learning on the fly might prove very difficult.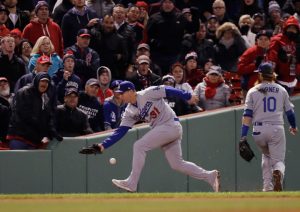 We did see Kiké Hernandez play a J.D. Martinez liner off the garage door perfectly. And we did see Cody Bellinger make an incredible sliding catch heading towards the Monster in left center. But we also saw Joc Pederson be too tentative going towards the left field line, allowing an Andrew Benintendi looper to nick off his glove and bounce into the stands for a double.
No one has really mentioned those plays, but I would aver that is because none of them were game-changers. But here are three plays that, in my estimation, were. And had the main culprit in all three been either better coached, or more prepared, or had the inclination to fully hustle, or the disinclination to show off, this series could easily be 1-1, or even 2-0 Dodgers. Allow me to explain.
Remember back to the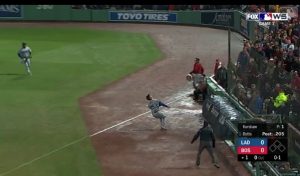 second pitch of the bottom of the 1st inning of Game 1. The presumptive AL MVP at the plate. He hits a pop-up down the right field line. David Freese – never to be confused with Keith Hernandez at first base – tentatively goes back, worried about the jutting wall, the slick track, the tarp, and the swirling wind, and allows the ball to fall untouched. We all know what Betts did with his second chance.
I have two questions:
(1) Where was Brian Dozier? Before the trade deadline, Dozier played his entire career in the American League. That included 26 games at Fenway Park. He surely knew the surroundings, and, arguably, that is his play. I guess, positioned in the shift and playing behind second base made it impossible for him to get there. So, we will let Dozier off the hook.
(2) Where was Yasiel Puig? He was playing VERY deep in right center. He was essentially playing no doubles defense against the first batter of the game. He was playing too deep for the situation. And while he did sprint towards the ball, in typical Puig fashion, he slowed up when it looked like Freese was camped under the ball.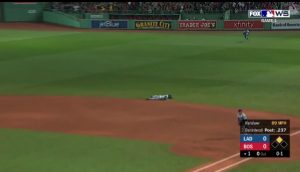 Five pitches later Betts was in scoring position. Benintendi then lined a single to right, and Puig came up throwing. Again, Puig was playing VERY deep, and was obviously paying very little attention to (a) where he was standing or (b) who was on base. Had he internalized either, he never would have played hero-ball and airmailed a throw to the plate. But Puig ALWAYS wants to show off his arm, and the World Series is not a time for the Wild Horse to be put back in the barn. But, in doing so, he allowed Benny to go to second. So, when two batters later, Martinez singled up the middle, the Red Sox had a two-run lead and Kershaw was on the ropes.
That inning, and that game, could have and would have been wholly different had Betts been retired. Or, even if we assume that the pop-up was uncatchable, what does the game look like if Benintendi doesn't go to second on Puig's throw? Alas, Kershaw's defense let him down…again, and no one has written about Puig's complicity in those two plays.
Prior to Game 2, Dave Roberts was asked about the Dodgers outfield positioning, and he confirmed that they had been playing too deep. So riddle me this, Batman, how and why was Puig playing 319 feet from homeplate when J.D. Martinez came up with the bases loaded and two outs in the bottom of the 5th?
Don't think he was out of position, allow Mike Petriello of MLB.com to shed some light: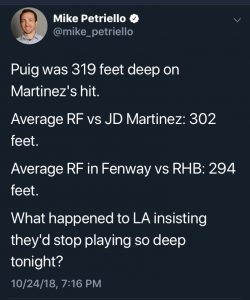 Had he been positioned properly, there is a fair chance Puig catches that ball. Sure, it would have been a great play, but haven't we seen great plays in the playoffs? Hasn't Puig made great plays? Is it that far-fetched to think Puig gets dirty, keeps the game tied, and leaps, hollers, and gallops his way off the field with his tongue hanging out?
But let's assume Puig plays it safe and pulls up short. With his arm, he holds Benintendi at third, and keeps it a one-run game. Doesn't a one-run game change the entire complexion of the next four innings? Do Red Sox fans feel as comfortable with Kimbrel in the 9th protecting a one-run lead against Machado, Taylor, and Kemp?
Who knows? Well, I think I do.
It is incredible to me that Yasiel Puig, he of the going to the World Series guaranty; he of the massive game-breaking three-run homer in Game 7 of the NLCS; he of the wild and impetuous antics, is getting a free pass for how he – in the span of three plays – so adversely affected the Dodgers chances to win the World Series.
Friday is new day. Walker Buehler could shut down the BoSox offense, and then Rich Hill could dash the hopes of his hometown team, and we could go into Sunday looking at a three-game series. As Jayson Stark likes to say, "Baseball." There is only one way to find out.
PLAY BALL!!