THE $25,000 FINE
THE $25,000 FINE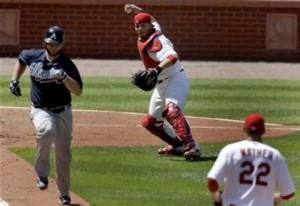 Baseball is a beautiful and peculiar game, filled with majesty, intensity, and a whole lot of oddity.  If you are not a dedicated fan, you may find yourself confused by the varied and arcane rules that govern the game.  To that end, one day I may dedicate an entire post just to the most bizarre and inexplicable, but today I have  in mind just one.
A few weeks back I was sitting behind home plate at Minute Maid Park (a small humble brag?), and I witnessed something I am certain I have seen hundreds of times before, but maybe not in this manner.
In fact, we have all seen it, and probably not paid too much attention.  It has become such a routine part of the game, we forget to be annoyed.
According to Major League Baseball Rule 6.05(b), a batter is out when a "third strike is legally caught by the catcher".  The third strike does not need to be "legally caught" if there is a runner on first base with less than two outs.  Otherwise, it does.  Got that?  Don't be shocked if the guy sitting next to you is equally confused.
How many times have we seen a Major League baseball player strike out on a ball in the dirt, and not run?  Whether out of frustration, anger, or just plain laziness, batters take that third strike – caught or not – as a fait accompli.  Why?
The comments to Rule 6.05(b) add an additional piece of color: "A batter who does not realize his situation on a third strike not caught, and who is not in the process of running to first base, shall be declared out once he leaves the dirt circle surrounding home plate".  This is where my trip to Houston comes in.
With two outs in the top of the fourth inning, Gary Sanchez struck out on a pitch short-hopped by Brian McCann.  As the comment to 6.05(b) suggests, Sanchez turned left and headed for the dugout.  McCann, the seasoned (grizzled?) Astros' catcher began a slow walk back to his dugout, ball in glove, keeping an eye on Sanchez.  I watched this all unfold not fifty feet in front of me.  As soon as Sanchez left the dirt circle and stepped onto the grass (Side Note: Minute Maid Park is a dome that has natural grass – very cool), the umpire signaled "out" and the inning was officially over.
For years I have watched Big Leaguers big league this play; and for years I have yelled "Run!" at the television or to the field.  I have always wondered why this is acceptable practice, and what Gary Sanchez and his ilk are teaching our kids about hustle and heart?  Seeing this up close got my blood boiling.
With two outs in the seventh inning of that same game, rookie Clint Frazier hit a comebacker to pitcher Michael Feliz.  Frazier hustled down the line and was retired 1-3.  But imagine if Frazier simply conceded the play.  Imagine Frazier saw the ball in Feliz's glove, knew he was out, turned left, and headed back to the dugout.  Mike and Mad Dog (I know, they aren't together any more) would have lit up the radio waves; Buster Olney would have dedicated ten minutes of his Monday podcast to this; Quick Pitch would have had Harold Reynolds giving us a re-creation in Studio 42; and the Daily News would have had Frazier emblazoned with something pithy like "Redheaded Rookie Too Cool to Run".  And they all would have been right.  But, since this is just a hypothetical, none of that happened.
But nary a word was said, nor an article written, nor a segment dedicated, to a barely not-a-rookie's refusal to run to first base.  Why?
Not a week earlier, the Angels beat their cross-town rival Dodgers on this exact play.  With two outs in the bottom of the ninth, Camrin Maybin struck out on a Pedro Baez pitch in the dirt that skipped to the backstop.  Initially, Maybin, being a Big Leaguer, big leagued the play and didn't run.  Then he realized where the ball was and high-tailed it to first base.  Yasmani Grandal chased down the errant pitch, and then airmailed it into right field, allowing the winning run to score from second.
Maybin when from goat to hero, just by doing what we expect every player on the field to do: hustle.  The amazing thing about this play is that even though the ball rolled all the way to the backstop, and even though Grandal had to chase it down, and even though Yaz had to throw the ball approximately 120 feet, and even though Maybin is one of the fastest guys on the Angels, a decent throw still would have beat him (by a lot).  It took Maybin so long to do the right thing – hustle – that he was nearly out as the result of his own indolence.
I truly believe (and I defy anyone to tell me otherwise) that a catcher – loaded with shin guards, a chest protector, and a mask – has a more difficult, and no matter what, a longer, throw to first base than a pitcher does on a comebacker.  Assume Sanchez had taken off on his third strike.  McCann would had to have corralled the ball, stepped into a throwing lane, avoided the runner heading down the line, and thrown a strike at least ninety feet.  That is no easy task.
After Feliz fielded Frazier's grounder, he took three steps toward first base, and tossed the ball less than sixty feet with no obstructions.  And yet, Frazier sprinted down the line.  That, we expect.  That is what we demand, from Little League through college.
But we don't blink an eye when a player concedes the out – when he's not out.  Imagine a runner heading directly to the dugout when his teammate grounds into a tailor-made 6-4-3.  How would that go over?
Now, I don't claim to know what penalties are assessed in Kangaroo Courts in clubhouses across the league.  However, I am willing to bet a handsome sum that not running to first on an "uncaught third strike" (the proper nomenclature) is not subject to a fine.
And it happened again last night.  With two on and two out in the top of the 9th, and the Yankees trailing the Red Sox 3-0, Chase Headley chased a Craig Kimbrel knuckle-curve that Christian Vazquez trapped.  So Headley tried to keep the game alive with a mad dash down the line, right?  He made Vazquez throw the ball – equipment and all – ninety feet with two runners on the move, right?  Headley, the twelve-year veteran provided an example to a young and up-and-coming team of how the game should be played, right?  Or he simply headed back to the dugout, allowing Vazquez to tag him for the third and final out of the game?  You tell me…
So here is my idea: Every time a Big Leaguer fails to run to first on an uncaught third strike, he is fined $25,000.  Further, the infraction and the fine are announced to the crowd.  After MLB collects the fine, the money is then donated to the Boys & Girls Club of America (the player should get the shame but not the write-off).
Sure, if you are making $25 Million, 25 large is but .1% of your salary.  But can you put a price on public humiliation?  That fine would have represented 4.4% of Gary Sanchez's income – a hefty portion of his early-career pay.
Hit a guy in his wallet, and then hurt his pride, and see how quickly his behavior changes.  Tell to the kids at the ballpark and those watching on television that failure to play the game the right way is a punishable crime.
Have the Fenway Park PA announcer explain to the crowd that the Red Sox completed their 52nd win of the season, Kimbrel recorded his 24th save, and that the Boys and Girls Club of America is now $25,000 richer because Chase Headley chose not to hustle.  That would be the cherry on the egg on his face.
I know, I know, this is a slippery slope.  But is it, really?  There are few other instances so egregious, and so obvious.  Sure, we could fine guys for not running out a pop up, but even when they feign hustle, they still make their way to first base.  When was the last time you saw a player retired after a botched pop-up?  Had he hustled he would have been on second base, but he didn't completely surrender the play.
This one is easy.  Join me in the quest to make "The $25,000 Fine" the order of the day.
And then we can tell Big Leaguers, just like we tell our kids, even if you strike out, you need to…
PLAY BALL!!
Postscript: After I wrote this piece, but before I published it, I watched the Sunday night highlights.  With one out in the bottom of the 7th of the Astros-Twins game, Josh Reddick struck out on a nasty curveball.  The ball skipped away from catcher Chris Gimenez.  Reddick sprinted down the line, forcing a throw.  Jose Altuve, who had been on third, took off for home on the throw to first, and by the time Kennys Vargas got the ball back to a sprinting Gimenez, Altuve had slid home with the Astros fifth run.  Brian McCann struck out to end the inning; thus Reddick's failure to "big league" (read: play the game the right way), helped the Astros add a run they wouldn't have otherwise scored.