SWEET SOUNDS
SWEET SOUNDS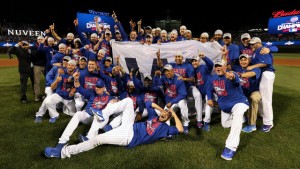 A baby's coo into her mother's ear. Children's laughter. Waves crashing on a pristine beach. Whitney Houston owning the National Anthem. The question is, what is the sweetest sound in the world?
I cannot say, with any certainty, the "sweetest", but what I heard bellowing from a 102-year old ballpark on Saturday night comes pretty damn close.  
Many teams have victory songs – some are horrendous, and actually invite you to root against the home team for fear of being subjected to such noise. And some teams have fantastic anthems that stick with you for days.
For instance, I defy anyone not to hum "I love L.A." as they climb into their car a few minutes after a Dodger victory. When the P.A. blasts Randy Newman upon the third out in the ninth – or, better yet, after a walk-off – there are few more iconic themes.
As a diehard Red Sox fan, I am partial to "Dirty Water", which rings throughout Fenway Park after every BoSox win. But as great as "Dirty Water" is, it finds itself in direct competition with "Sweet Caroline", which plays in the eighth inning of every game. The Fenway Faithful really get into that one, and the harmony of "so good, so good, so good" gives you chills the first time you experience it. Truly. The hairs on the back of my neck are at attention as a write this.
But as you go around the league, the Yankees can keep their Sinatra, and the Giants can hang onto their Tony Bennett. The Royals can forget about the Beatles' "Kansas City"; and the ChiSox fall short with the Blues Brothers' "Sweet Home Chicago".  
For my money, for my ears, for my fandom, I am not sure anything can top what you get on the North Side when the Cubbies fly the "W".
I have been to Wrigley a handful of times, and, remarkably, have always seen the Cubs win (which, before this season, was far from a fait accompli). But, because I am not a denizen of Wrigleyville, and because it is often years between my visits, I always forget the sweet sounds that are about to hit me. And then I am reminded.
America was reminded – or introduced – on Saturday night. When the Cubs recorded the final out of Game 6 of the NLCS, beating Kershaw, the Dodgers, and the entirety of the National League to win their first pennant in 71 years, Wrigley exploded. But it did not explode into riots or idiots rushing the field. No, it exploded into beautiful harmony.
Russell to Baez to Rizzo, and the celebration commenced on the mound. Less than thirty seconds later, it started. Listening to more than 42,000 fans sing "Go Cubs Go" in equal parts shock, adulation, and utter excitement, many with tears streaming down their faces, was one of the most beautiful things I have ever heard. Yes, that makes me a baseball nerd; and yes, it makes me a sap; and it probably says a dozen other things about me that I wouldn't want the public to know. But man, that was something.
When the Red Sox won the World Series in 2004 and ended their 86-year drought, they revised the documentary "The Curse of the Bambino" to include footage of the win, the celebration, and the parade. But they also included shots of cemeteries all over Boston where fans left championship gear for their dearly departed; fans who never to got to experience the Red Sox as World Series champs. After too many viewings to count, the documentary still gets me misty.
I thought of those people on Saturday night. The ones who lived through Ernie Banks and Billy Williams; Bull Durham and Ryne Sandberg; Greg Maddux and Mark Grace; Kerry Wood and Mark Prior; Billy Goats and Bartman. I thought of my former father-in-law, who grew up on the North Side. A baseball man whose father used to be a concessionaire at Wrigley Field and befriended a left-handed first baseman some 75 years before his own granddaughter would marry one. I thought about "Jolly Cholly" Charlie Grimm's mitt that sits encased in glass in my office, and the hundreds of thousands, if not millions of Chicagoans who celebrated – some posthumously – on Saturday night. Those 42,000 fans sang for them, too.
Feeling those fans exhale a few pitches after Carlos Ruiz hit a foul ball nearly into the "Bartman Seat" (9th inning vs. 8th; 5-0 lead vs. 3-0, but still). And then to see those fans dance like no one was watching, and hear them sing like no one was listening. And yet, all across the land, everyone was watching, and everyone was listening.
"Go, Cubs, go! Hey, Chicago, what do you say? The Cubs are gonna win today".
That went on for what seemed like hours. When droughts end, and curses are reversed, when there is once again joy in Wrigleyville, hearing those fans sing the best victory song in the sport was, simply put, the sweetest of sounds. (Scroll down and check out the dftbalicia11 Instagram post for a sense of what it was like in Chicago Saturday night.)
Postscript: I will leave you with one fun fact that is not getting nearly enough run: There have only been two instances in which a team faced the minimum number of batters in a post-season game. The first was Don Larsen's Perfect Game in the 1956 World Series. The second was Game 6 of the 2016 NLCS. A pick-off and two double-plays erased the Dodgers' lone three base runners. Bottom line, no matter what he threw or how much command he had, Kershaw wasn't beating the Cubs Saturday night.
Onto the World Series. 108 vs. 68.
PLAY BALL!!