112
112
In early March, we headed to Arizona (and some headed to Florida) and watched PFP on side fields.  We sat on the grass and drank cold beer in the warm late-winter sun.  We harangued superstars, has-beens, and never-will-bes for autographs and baseballs.  We got our juices flowing, then they "headed north".
For seven months we could go to bed with the dulcet tones of the Web Gems jingle lulling us to sleep and wake up to read a box a score.  Like Kenny's wooby, we had the comfort of knowing that baseball was with us – day in, day out.  Whether your drug of choice was Baseball Tonight or Quick Pitch or, or, heaven forbid, FoxSports1, you got your drug.  Whether your dealer was Buster Olney or Derrick Goold or Keith Olbermann, or heaven forbid, Fred Roggin, they were there, on the corner (of your dial) waiting to give you wanted – what you needed – every evening.  And now, in the blink of an eye, like a Keyser Soze, it's gone.
We wake up this morning with no "today" or "tomorrow" – in the baseball sense.  We only have yesterday.  And what an amazing yesterday it was.  For seven months, we were the lucky recipients of so many brilliant yesterdays that we will have the luxury of telling the tales of Jose Abreu and Derek Jeter and Josh Beckett (someone born the day of the Dodgers previous no-hitter would have a driver's license and be getting ready to vote), of Mike Trout and Victor Martinez (he of 32 HRs and only 42 SOs).  We will be able to bounce our grandkids on our knee and tell them that we got to watch Clayton Kershaw pitch at the height of his powers – that for one majestic 4-week period, we watched the best pitcher on the planet make something so difficult look so easy, that it had to be seen to be believed.  And that was just the regular season.
When the leaves began to change, and the weather (everywhere outside of Southern California) began to cool; when the kids were fully entrenched in school, and the pumpkin patches started popping up on otherwise desolate fields we never before noticed, baseball took on a new intensity.  October started with the Royals rallying from 4 down with 5 outs to go to start them on an enchanted journey that would end up littered with Halos and migratory birds; a yellow brick road that actually led back to Kansas (City).
The Giants set themselves up by having their best pitcher pitch their biggest game (on October 2nd), and then jumped on his back for the next four weeks.
We were then treated to a terrific 10 days of baseball.
We love to speak in hushed tones of times past; of historic World Series moments. Those moments – in our words – are basked in a sepia glow – never as bright as the moment itself, but ever more poignant. We all have our favorites:
Jackie Robinson sliding in (safely?) at home, stealing a base that only a cat burglar would have tried to swipe.
Yogi Berra jumping into Don Larsen's arms at the end of the only no-hitter (a perfect game, no less) in World Series history.
Bill Mazeroski walking off the World Series for Western Pennsylvania and the history books (at least until 1993).
There is Pudge Fisk (we have to explain to our kids that there was an original "Pudge" before Rodriguez) waving and willing a ball fair in the 12th of inning of Game 6 of one of the greatest World Series ever played.
Who can forget Reggie Jackson's "3 Swings"?
Or, just that single swing against rookie Bob Welch?  (BTW, it's worth the 6 minutes.)
How about Pops Stargell literally jumping for joy in 1979?
Or when Don Denkinger became a household name.
When Bill Buckner's life – and the lives of New Englanders up and down the Eastern Seaboard – changed forever (or for at least another 28 years).
"She is . . . gone!"
Kirby Puckett scaling walls.
Joe Carter doing his best Bill Mazeroski impression, and then celebrating like a Little Leaguer (in a good way).
Jim Leyritz doing the unimaginable.
Luis Gonzalez breaking his bat (and the hearts of New Yorkers a month after 9/11) against a drawn-in infield.  (Not for nothing, but listen to Tim McCarver's observation at the :30 mark of this video.)
23-year old Josh Beckett completing a 5-hit shut-out in the House that Ruth built – on 3 days' rest.
A one-hopper to Keith Foulke that ended one of history's longest droughts and brought the phrase "Now I can die in peace" into the vernacular.
Three of the wildest innings you will ever watch (endure?) on cold night in St. Louis in 2011.
Baseball officianados – or so we thought – (re)learning the obstruction rule in real time.
But, even considering all of above, we had the pleasure and honor these past few days of watching Mad Bum.  What did he do?  Well, quite simply, he made history.  In a world of pitch counts and specialized relief corps; in a world of $200M arms, and countless Tommy John surgeries (39 in the Majors and Minors between February and May); in a world of cautious managing, we saw something remarkable.  And, like Halley's Comet, something we may never see again in our lifetime.  Time may dull the memory, but the statistics and records will forever stand: 21 IP, 9 H; 17 K; 0 BB; 0.43 ERA; .476 WHIP; 2 Wins; 1 five-inning Save (the longest in WS history) on 2 days' rest.  We have run out of superlatives; he was simply astonishing.
There have been 110 official World Series.  Some are memorable, and others are easily forgotten (quick quiz: who played in the 2005 World Series?  Answer at the bottom.).  In an incredible season of baseball, we were treated to a fantastic finish.  Two Wild Card teams, neither with 90 wins, neither with great odds to get past their first game, let alone three rounds.  Blow outs and nail biters.  And it ends with a 25-year old horse doing things we may never see again, with the tying run dying 90 feet from rapture.  Does it – can it – get any better?
A quick aside so it can be put to rest forever: There is no world in which Alex Gordon should have been sent home; and had he been, we would have seen the first World Series end with an out at home plate (lest we forget the 2003 Division Series ending with JT Snow lying prone and Ivan Rodriguez clutching the ball like it was Temple of Doom.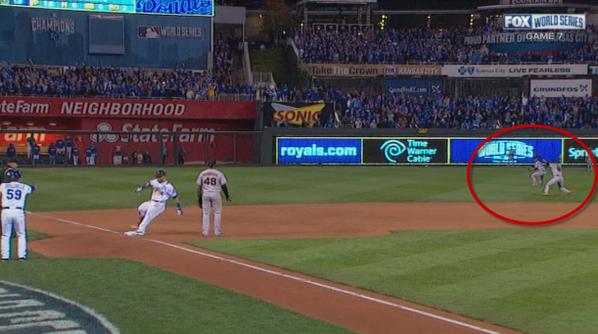 A secondary aside: Had they sent Gordon, the World Series may have been determined based on an interpretation of Rule 7.13, which was put into effect after a season-ending injury to whom?  That's right, Buster Posey.
A tertiary aside: Moments before that ball was hit, my son said, "I am glad I am not on that field." And sure enough, Gregor Blanco let the moment (and the ball) get away from him, and seconds later Juan Perez did the same.  Lost in all of the hoopla, though, was Brandon Crawford's play on Perez's low throw.  Crawford fielded that throw from the wall on a clean short-hop, and was in a perfect position to throw Gordon out.  Had Crawford's hands not been so Palmolive soft, Gordon could have scored with any form of bobble or drop.
A last aside: Third base coach Mike Jirschele is in his first major league season (as a player, coach, or otherwise).  After playing 13 years in the minors (topping out in Triple-A), after 11 seasons managing the Omaha Storm Chasers, after a total of 36 years on buses and in motels in the bush leagues, at age 59, Mike Jirschele "got the call".  Do we think that guy, in that situation, was going to go to take that risk?  An aside to the aside, this is a great read if you have a moment:
http://espn.go.com/espn/feature/story/_/id/10619278/a-long-journey-spring-royals-coach-mike-jirschele-path-mlb
So here we are.  We awaken on the day before Halloween as we have three times in the last 5 years – with the San Francisco Giants as champs.  But it feels different in that we wake up today with a potential juggernaut on our hands in Missouri, and they don't have birds on their chest.
And, regardless of the winner or the loser, we face today with a tiny glimmer of hope; a miniscule lining of silver on an otherwise cloudy day; we face today with the promise of tomorrow:
There are but 112 days until pitchers and catchers report!
http://www.springtrainingcountdown.com/
PLAY BALL! (Soon enough!)
Answer: Astros vs. White Sox