IT'S ONLY JUST A GAME
IT'S ONLY A GAME
The tragic and shocking news of Oscar Taveras's passing on Sunday cast a pall over Game 5 of the World Series.  Buster Posey, the potential new face of baseball had this to say:  "My first thought was, 'This game is not that important.'  I mean, we make so much about the World Series and it's fun, it's a fun game that we get to play, but life is much more important.  Something like that will bring you back down to earth really quickly."
We put so much value on sports, we figuratively live and die with our teams.  Kids and adults alike shed tears when the ball doesn't bounce "our" way.  And yet, at the end of the day, it is just a game.
Roberto Clemente, one of the greatest players of all time, died in an aviation accident at the age of 38, while en route to deliver aid to earthquake victims in Nicaragua.
Thurman Munson, the heart and soul and captain of the '70s Yankees, died when his Cessna crashed, at the age of 32.
Darryl Kile, a 20-game winner for the Cardinals, was found dead in his hotel room from a sudden heart attack, at the age of 33.
Nick Adenhart, the 22-year phenom for the Angels, dead at the hands of a drunk driver.
Tim Crews, veteran starting pitcher, died in a boating accident at 31. His 27-year old teammate, Steve Olin, was also killed in the accident.
Josh Hancock, a pitcher on the 2006 World Series champion Cardinals, killed in a drunk driving accident at age 29.
Longtime major league pitcher, Cory Lidle, was 34 and pitching for the Yankees when his plane crashed into a building in New York.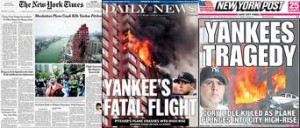 Donnie Moore took his life in 1989.  We all thought it was because no one him taught him "it's only just a game", but his demons ran considerably deeper.
http://www.theatlantic.com/entertainment/archive/2011/10/the-myth-of-the-home-run-that-drove-an-angels-pitcher-to-suicide/247447/
The eight names above are part of a list of 41 players who, since 1964, died while playing Major League baseball.
Contained in this list are so many life lessons.  Drunk driving; drug use; the need to take care of your body and mind; and, universally, the unpredictability of life.
What we impart to our children, on the field, in the classroom, and around the house, needs to include that last lesson.  Life is short; enjoy every moment.  I can speak with first-hand knowledge of how precious the moments are, and how you regret them when they are gone.  Play hard, play to win, but, most importantly, play.  Smile, laugh, enjoy yourself.  You never know when those moments will be no more.
As baseball fans, we talk about the hit-and-run, and the suicide squeeze, and gunning him down, and do-or-die moments, and yet none of those actually ring true.  Life is precious, games are games, and perspective is necessary.  So, no matter who you root for, come Tuesday (or Wednesday) night, when people are rioting and looting in San Francisco and/or Kansas City, try to remember, and try to teach our kids, it's only just a game.
And with that, PLAY BALL!