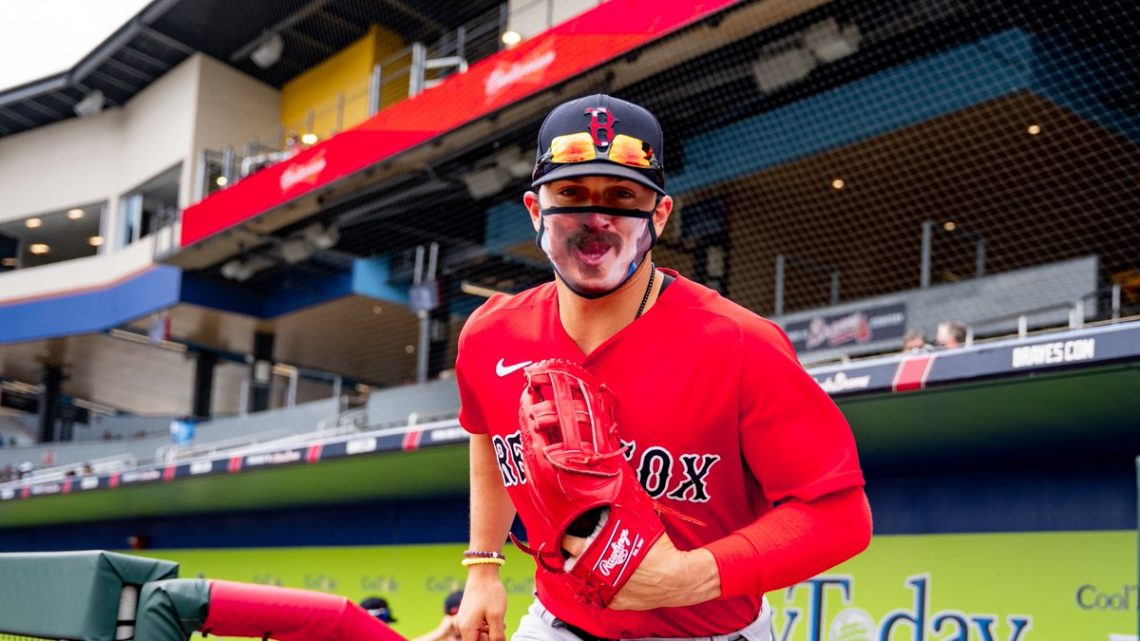 Mixed Emotions
I first visited Fenway Park in 1978, and so began my love for the Boston Red Sox. In those heady years, I was too young to read the box scores, and even with an outfield of Rice, Lynn, and Evans, I didn't have a favorite player. Yaz may have come close.
I really became interested in baseball in the mid-'80s, at which point I was following Wade Boggs and Roger Clemens, and for some reason, Marty Barrett. Mike Greenwell, begat Mo Vaughn, who begat Nomah, who begat Varitek, who begat, pound-for-pound, the best pitcher of all time: Pedro. But it was in 2004, oh that magical year of 2004, that I finally landed on my favorite player. How could you not love David "Big Papi" Ortiz? He was everything you wanted in a star – the charisma, the smile, the clutch hits, and, of course, the hugs. He carried the team on his back, and he had a blast doing it. Even as Dustin Pedroia, Jon Lester, and Mike Lowell got headlines, Papi remained my guy. Ortiz brought the "fucking city" together in 2013, and led the Red Sox to another improbable World Series title.
This is all a long way of saying that my personal die was already cast when Mookie Betts arrived in 2014. He is an electric player; he carries all five tools on his slight shoulders, has had five straight top-10 MVP seasons (including winning it in 2018), five straight Gold Gloves, has won four Silver Sluggers, and owns two rings in two cities in the last three years. He is a 300-bowler, and feeds the homeless when no one is looking. He checks every "favorite player" box, and yet he wasn't my A-Number One; that spot is reserved for Papi. So when the Red Sox traded Mookie to the Los Angeles Dodgers before the 2020 season, I was quite sad, but not crushed. As I have previously written, I actually agreed with the team's decision. But I cannot imagine a world in which Ortiz ever wore another uniform.
My family moved to the West Coast in 1979, and I started going to Dodger Stadium in 1980. It was an embarrassment of riches in those years. We had "Fernandomania" and an infield of 30-HR hitters. We had the antics and clutch pinch-hitting of the recently passed Jay Johnstone. We had the pride of San Pedro De Macoris: Pedro Guerrero (and if you grew up in L.A., you can hear Vin Scully saying those words as you read them here).
As the decade wore on, we had Sax and Hershiser and Gibby. Mickey Hatcher took over where Johnstone left off. And then Mike Piazza, a 62nd round draft pick, who took the league by storm. And, of course, there was Tommy. But none of these men were ever "my guy." It took nearly another two decades of living here and going to games to find that one player. And, ironically, it started in a ballpark 70 miles north of Dodger Stadium, while this guy was playing in Single-A for the Astros. I wrote all about that here.
But when Enrique ("Kiké") Hernández joined the Dodgers in 2015 from the Marlins, I had "my guy." And how could you not a love an undersized overachiever who played every position (save for catcher, but not for lack of trying), hit in the clutch, and made having fun Job #1?
While that 2015 season was Kiké's high-water mark for batting average (.307), he later hit 24 dingers in 2018 and knocked in 64 runs in 2019. But it was in the postseason when he shined the brightest. Check out these stats of a guy who never had an appointed place in the lineup, was rarely used against righties, and never knew – day to day – when or where he would play:
2015 NLDS: .308/.400/.308
2017 NLDS: .333/.500/.667
2017 NLCS: .444/.545/1.444
2019 NLDS: .429/.500/1.000
2020 NLCS: .308/.357/.769
But you can throw all of those stats away and just look at Game 5 of the 2017 NLCS and Game 7 of the 2020 NLCS. In the former, Kiké went yard three times at Wrigley Field to help propel the Boys in Blue to the World Series and raise $2,000,000 for the people of his native Puerto Rico. In the latter, he tied the game in the bottom of the 6th inning, giving the Dodgers new life, and setting the stage for Cody Bellinger's 7th inning home run that provided the pennant-winning margin of victory.
But you can throw all of those clutch hits away and just remember Kiké sitting in the dugout in a banana costume – on the orders of Andrew Friedman – to help the Dodgers win an extra-inning affair against the rival San Francisco Giants.
In 2019, MLB came out with the "Let the Kids Play" motto. They shot a commercial with eleven players on the dais, including Mike Trout, Christian Yelich, Francisco Lindor, Aaron Judge, Giancarlo Stanton, and Ronald Acuña Jr. From my perspective, Kiké Hernández was an obvious oversight. He personifies the "let the kids play" mantra, and it is hard to find anyone having more fun and getting more from his G-d-given talent than Mr. Hernández.
So, when Kiké entered the free agent market after the World Series, I held out hope that the Dodgers would re-sign him, and that my season tickets would allow me to watch another few years of my favorite player (fans in the park permitting). But as the offseason wore on, it became ever more clear that the Dodgers had no designs on retaining Hernández. If one man's trash is another man's treasure, it was to my great delight that my beloved Red Sox reeled in Kiké. He got the two-year deal I had hoped for him; he took Nomar's number, and it would seem he has finally found an everyday position, filling the rather large (metaphorically only) shoes left by Dustin Pedroia's retirement.
Gordon Gekko once said: "Mixed emotions…like Larry Wildman going off a cliff in my new Maserati." That is how I feel. Forty years of going to Chavez Ravine, and for the last half-decade I had my favorite player. And now he is gone. Gone 3,000 miles away, but gone to my favorite team. Having Mookie here on a career-ending deal softens the blow, but I would be lying if I said that Dodger Stadium will be a little less colorful, a little less joyful, a little less fun, without the Banana Man sliding and diving and jumping for joy. Consider me dubious, but I don't think Trevor Bauer can fill that role or that hole – either on the field or in the clubhouse.
The people of Los Angeles will miss Kiké more than he can possibly appreciate. The analytics may say that players like him are easy to find and replace, that a guy with no specific position and who averages 1.5 bWAR/year isn't that valuable. This is where the newfangled baseball analysis falls short.
Kiké is more than any numbers on the back of his baseball card or on any quant's spreadsheet. He is the personification of what we want to watch and root for, and what we want our kids to aspire to be. He is a grown man playing a kids game with the exuberance of youth. You can tell he takes nothing for granted and appreciates the sport, his teammates, and most especially, the fans. So I will take solace in the fact that while I can no longer watch Kiké Hernández in person every day, I can still root for him and know that his special skill set is bringing joy to the people of Boston.
Mixed emotions indeed.
PLAY BALL!!