BLOOM BACK ON THE ROSE?
BLOOM BACK ON THE ROSE?

Last Monday, Peter Edward Rose made a formal request to be reinstated by Major League Baseball and asked that his lifetime ban be lifted.  Newly-minted Commissioner Rob Manfred responded by stating he would consider the request "on its merits".  Spoken like a true attorney.
To be or not to be.
He loves me, he loves me not . . .
Will he or won't he.
What's with taking the oath of Commissionership that requires a bombshell be thrown in your lap within the first few months?  Adam Silver had V. Stiviano and now Rob Manfred has Pete Rose.
So what to do with Pete Rose?  If Manfred pulled out a legal pad, drew a line down the middle, and starting listing pros and cons, he might have to cut down a few yellow trees before he came to a conclusion.  The simple question is: Has Pete Rose paid enough of a penalty?  He has been banished from baseball – his one true love (replaced in recent years by money) – for over 25 years.  Does that punishment fit the crime?
Apropos of nothing, as of 2013, 30% of murderers convicted and sent away on life sentences are let out of jail in less than 10 years, with an overall average of 16 years of incarceration.  Now, I am not comparing Pete Rose's betting on baseball to murder – not at all – I am just trying to show, for hyperbolic effect, how long a 25-year (and counting) sentence actually is.
It can be readily acknowledged that Pete Rose did something that we, as a society and as fans of baseball, feel is inherently wrong.  We can also agree that in the years leading up to and following his banishment, Rose did not acquit himself very well.  Time and again, when the powers-that-be were looking for contrition, they got stubbornness.  When they were looking for remorse, they got obstinacy.  He held his ground for nearly 15 years.  Who knew you could hold your breath for that long?!?
It was not until 2004 when Pete finally admitted what everyone knew all along.  Unfortunately, the timing of his (ahem) confession was marred on two fronts:
(1)  It was done not in the service of baseball, but in the service of making a buck.  Pete made his confession 3 days before his autobiography "My Prison Without Bars" was released.  People could not help but think this was less about seeking forgiveness than about seeking book sales.
(2)  It was done on the eve of the announcement of the 2004 Hall of Fame class.  Knowing that he most likely would never be enshrined in Cooperstown, Pete took the occasion to piss on the Hall's doorstep.
Stay classy, San Diego.
But, for the past decade, Pete has been a relatively model citizen.  He has not ruffled too many feathers (other than setting up card tables for autographs on Hall of Fame weekend), and has basically kept as low a profile as one could ever hope/expect from the Pete Rose.
Here is the real: Baseball is better when Pete Rose is involved.  You cannot deny what he brought to the diamond for nearly 25 years.  The hustle, the heart, the hits (both the Harrelson and base varieties).
(3:16 mark)
The fact of the matter is that Pete Rose played in more games, had more at bats, and got more hits, than any player in MLB history.  Chew on that for a moment.  He is an icon in Cincinnati, and he is a legend of the game.  He has paid his penance.  He should be allowed back in . . . with conditions.
Many people considerably smarter and more knowledgeable than I have written extensively on this topic, but I think I agree with the following premise: Pete Rose should be allowed back into the game on a limited basis.  He should be allowed to come to the park, participate in team activities, and be honored at major events (e.g., the All-Star Game this summer in Cincinnati).  He should not be allowed to be an executive or an on-field coach.  He should not be allowed to be in a position to affect the outcome of any game.  That seems easy enough, and Manfred could tailor this reinstatement in a way that preserves Bart Giamatti's original intentions, without looking like he is reversing his predecessor's course.
Little Known Fact #1 (that would be more widely known if you read Jayson Stark's columns or his book "Wild Pitches"): In 2003, former teammates Mike Schmidt and Joe Morgan arranged a meeting between themselves, Bud Selig, and Pete, for Pete to fall on his sword, acknowledge his mistakes, apologize, and then, ostensibly, be reinstated.  For reasons that a whole school of psychologists could spend semesters debating, Pete could not bring himself to the table.  No meeting, no apology, no reinstatement.  And here we sit today.
Okay, so let's assume Manfred is inclined to let Rose back in.  That always leads to the $64,000/bronze-plated question: Should Pete Rose be in the Hall of Fame?  Sure, of course, without question, maybe.  The answer is multi-layered, but before we go to the merits, we need to know who will be hearing the evidence.
Little Known Fact #2 (that would be more widely known only if you are a total and complete baseball nerd and/or live in upstate New York and/or write a blog that maybe a few people read): While the Baseball Writers Association of America is the organization we customarily associate with Hall of Fame voting, they will not play any part in the Pete Rose discussion because he has been retired for too many years (this form of eligibility expires 15 years after retirement).  Thus, his election (or lack thereof) will be determined by one of the Veteran Committees.  There are three (Pre-Integration Era (1876-1946), Golden Era (1947-1972), and Expansion Era (1973-Present).  Pete overlaps the last two, but would most likely fall under the Expansion Era Committee.
This Committee is comprised of 16 people, including prior HOF inductees, executives, and veteran media members.  And, if you are looking for a quick resolution, don't.  The Committee doesn't meet again until the Fall of 2016 for potential induction in 2017.  Manfred has some time to cool his heels and ponder reinstatement.
To quote Vin Scully, "it goes without saying, but I'll say it anyway".  Pete Rose's on-field achievements are Hall of Fame worthy.  It truly comes down to his integrity.  Do we believe he should be excluded from the Hall of Fame because his lack of integrity (at least with respect to betting on baseball) potentially affected the integrity of the game?
Little Known Fact #3 (and by little known, I mean widely known): The Hall of Fame is filled with people who lacked integrity, who were scofflaws, liars, cheaters, racists, and drug addicts, guys who through actions and deeds potentially affected the integrity of the game.  It must be really hard to get a good view of all that when standing on top of Mount Pious.  But I digress.
Little Know Fact #4: Pete Rose retired in 1986, and (but for being banned from baseball in 1989) would have been eligible to be on the Hall of Fame ballot in 1992.  Shockingly, in 1991 the Hall ruled that players on the permanently ineligible list could not be voted in.  Coincidence?  I think not.
Here is where I land on the issue: The Hall of Fame is a baseball museum.  It is not intended to be a home for the better angels of the game, but rather a collection of the game's history.  It should include the whole story, warts and all.  (And, by the way, many pieces of Pete's equipment already reside in the Hall's permanent collection.)
My solution is easy: Let him in, and put it all on the plaque.  Pete's plaque could look like this: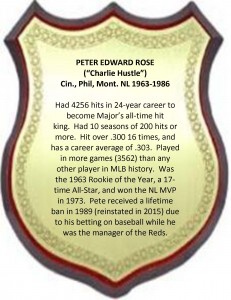 That is what I would do.  And, while we are on the topic, I would do the same thing for everyone who is Hall of Fame worthy but has been suspected of PED use.  Put them in the Hall of Fame, tell the story, allow us to bring our kids to the museum so we can share our and their stories with the next generation – the good, the bad, and the suspected.  I believe that is what Cooperstown was originally intended to represent.
Because, whether the baseball purists like it or not, try as they might, we simply cannot just ignore history.
Opening Day is just 2 weeks from Sunday.
PLAY BALL!